In the days leading up to the Knik, I was in a bit of a quandary as to how to divide up the dogs for Mark and my teams. One school of thought (to which Jamie Nelson was pushing me) was to field two fairly equally matched teams and use the event just as a training run. Then there was the leaning that I should pick out the best 12 for my team, leaving Mark to run the rookies and others that might benefit from a more 'reasonably paced' event. Mark leaned this way. I bounced back and forth between the two ideas.
The night of the banquet it became obvious that with 54 mushers, many being Iditarod and Quest Champs, I wasn't looking at anything close to a 6th place finish like last year, but still, my desire to see what this group of dogs could really 'do' got the best of me and I gave myself a nice strong, veteran team. I wasn't going to let them drive themselves into the ground, but we didn't want to let any grass grow under us either!
Here's a brief rundown in how the decisions were made to divide up the dogs.
First off, Draco and Surge are our oldest ones, I didn't think the 'old men' needed a hard run so Mark got them - besides they gave him great leader depth in his crew. Moses has had a very mild shoulder injury - it was healing really well, but I didn't want to push him and risk aggravating it, so he would go with Mark. I couldn't resist giving Mark his favorite chick - so Snickers went to his side of the truck. Seeing that she was in heat, he needed another female leader to run with her - so enter Sprite. The rookies were all intended to go on Mark's team, but there are 6 of them, so one had to go to me - I picked Peps, as she was the oldest and had more lifetime miles then the other 'rookies'.
So that left me with Kara, Dasher, Nahanni, Olena, Hilda, Pepsi, Loki, Odie, Hector, Herman, Crunchie and Skor.
Having 40+ teams behind me, I feared a lot of passing in the first few miles of the Knik Trail, which are generally narrow and icy, so I gave the nod to veteran leaders Kara and Dasher for the start.
As it turned out, only 2 teams - Lance Mackey and Jim Lanier passed me in the early miles. The next team that caught up with me was Nikolai Buser. It took his crew 25 miles to make up the 10-minute start advantage I had on him. That pleased me.
The dogs were still rolling along well when we hit the Big Su. I stopped to change a harness on Pepsi, as the one I had on her at the start seemed a bit small and she wasn't pulling too hard.
We hit Yentna Station right at dark - just as I expected. I was really surprised to find no one camping there though. When I first ran Knik in '99 many, many teams stopped and took a break at the Roadhouse. The entire 'Back of the Pack' seems to be vanishing from the Alaska race scene. That's a great thing for race organizers, but I fear it will make life harder for newcomers to the sport in the years to come if the trend continues.
We were still making good time through the night. Jeff King's freight train passed us easily. No traveling disco show this time. With 2 veteran teams and 2 veteran mushers, not a word or glance was exchanged between musher/dog or dog/dog. Jeff lifted his hand in salute as he went by and I did the same. Perfect.
At a few spots the markers were sparse on the river and once a well-marked trail led up to a cabin on the shores of the river. I hoped Mark was finding the trail without issue. He'd seen it lots during the day, but running at night is a different thing altogether. I had faith in him, but I really wanted his run to be as trouble free as possible.
A few miles before Skwentna, Kara began backing off a little. Nothing appeared wrong, but I put her back in swing and moved Hilda up front with Dasher. Shortly after that it began to snow. I was happy to see the snow until it started snowing hard enough that it was getting difficult to see. Paul Gebhardt passed me and we stuck tight to his runner tracks for the final few miles on the river before the trail jumped onto the bank to lead us to the Skwentna Roadhouse.
Paul was still parking when they parked me right next to him. I warned him about my 5 'in season' girls at the front of my team and he graciously rearranged his team so his boys were safely back closer to his sled.
I really enjoyed my time in Skwentna. The easy conversation with top mushers like Paul, Ray Redington, Lance Mackey and others really makes me feel like I have become an accepted member of the mushing community up here (Heck, just being in checkpoints with them makes me happy!) The fact that I run Siberians is now just a footnote. That's comfortable to me and makes me proud of the growth my team and I have accomplished over the years. The Knik race, as it was the very first race I ever ran in Alaska is always a great 'barometer' for me to be reminded just how far we have come. (You all have come to know my love of motivational quotes - the one on my dresser in Alaska says "Take pride in how far you have come and have faith in how far you can go!" That is my 'mantra' for this year).
After a good nap - despite a continuous 'low battery alarm' on a smoke detector that none of us in the room were able to stop ("Where is your Electrician husband when we need him." quipped Sebastian. "Still out on the trail, I imagine" I smiled.)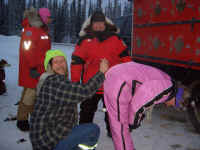 Sebastian Schnuelle autographs rookie handler
Janet's suit prior to the 2006 Copper Basin 300 race
When I was stumbling around the Roadhouse waking up, someone asked if Mark was in yet. I commented that I wasn't even sure he'd be in before I left in a couple hours. Another musher piped up and said that Mark was already in Skwentna - he had arrived 45 minutes or so ago. I slipped outside to check on my rookies - and was please as 'all get out' to see all 10 dogs devouring their dinner. Mark seemed in good spirits too. We visited for a bit before he headed off to bed and I made preparations to leave.
It was still the middle of the night when my mandatory layover in Skwentna was up, so I wired myself up with my I-Pod (I love listening to it best at night) and we bopped out of the checkpoint to the upbeat country tune 'No News' by Lonestar.
As we popped down onto the river a pretty little fox jumped off the trail and into the night.
Occasionally through the night I saw headlights in front and behind me, but never really saw any other teams. Just as we got close to Yentna I caught up with another team in front of me. I stopped to snack, not wanting to play leapfrog with him after passing, but as it turns out, the teams were pretty evenly matched and I was probably not more the a 1/4 mile from that team for the rest of the race.
Rather then messing around with passes, I opted to just stop and give me team some loving to let the other team stay ahead. If my team was willing to pass him once we were in 'No Man's Land' on Knik Lake, so be it - otherwise, I really didn't care whether or not we were in 21st or 22nd place in the race (if my team was obviously faster then his, it would have been different, but we weren't at that point).
On one of my stops I put Kara back up into lead, just in case - but as it turned out, she wasn't willing to drive by the other team and we finished seconds behind them. That is something we will need to work on some more.
For the record, little Dasher Dog led the entire 200 miles. She was definitely the STAR of this Race for me!
Overall though I was very pleased with my team - it turns out they actually finished the race a full 90 minutes faster then their previous best Knik time. Sweet!
Doug met us at the finish line and helped me get everyone fed and loaded for the trip home. None of them seemed even slightly stiff, sore or ill from their race. Even sweeter!
I headed home for a shower and a few minutes of 'down time' before making the drive back to pick up Mark and his team.
Little did I know the night's adventures were just beginning!
Karen

| | | |
| --- | --- | --- |
| 2006 | 25 hours 37 minutes 48 seconds | 92 minutes less than 2005 |
| 2005 | 27 hours 09 minutes 32 seconds | 74 minutes less than 2003 |
| 2003 | 28 hours 23 minutes | |