I have a confession. My children are promiscuous. I swear, I turn my back on them for 5 seconds and they are getting themselves into trouble.
Last Tuesday, I took the dogs out for a run after getting back from my trip to New Hampshire. Everyone was working great and we were all loving the cool, crisp morning. About 13 miles into the run I stopped to water the dogs. While we were stopped a number of the dogs took the opportunity to roll on their back. When I leaned over to scratch Sprite's belly, I stopped dead in my tracks. Not only did she have a little bit of a 'pooch', she was shedding all her belly hair. She just couldn't be pregnant. I coaxed her to her feet and had a good feel of her belly. Maybe it was a false pregnancy – yeah…right!
Last night
Sprite
welcomed 2 new NorthWapiti kids to the world. Mom and babies – a piebald male and a red/white female – are doing great. She is proving to be a fabulous mother.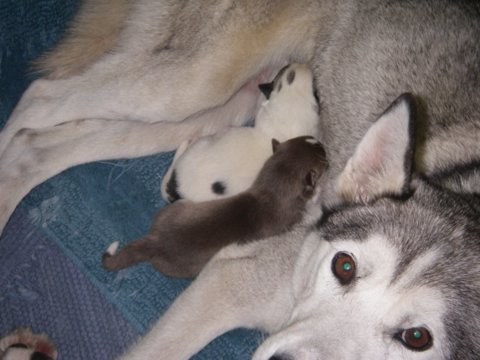 Sprite and her surprise to commemorate Karen & Mark's 20th Anniversary
Who is the father you ask?? Well, we have asked ourselves that a lot in the last week. At first I was totally puzzled, but then a little memory started nibbling at the recesses of my brain - a memory of Barb telling us that young Nitro was off his chain when she came over to feed the night Mark and I went to the city to celebrate our 20th anniversary. A phone call to Barb to confirm and some counting with a calendar and it looks like we have a solid suspect. Of course, DNA will – yet again – be used to confirm the suspicion, as it looks like confessions are not forthcoming from either Sprite or
Nitro
.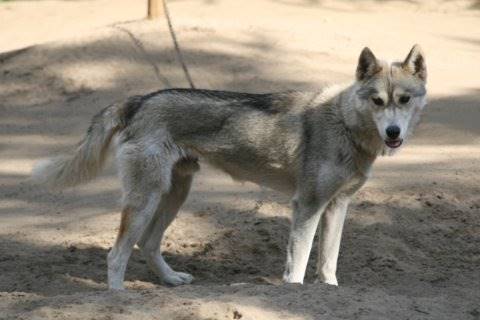 Nitro (a Grover grandson)
I am disappointed to have Sprite out of the training pool, but what will be, will be. As it is a little litter and as she was running right close to her whelping date, I might see if she can catch up with her training. She is a veteran of a few race seasons and that might make it easier for her. We will see. I don't desperately need her in the pool and the health of her and her kids will be foremost.
Speaking of her kids, we have already picked names for them. The little girl will be Casey and the boy, Finnegan. Now, I know my Mom and most Canadians on the list don't need this theme (one that I've been wanting to use for ages) explained to them, but for the rest of you -
http://en.wikipedia.org/wiki/Mr._Dressup
- these two make up
The "Dress Up" Litter
. I know my Mother has all sorts of embarrassing stories of how much I loved this show as a child.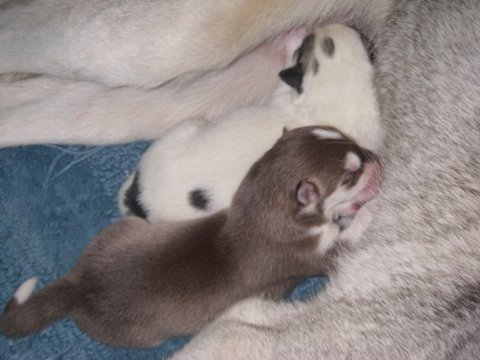 Finnegan (a piebald male) and Casey (a red/white female)
Pictures will be included on the website and I'm going to work on a sex education program for the kennel. What do you think the odds of my teaching them to simply abstain are??
Karen