Cree Litter

Mark and I are thrilled to share some good news for a change!! Last night we welcomed 4 new puppies to the family. Mom is NorthWapiti's Kluane (dam of Q & Jinx) and Dad is NorthWapiti's Skor.


There are 2 solid white girls, 1 piebald girl and one little dark grey/white boy (who looks just like his Dad!).

Mom and pups are all doing very well.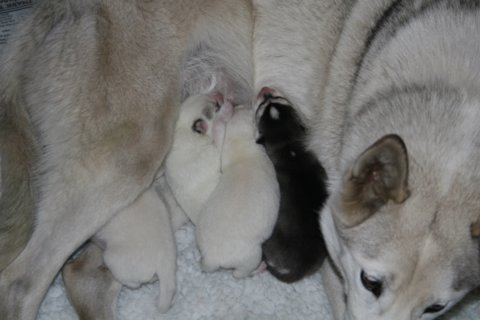 Many thanks to Kim and Kelly Berg (

Kelim Siberians

) for encouraging us to breed this litter when our minds were definitely in other places. It was a great idea and we are glad you suggested it!




And thanks to Mike Ellis and Bob O'Hearn for taking such great care of Klu and getting her back home to us.

And we are toying with a few different themes. I had originally wanted to go with 'candies', but Mark's electrical apprentice at work is fluent in Cree. The two of them have been coming up with some great name suggestions (did you know 'Atim', which is a kennel name that appears in a lot of our pedigrees is Cree for 'dog' - I didn't!) - although they were kind of waiting to see what Klu would have before getting too serious with the suggestions. I'll be sure to let you know what they come up with.

Karen