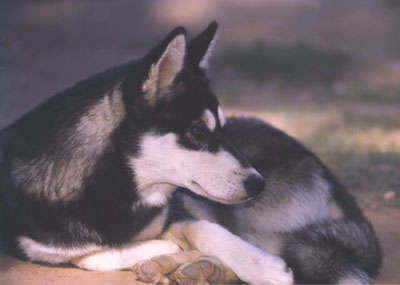 'Allie' was the last born out of our very first litter of puppies. She snuck in her entrance long after we thought Libby was finished having puppies. She didn't escape our notice for long though.
From the beginning, she was Mark's girl - the only one he's ever put a suit on for! He always wanted to look good if he had her in the ring. The two made their appearance in the obedience ring and occasionally conformation.
When we began to get more serious about running dogs, I borrowed Allie to lead for me in races. I never came even close in her eyes to her Dad, but she humored me and was a hot damn lead dog - my first real leader, actually. I've always credited her with winning the 54 mile Gold Rush Trail race for us. It was her leader skills that got us quickly through some tricky parts of the course that messed up alot of the other teams.
Although she never had a litter of pups for us (we tried - it just wasn't meant to be, I guess) - Allie will never be forgotten around here. Her legacy lives on in all the leaders in our kennel now and always. And she will live on in both our hearts, although particularly Mark's, forever.
As our vet said last night "She running down happy trails now" - and she deserves that.
Karen