Back Home & The Big Bash
Oh my gosh, I love my home!!! Now, don't get me wrong, I love my time in Minnesota, Alaska and the likes, but this is where my heart lives!
My sentiments were completely echoed by the dogs as I drove down the road to our place on Monday (I don't understand how they do this, but after a couple thousand miles of travel they absolutely KNOW when we turn onto the road to our house.) and they all began to howl in their boxes. Fly met us at the gate with big eyes and then roared around the yard barking and making sure every dog knew we were home. The yard quickly erupted into a circus of noise and activity. No quietly sneaking into the house for me!
I did a little re-arranging of the dogs that were left behind and then got the main string out to their spots. They peed, they bounced, and they batted at the dogs next to them. Just generally showing their enthusiasm for being back in their own yard. The rest of the day and long into the night was filled with restlessness and 'dog talk'. Many stories to share, I suppose! I'd love to hear their versions of our adventures!
Anyway, as most of you have read from my earlier diary entry - the stop in Winnipeg on the way home was a very worthwhile one, with Chester, Draco and Mannie all picking up some very nice wins at the National Specialty. I can't begin to tell you how excited I was over Draco's win. Draco is truly a favorite around here and a dog that I feel really embodies a 'working Siberian', to have him recognized and awarded a big win at a National Specialty is very, very rewarding. I'd be lying if I said I didn't shed a tear or two over that!
Mannie's Award of Merit win from the Veterans Class was also special. At 8, I know Mannie's competitive trips around the show ring are going to be getting rarer and rarer. I try to treasure and enjoy each opportunity I have to gait around a show ring with this special boy.
Enough of my glowing about the Specialty! I have one more weekend of tales from Minnesota to share with you all - the Big Dog Bash!
The Big Dog Bash is a weekend event organized by Scott and Terry Miller and hosted by Jamie. It is geared for 'Big Dog' (Malamutes, Inuit Dogs, etc) and non-competitive dog teams. We travel 10 - 14 miles out to a cabin at lovely Franklin Lake, where we camp out for a day or so before traveling home. The teams range in size from 2 to 13 and for many this is the furthest distance they have ever traveled with their teams. Spirits are always high for this, as mushers often learn that their dog's abilities are beyond their expectations!
Thursday saw everyone gathering at Jamie's and a lot of great mooching opportunities for me. (These guys bring GREAT food and those of you that have spend time at Jamie's, especially when Ken is away, know that there is usually not an over abundance of food in the Nelson house!) I munched on cheese curds and reassured everyone that the infamous bridge was in good shape this year (I was pretty sure everyone's carts would fit on it); the wolves in the area wouldn't bother us (even though we saw fresh tracks on our way to the cabin earlier that day); and that the weather would be fine (despite the rain and snow that had been falling on and off all week).
Pretty much at 10 am on the nose the next morning we all pulled our quick releases and headed out. There were in the neighborhood of twenty teams and I felt a little like a Mother Hen when it was my turn to bring up the rear.
At about 7 ½ miles out we all gathered and decided whether or not to do the 'long' or 'short' route to Franklin Lake. Eventually it was decided that 4 teams, guided by Jamie's handler, Jane would take the direct, shorter route and the rest of us would go the longer way. Bonus for me - the longer way involves one of my favorite trails in Minnesota, a lovely twisting and turning trail through the trees.
When we got to Franklin Lake the 'short' group had already arrived and things were pretty much in disarray. Seems that the Department of Corrections (who owns the cabin - but allows others to use it when they are not) had an unexpected group of girls staying there overnight. Peter McClelland of White Wilderness, who was doing are cooking for the weekend, had misunderstood Jamie's directions and was further down the road when we arrived. Most of the teams had camped near him.
Jamie and I headed down to round up everyone and get the group altogether again. We were met by quite the sight and story. It seems when Peter overshot the cabin he managed to get his truck stuck in some nasty, mud filled ruts in the road. His first (and I must say, Peter - not too bright) thought was to hook his dog team up to the truck. That didn't work and while he was attempting to move his 10-dog team, by hand, to the back of his truck, the dogs took off. Peter valiantly hung on and was dragged down the road, skidding all the skin off both his forearms in the processes. OUCH. Just before a short turnoff to the Lake Peter lost his hold and off went his team. As they reached the corner he shouted 'HAW' and they obediently took the turn! Very impressive. Being a Minnesota team, they are well used to plowing through big puddles and they forged into the Lake without hesitation. Unfortunately, Franklin Lake gets deep rather quickly and Peter had to jump in to rescue his dogs.
By the time Jamie and I got there the dogs were safely back hooked to Peter's 4 wheeler, Peter was drying out and had carefully covered his arms to stop us from getting a look at them. Peter's truck was still firmly stuck in the mud though and our first order of business was getting it out.
Many people threw out various suggestions, but in the end, we opted for a plan that only seems sensible if you are in a Togo mind state of mind - DOG POWER!!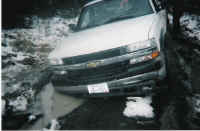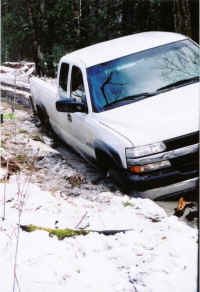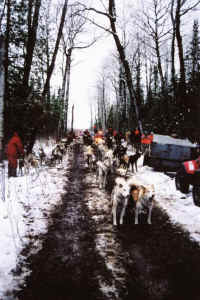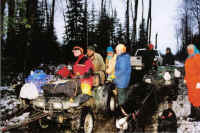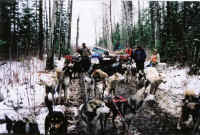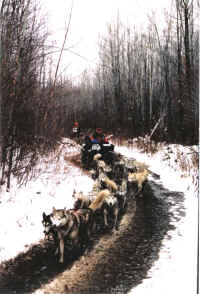 To the rear of Peter's truck we hooked up 4 dogs teams side by side - Peter's 10-dog team, my 14-dog team, Terry Miller's 13-dog team and Jamie's 14-dog team.
At the signal we were all going to call up our teams and the truck would pop out of the mud. Yeah right, was my thought!
The signal was given and the Miller's 13 incredibly strong Inuit dogs hit the line for all they were worth. Their snub line couldn't withstand the hit and snapped, sending Terry and her team down the trail away from us. Peter's, Jamie's and my team looked quizzically over their shoulders and wondered what strange things their owners were up to now. A quick discussion with the three remaining teams and we were ready to try again.
The dogs hit the line much better this time, but again nothing happened. I was convinced this was not going to work. - Then every so slightly, the truck budged. As soon as the dogs felt that inch of give, they all dropped down and applied themselves to the task at hand. It was a real rush to feel that truck start to move and then slip out of the mud! We actually had to ask the dogs to stop once they got the truck (a new model 1 tonne 4x4) moving.
VERY COOL!!! The entire episode was video taped, so hopefully we will have some pictures to share at a later date!
A very enjoyable evening was spent patting ourselves on the back and chowing down on delicious food, cooked by Peter.
The next day had us all off on a variety of runs. Jamie and I had to run back to her place to do chores. With us came Peter, who needed to give his forearms some attention and Ann Stead, who had just joined us for one night.
Others did runs around the cabin and some just hung out, resting up for the next day's journey.
The rest of the weekend rolled by with lots of dogs stories, songs, terrific food, great company, and dog running! All to soon it was time to journey back to Jamie's.
The run back was pretty uneventful, except for one incident between Jamie and I (well, in fairness to Jamie - my beef is with one of her dogs, not her!). A mile or so from Jamie's the main trail comes out of a field and onto a blacktop road for a ½ mile or so. The approach out of the field has a pretty good drop off on one side. I know this drop off well - I rolled Jamie's new 4 wheeler in it a few years back and came very close to rolling my own over in it the day before the Big Dog Bash.
Wanting to make sure everyone noticed it I parked my team and stood on the edge of the approach watching for traffic and encouraging teams to stay left. All went well and team after team safely rolled by UNTIL it was Jamie's turn. As her 14 hooligans passed by one - I'm thinking Jed, but none of her dogs are talking - deeked around me at the last minute and sent me flying. I came down tangled in the gangline and dragged down the blacktop for a short bit before Jamie could react and get the team stopped.
When I did the after accident 'body inventory' I was dismayed to find one finger on my right hand not functioning. Sprained, cracked, damaged tendons. there has been much speculation, but as I sit here and type, almost 3 weeks after the incident my finger is still swollen, painful and not fully functional! (And, No, Mom. I'm not going to the doctor, it will heal in time).
All for today!
Karen