For a while there this running of the Knik looked like it would have a huge field, but in the end only 15 mushers ended up heading out towards Skwentna. I drew bib 10, a number I was very content with. With the help from friends, like Jamie West, Doug Grillot, Russ Bybee and June Price my team consisting of
all got hooked up and pointed across the icy parking lot towards the starting chute. Race organizers are to be commended for their common sense. Rather then try to muscle strong, excited dog teams over the
ice to the starting chute
, they simple went to each dog truck in order and started us from there. Everyone, especially the handlers were very grateful.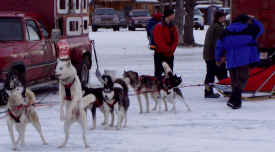 Right away we faced a problem as musher Carlos Da Silva, driving Iditarod musher GB Jones team was tangled up on the ramp off Knik Lake. Luckily he was able to drag his mob off to the left side of the trail and my leaders easily negotiated a way around him.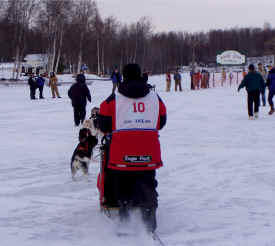 The next several hours of the run were like a lovely visit with an old friend. I've raced and trained lots on this trail, but had been out of contact with it since '02 because of Iditarod restarts being in Fairbanks and Willow the last couple years. There were a couple improvements, like the bypass around a brief stretch of plowed road that we used to run, and a few sad things, like the missing 'Nome' sign 20 miles out – but overall it was pretty much as it as always been.
The dogs were moving steadily and strong, despite the fact that temperatures were far above ideal for my furry pals. We jockeyed for positions with a few teams, being passed a bit and passing a bit – overall holding on to that number 10 spot more or less though.
Once out on the river things started getting busy. With the lovely weather (too hot for dogs, but great for people) snowmachiners were out all over the place, but everyone was careful and respectful of the dog teams, giving us a wide berth when passing and usually waving a greeting.
At about this point I slipped into an ongoing battle I'm having with a few of the dogs – Odie, Hector and Olena to be exact. All three have decided that the dog booties that have fallen off other dogs and are scattered along the trail are edible. Not only is this an annoying habit, it is a dangerous one, as the booties have the potential to ball up in their stomach and impact their systems up. Odie is sneaky about it and I usually don't see him snarf the things up – I just see them come through the other end a day or so later. Hector will drop them if I sharply say his name but Olena just inhales them faster if she knows I've seen her grab them. There were a few miles of stop and go while I tried to convince these guys of the evils of their addictions – eventually they decided I was right – or they were full – one of the two. Then Surge dived for a larger piece of white cloth that was discarded on the trail. He quickly spit whatever it was out and Olena, running right behind him grabbed it and started giving the 'death shake'. It was much bigger then a bootie and I sure didn't want her eating it. I threw the hook in and ran up front to start a tug a war with her for her 'prize'. I 'won' – but it was one of the moments that proves just how much I adore these dogs – as 'the prize', which was now mine, was a very dirty pair of underwear. Gross, gross, gross!!!
The rest of the run into Skwentna was pretty uneventful. Daylight faded away, but we traveled along under a beautiful full moon. We stopped a few times and all snacked, me on juice packs and beef jerky – the dogs on frozen salmon and herring. I pulled out my I-Pod and enjoyed some tunes as the trail went by. Near the end of the run Nahanni started to develop a bit of a 'hitch' in her gait. I went up a few times and checked on her. She wagged her tail and bounced around, but she had quit pulling as hard as she usually does.
We signed into Skwentna at just after 9 pm – in 7th spot. The checkers had packed down camping spots for each of the teams – which was wonderful because of the huge amounts of snow there!! They said you had to go through 5 feet of heavy snow to find the ground and I sure believed them - every time I stepped off the packed stuff to work my way around the dogs, I'd crash through the surface and end up struggling. Despite that, I had chores done in record time. All the dogs ate great and then settled contentedly into the really nice straw that the race had provided us with.
I went to look at Nahanni closer and she let out a horrific 'yipe' when I moved her front left leg. I called the vet over. It was obvious that she wasn't leaving Skwentna with the team, but if the vet could help me pinpoint the problem, I could get some work done on it to make her more comfortable and start it healing. We isolated a knot in a muscle on her shoulder. I gave her a massage and jacketed her up for a rest. She gave me a poke in the face with her nose – Nahanni's way of showing affection, before curling up to sleep.
Inside the checkpoint I was as determined to stick to my checkpoint routine as well as I had outside. I inhaled a big plate of spaghetti with as much enthusiasm as the dogs had shown their meals and then headed upstairs to get a nap before my 2 am wake up call. Although I didn't get a full 3 hours sleep, I got some, which is better then I normally do in a race of this length. When I checked my official 'out time' on the checkers sheet, I was dismayed to find out I had miscalculated and rather then having a leisurely 2 ½ hours before I left to do chores, I had around an hour and a half. No diddly dallying now!! I sped through watering dogs, packing up my garbage, reorganizing my sled and otherwise readying to leave. My last chore was turning Nahanni over to the vet and checkers. They were all commenting how sweet she was and how they might not return her to me in Knik. I smiled sweetly and muttered something about immanent death if they tried to do that.
My 11 remaining dogs, now with Olena and Odie in lead woke up very well and left the checkpoint much stronger then I had thought they would.
In my rush I had forgot to put new batteries in my I-pod, but the old ones were holding for now. I just had one earphone on when I heard a noise off on the river bank. The dogs all heard it too and sharply snapped their heads to look off to the right. I pulled off the one earphone and was treated to a few minutes of the most magical music the wilderness has – wolf song. There was probably 3 or 4 of them blending their voices into the night. It was a really special moment.
We rolled passed Yentna station right around breakfast time and the smells of food cooking up in the roadhouse was almost more then my stomach could bear. I gnawed on a frozen KitKat bar – not as good as sausage, eggs and pancakes (the staple Yentna Roadhouse breakfast menu) but it shut my stomach up for a bit.
After we came up off Flathorn Lake the dogs kind of went 'flat' for a bit and I shuffled around and played with leaders a bit before finding the proper spark for the team – Kara in single lead. I silently thanked
Natalie Norris
– she a big believer in single leaders and I had never even tried that until she encouraged me to last year. Without that, I probably would not of thought of trying that configuration out on the trail. Kara bopped along down the trail at a nice clip, especially considering we had just done 150+ mile in the last 24 hours.
I had been hoping to make it into the finish line before 3 pm, which is the time I had told Jamie I was aiming to finish the Race by, but at around 2 pm I figured we were still over 15+ miles from Knik Lake. We rounded a corner on a small lake crossing and things weren't making sense to me though. This looked like I was about to cross Burma Road, which is only 10 miles from the finish line. Imagine how thrilled I was to discover that that was correct – I had miscalculated yet again and was indeed 10 miles from the finish. That picked up my attitude, which in turn picked up the dogs and we did the last miles strongly and came across the finish line the same way.
I love the picture below of the team taken by
June Price
at the finish line, all are on their feet, looking great, with little Kara looking over her shoulder at me. "Where to next, Mom?" She is such a neat little dog.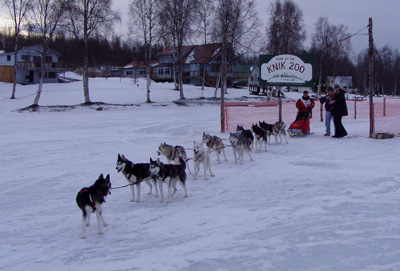 Seeing that it was 2:38 that we signed in (in 6th place, no less) my dog truck wasn't there yet, but promptly at 2:59 Jamie pulled into the parking lot. The dogs were all watered, unharness and loaded. Nahanni had flown back from Skwentna and was very happy to see the team and I. Her limp was almost completely gone and in fact, it was completely gone by the next morning. I think it was just a bad muscle cramp.
The first race I ever ran in Alaska was the
Knik 200 in 1999
, so it now gives me a wonderful yardstick to gauge my team's progress against. That year it took me around 58 hours to do the race (we rested an awful lot!), in
2003
took me 28 hours, 23 minutes – this year, on a slower trail and less then ideal temperatures, it took us 27 hours, 9 minutes. I don't think I need to tell anyone I'm smiling!
(Note: Race results will be archived on the Knik 200 site
here
).
Karen