I want to give a BIG Thank you to Karen and Mark for letting Corina and I come visit them at their home and to get a chance to visit the kennel! I have always wanted to visit. Karen is a great cook and we ate like Kings!! Thank you Karen. We also got to try lots of new candy bars that the US doesn't have down here, yummy they were good. We had to try some Skor and Crunchie bars. Karen also found it strange at the things Corina and I were interested in like Magpies, colorful herds of cows, tons of farm lands with lots of hay and how flat the roads are and they all look the same to us though Karen disagrees.:) Karen is great at telling stories, we had a great time sharing trail adventures and dog tales, no pun intended.
My trip started off with Karen picking us up at the airport, glad she did because to me all the roads look the same, long and flat! The first thing we did when we got to Karen's cozy little house was visit the dog kennel. It was so cool to finally meet all of my dogs relatives and the rest of the NorthWapiti dogs in person after admiring them for so long in photos and on the internet. Every dog was so friendly and jumped on us to say hi. Draco is a very good kisser and gives great hugs! I was impressed with so many dogs if I listed them it would be almost the whole kennel but some of my very favorites are Odie, Loki, Grover, Runner, Crunchie, Batdog, Q, Moses, Butch, Herman, Hector, Sprite, Dasher, Snickers, Holly and Boom who I offered to buy but that wasn't going to happen. ;) Bummer! lol
The next 3 mornings we ran dogs in the am. Team one was Skor/Olena, Nahanni/Dare, Surge/Chester, Herman/Hector, Newt/Draco, Q/Vortec & Hilda/Crunchie. Skor and Ollie did a great job leading the team! What a bunch of hard working dogs. After seeing Karen's dog in harness I can now picture them on the trail doing Iditarod! I was very impressed with Crunchie, Herman, Skor, Ollie, Q & Vortec though I would want any one of those dogs on my team. It was neat to visit the watering hole half way through the run. All the dogs stood waiting for Karen to give the command "Get in" and they all did. Very cool!
Team 2 was Kara/Snickers, Holly/Jinx, Batdog/Zak, Grover/Jr, Barq/Atigun Moses/Eeek, and Loki/Odie. Snickers is a great leader and I love her personality and build, I would take her home in a heartbeat. The other dogs I was impressed with was Odie, Loki, Moses, Batdog, Holly, Barq and Grover. Made me so HAPPY to have Odie and Grover kids in my kennel! Odie is one handsome guy. Moses sure is one hard worker, would love to have him on my team! Grover is a very sweet and mellow boy and yes he does enjoy his belly rubs! :) Karen's trails are so lovely! Lots of grass, sand and a good amount of mixed terrain. I do have to say though, Karen drives an ATV much faster than I do over certain trails! lol Corina was joking that at least we could go home and say that she tried to kill us. A few times I had to shut off the video camera and hold on! But don't worry, we made it home in one piece and it was well worth the ride! If you ever get a chance, take a ride with the NorthWapiti team, it's GREAT!
Team 3 was Camilla/Crunchie, Sprite/Dasher, Lingo/Runner, Charge/Squeaky, Gus/Watt, Spidey/Roary and Herman/Hector. It's always fun to run pups for the first time. It was Charge and Watt's first day in harness! Both did well after a little ways, they caught on quickly. Runner ran great! I was a proud mom. Camilla is one incredible leader, she's like driving a car.
During my trip Karen gave all kinds of photo albums and pictures to scan so I did! I also took lots of video and photos of the dogs, a lot of them you will see added to the dogs pages in the next few weeks! Karen is a great photographer and she does a great job taking photos of her beautiful dogs. I had so many photos I brought a CD home.
We also had lots of play time with the 2 litters,
Spot and Grover's 4 puppies
, Minto, Koyuk, Sepp and Fritz.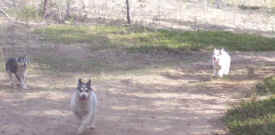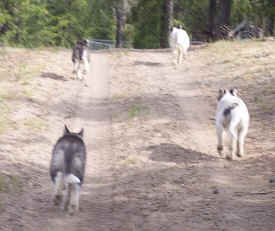 Then
Ollie's babies
Paxton, Tazlina, Tolsona, Summitt and the cutest puppy of them all Excelsior or X! He always has something to say and he's the angel of the bunch, the rest are truly pure EVIL! Every morning and after super time the pups got to go for a walk or a free-run with the ATV which is lots of fun! Minto and Koyuk always beat their brothers Fritz and Sepp. Sepp seemed confused and always ran the wrong way, poor Sepp! Our last day there Ollie's pups graduated to the ATV. They are a very uniformed litter and they had a blast! Enjoy the photos!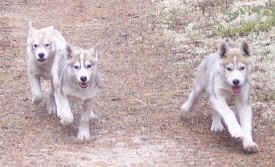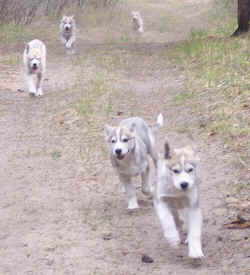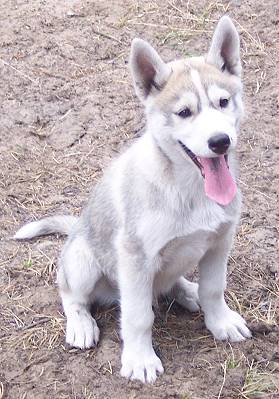 Summit
During my trip we visited Rick and Jackie Austin. Thanks for letting us visit and getting a chance to see your wonderful dogs. Dinner was awesome!! We also got to see those adorable Hugi x Pepsi puppies! I wanted to steal one but they were still too young:( Jackie also did a wonderful obedience demonstration with Hugi, boy is he incredible!!! What a boy!! We also got visit Annette's kennel, Nanook Siberians. Thank you Annette! It was great to see Flurry again and all of your beautiful dogs. Your horses are awesome.
Our last day at Karen's we got to FINALLY see Mark for more than a few minutes and we went to the Edmonton Mall. Mark's work schedule was work in the afternoons from 5-7 am, then he slept while we ran dogs and visited other kennels. We went to see the movie Sahara, I thought it was great. Edmonton Mall is AMAZING!! They have an incredible movie theatre with a fire breathing Dragon. They also have a water park, a live model of the Santa Maria with seals swimming around, Flamingos, tons of restaurants, rides and rollercoasters and tons of gift shops. It's so big we didn't even get to see the whole thing. Truly a must see if you ever visit Edmonton.
Before I finish up I also have to thank a few of the dogs. Thank you Grover for giving me "My Grovers," Dodge and Togo! Thanks to Odie & Kaylinn for giving me Linc, the fastest dog we own. Thanks again Karen for a wonderful vacation!!! Karen is an amazing person and she is very dedicated to her dogs and training.
Kelly Berg