I've often been asked about the 'Cudos' patches that appear on my racing sled bag and parka, so I prodded Cudos owner, Andrew Grisbrooke to tells us alittle about this UK company that has been gracious enough to sponsor us for the last two years.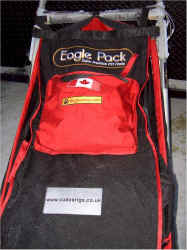 Make sure to follow the link and get an eye full of the rigs these guys make. Who knows, with the recent weather conditions, I may be loading up a Cudos rig for the trip to Nome one year soon!!
Karen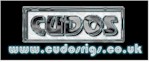 Cudos Rigs Limited
manufactures equipment for Dry Land Sled Dog racing and training. The Company, based in the United Kingdom, is run by Andrew Grisbrooke (
Azgard
) and Daniel Storey ( Qonos ) who both enjoy competitive racing with Siberian Huskies.
Cudos Rigs are keen sponsors of Sled Dog activities. "Our policy is that it doesn't matter if its dryland or snow, sprint or distance, purebred or not – the sport is with Sled Dogs and anything that enhances the enjoyment of the sport and the welfare of the dogs is a good thing".
The Cudos Rig is widely recognized as the best Dry Land Racing Rig in the world,
Steven Lindsay the World Dry Land Champion
used a Cudos Rig to reclaim his 2005 title. Steven said, " the Cudos Rig is by far the best rig I have ever used, the stability and handling at these top race speeds is amazing, nothing comes close in comparison"
http://www.dogsportscotland.com/
The Cudos Rig is manufactured from highly polished rust resistant 316 Stainless Steel and uses the torsion bar principle to provide a strong yet flexible frame. The weight distribution is near perfect enabling the musher to corner at high speed and even slide the rig round tight turns with no fear of tipping it over. Cudosrigs web site http://www.cudosrigs.co.uk/ has testimonials from the top dryland mushers in the world.
Cudos also manufacture a purpose made Scooter for Sled Dogs.
Competitive Dry Land racers need top equipment to be in the points, recently a UK musher borrowed a Cudos Rig on the second day of a race and improved his time by over 20% compared to the first day on his old rig. Needless to say he ordered one from the finish line!
The Rigs, designed by Dan, were perfected over a 6 year period. Quite often Dan faces the skeptic who says
"I don't trust that single axle design" – his stock answer is " Well you trust the wheels not to fall off your car don't you! "