Kara and I are away for the weekend at a show (where we are actually getting our butts kicked - but that is another story) but I thought I'd take a moment to tell everyone about
Camilla
. Mark had to rush Camilla into the vet on Friday morning for emergency surgery due to a condition called
Pyometra
. Basically what that is an infection of the uterus. It is very dangerous, as the infection can just brew in that closed environment (the uterus is open during a heat cycle and that is when the infection can start) and then it gets to the point (often VERY quickly) where the uterus ruptures, and the infection is let loose. That is what happened with Camilla.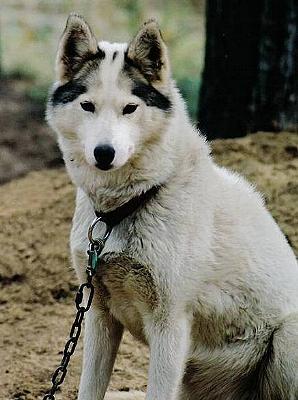 Camilla has been spayed and all the infection flushed from her body. She spent Friday night with the vet, but was back home Saturday. She is on a whole bunch of meds still and is alittle down, but Mark says she is settled in nicely to being a house dog. Although he did call looking for the carpet cleaner once, so it could be taking alittle adjustment. I'm sure just 'cause the Chicken Dog (as we have always called Camilla) isn't feeling 100%.
Anyway, please keep Camilla in your thoughts as she works her way back to full health.

(The next day...)
Well, I'm back home and can better fill everyone in on Camilla now.
She is doing quite well - just ask TakeOut the cat, whose life she has been making hell everytime she goes outside. Unlike Kara, Camilla is not cat tolerant.
However, the vet made it very clear when Mark picked her up that she is not out of the woods yet. He told Mark that they have seen dogs in better 'shape' then Camilla die from this.
She is getting daily shots, which will switch over to pills tomorrow.
Much to Kara's disgust, she will be living in the house full time for the time being.
We will keep everyone updated. Thank you to all for your concern and kind thoughts for her.
Karen
PS. The 'Chicken Dog' title isn't as exciting a story as it sounds. That litter was named after
Muppets
.
Camilla was the little white chicken that Gonzo was in love with on the Muppet Show, so for most of her live we have called her "Camilla the Chicken" or 'The Chicken Dog" - even though she was never a chicken about anything. She is one tough sled dog - every bit the equal to her brothers, Grover, Smiley and Gus - in fact, she is the most crack 'Gee/Haw' leader I've ever driven.

(The next weekend...)
Camilla is doing very well. I've been threatening to toss her back out in the kennel, but I'm thinking she and Mark have other plans. Kara remains disgusted at the invader in her house.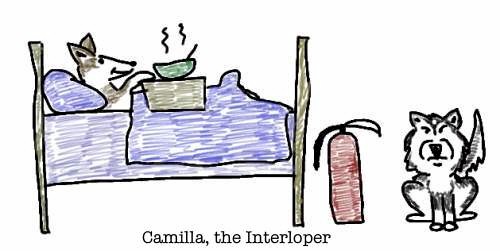 ©Penny Blankenship