Well, our snowmachine problems were briefly solved this weekend when our buddy, Rick Austin came up with his dog team – and his machine for the weekend.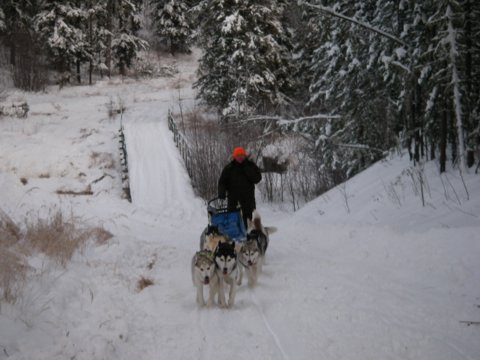 Rick's team
So Saturday morning we loaded my team and Rick's team into our truck, hooked up his trailer and headed up to the Lakeland Provincial Park/Recreational Area near Lac la Biche.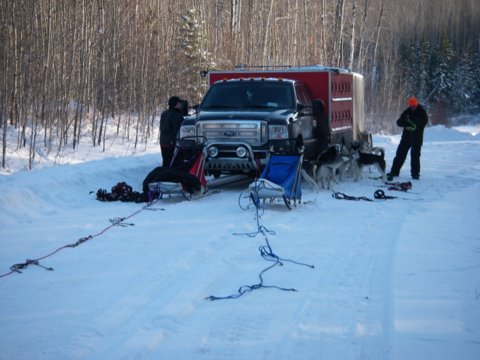 Getting ready to run
Mark had heard good things about the area from the guys he works with and we had been itching to get up and check it out.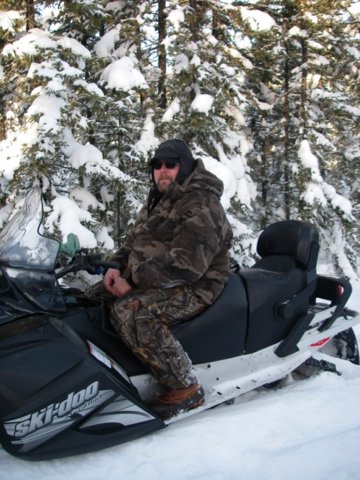 Well, we can say that that will not be the last time we head up there to run. FABULOUS! In fact, we had such a good time on Saturday we loaded up and headed out again on Sunday.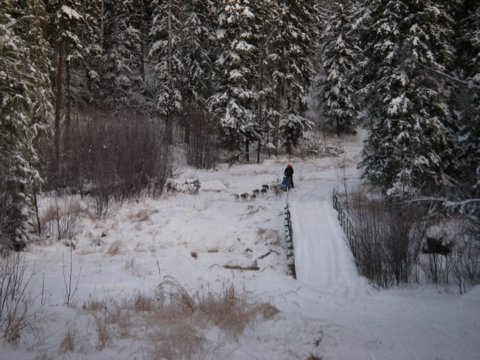 Looking back at Rick's team getting ready for the creek crossing
The trails reminded me a lot of the trails up in Alaska around Knik and Willow. The main trails were groomed for snowmachines and were super to run on. In addition, there are a lot of trappers running traplines in the area and their main trails were very well packed and easy for dog teams to travel on.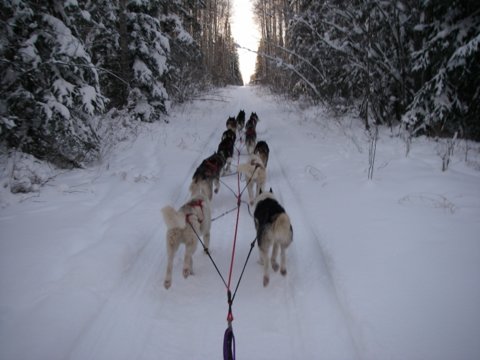 Running the trails (Boom and Charge in wheel)
Saturday we all stayed together and did a very enjoyable 30-mile run. Sunday Rick wanted to do something a bit shorter, so he just planned on an 'out and back' run along the trails we did on Saturday and Mark and I headed off exploring.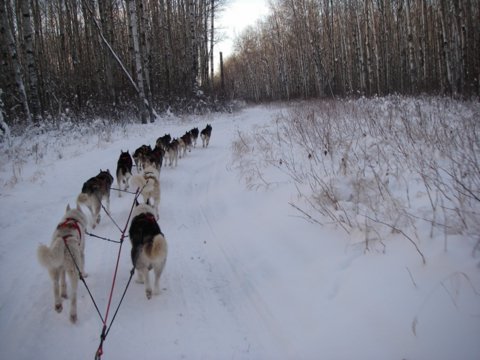 Running the trails
The first 9 miles of our run were spectacular. The dogs, lead by Draco and Q, clipped along wonderfully and we enjoyed the scenery and animal signs all around us.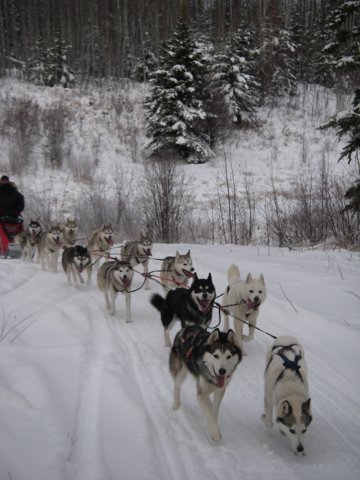 Draco & Q in the lead
Click on the size links for a larger version suitable for your desktop
800x600 1024x768 1280x800
Mark zipped back at one point and warned me that the groomed trail took a hard right into the trees. 'We will take it slow and turn around if it it's not 'doable' for a dog team'. I readily agreed and off Mark vanished on the snow machine.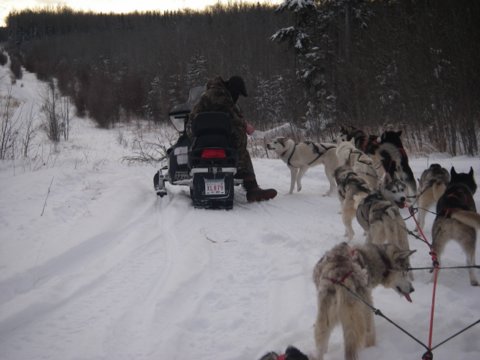 Mark & Q consulting the trail map
Well, my problems started at the turn into the trees, the dogs just didn't want to take it, even though the trail ahead was ungroomed. I should have listened.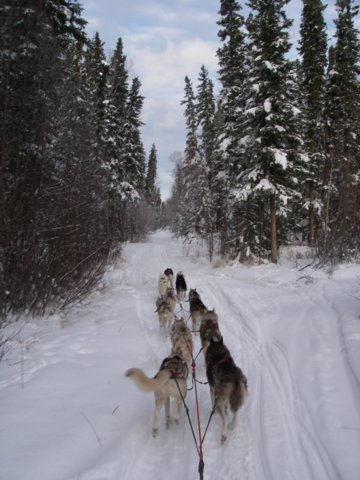 Running the trails
It took a minute and some strong-arming to get the sled lined up behind them, but eventually I got everyone pointed in the right direction. Dogs still fresh and raring to go we shot off down the narrow trail. Right away we hit some nasty, sharp corners around big, unyielding trees. I was actually a little flattered that Mark thought that was a 'do-able' trail for me, 'cause it was definitely something most people wouldn't be taking any size dog team down – forget a fairly charged 12 dog team.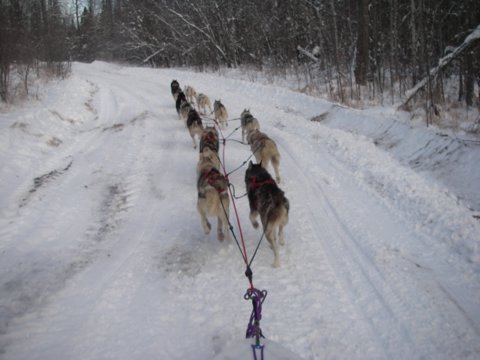 Sunday's team on the move
After a couple more corners that did their best to suck me into trees I started to get annoyed. When the trail dropped down a sharp steep hill with a 90-degree corner at the bottom (but with nice big trees to help make sure you didn't get off the trail), I was thinking of killing my husband, if I ever saw him again.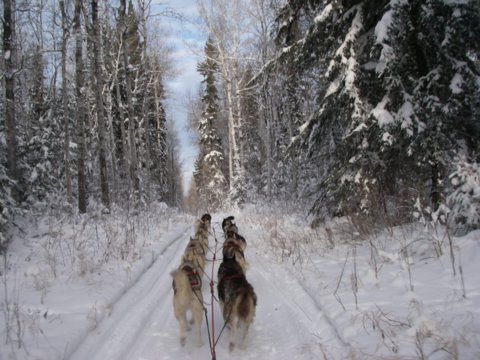 Running the trails (Batdog and Hector in wheel)
Finally I stopped the team and planted both hooks. This was ridiculous - defiantly not a 'dog team friendly' trail.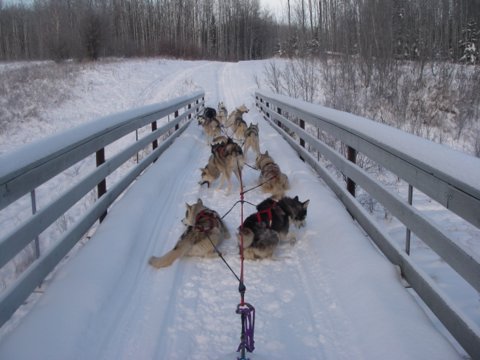 Taking a break on the bridge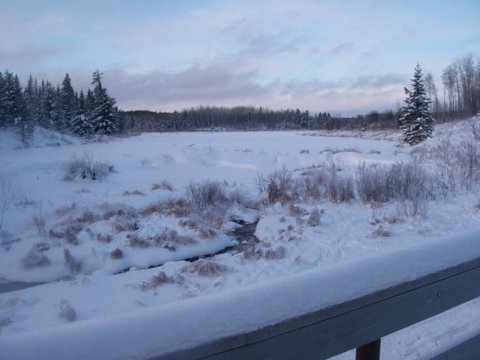 Scenery
I was just going to wait until Mark came back looking for me. (BTW – we have little radios so we can talk to each other in just this kind of situation and we used them on Saturday, but someone forgot to put them in the truck on Sunday. Probably lucky, as I might have melted mine with the vocabulary I wanted to use at about this point).
Sure enough, about 5 minutes later, I heard the snowmachine coming back down the trail. Mark zipped around the corner and asked if I was okay. I was quick to say I was and then launched into a tirade about the trail. He immediately interrupted me and said he knew, but there had been no where to turn the snow machine around. Then he announced that the trail ended in a trapper's yard "…and he wants a picture". I suggested he could come back here and take one, but Mark insisted it was only 200 yards ahead and the worst of the trail was behind me.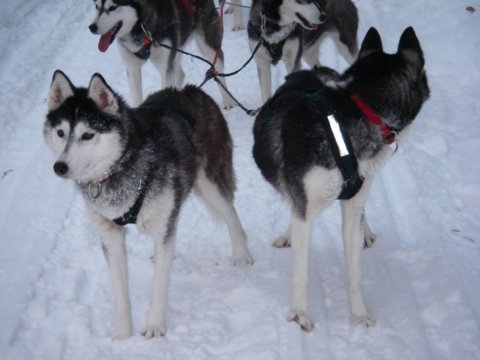 Kara & Hilda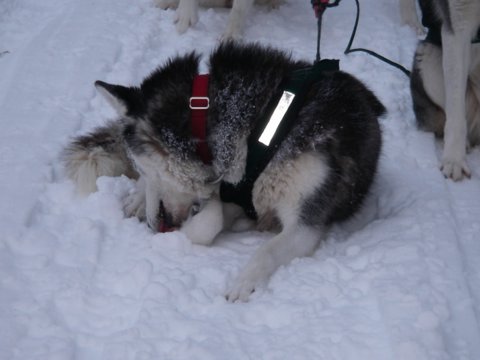 Kara taking care of her feet
I said fine, as long as Mark ran the snow machine right in front of my leaders to keep their speed down (one of the biggest problems with a tight trail like this one is that you can't slow the team down, because physics demand that everytime you touch the brake, you risk getting slammed into a tree) and a few hundred yards later the trail did indeed spit out into a nice neat yard, with a nice sized, well built, well used cabin. Kids started spilling from the cabin and stared wide-eyed at the dogs. "You can pet them, they are all friendly", I said. All the dogs were jumping and barking for attention. I went through and introduced each dog to the children. Junior, with his piercing blue eyes was quickly deemed the favorite.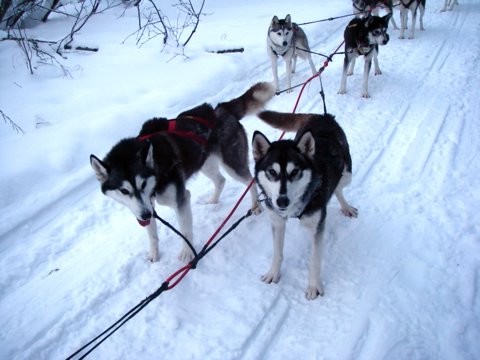 Olena and her superstar daughter, Tess
We chatted with the trapper for a bit, some about trapline dogs, but mostly about wolves. He had caught 5 already this season and was actually in the process of skinning one out when we arrived. (I'm choosing to just ignore the fact that Mark found time to go into his cabin and look at pelts before coming back after me).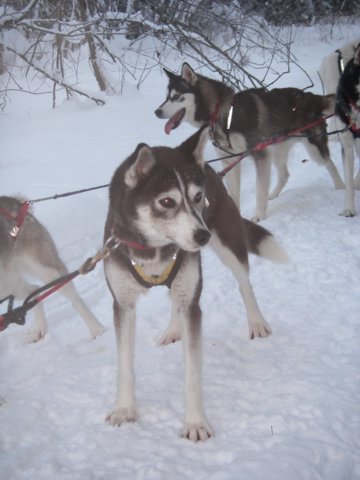 Spider
We laughed over the fact that many folks mistake our dogs for wolves. Anyone that has actually seen a wolf in person knows that they are MUCH larger then our dogs. He was telling me that they got a wolf last year that was right around 150 lbs – Draco, the biggest dog in my yard now, weighs 58 lbs.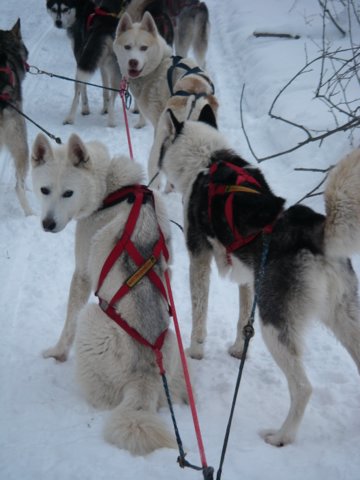 Boom and Charge
He was actually happy to see us, as he claimed it would get the wolves out and about. He told Mark that he would be expecting them in his yard tonight, following our trail. Although I don't begrudge anyone their right to make their living in this traditional (and very hard) way – and I wear and use fur – I silently wished the wolves well.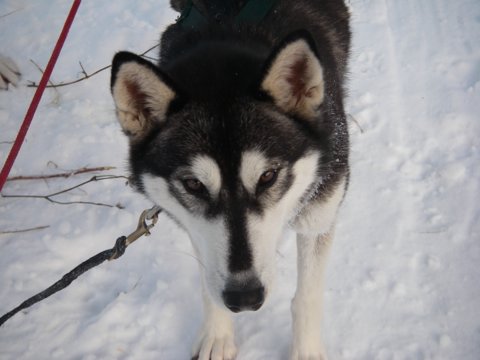 Tess
The trapper, very much looking the part with his bushy bread, in his long underwear and jeans stood on my sled for a few pictures (I should have taken some, but was still too busy being grateful for being alive to think of it) and then they helped us get the dogs and sled turned around. We got some advice about what trails we should be on and off we went.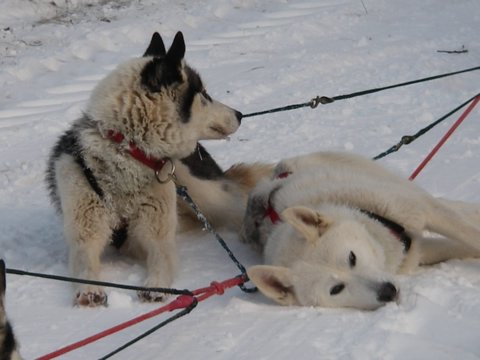 Charge & Boom
The trail out seemed easier to negotiate, probably because Mark was pacing the team from out front and I was ready for what I was facing. I did look over my shoulder a few times and marvel over what I had safely manoeuvred my team through on the way in. I may not be the most graceful of sled drivers, but I've spent enough time on the runners that I can usually 'talk' a sled into doing what I want it to do – I sometimes forget that!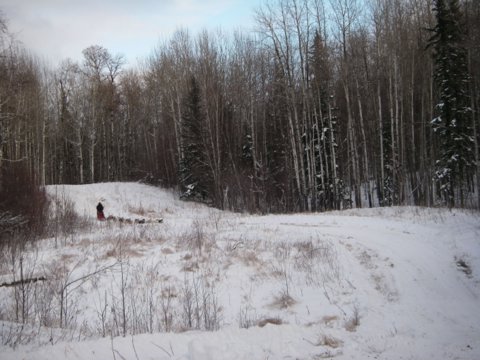 The trails the trapper recommended were lovely and we got another 5 miles or so out of the run before running into a 'Active Trapline' sign (indicating that their were traps set right off the trail) that made us turn around. We had a nice, easy run back to the truck.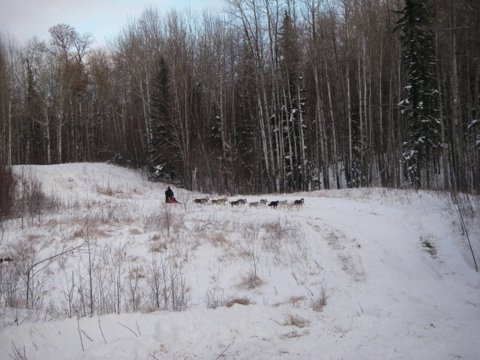 We slipped into Lac La Biche for donairs before heading home. Okay, our dog truck, especially pulling a big snowmachine trailer doesn't 'slip' in anywhere without notice, so we ended up chatting with a few locals and got some more tips about other good places in the area to run.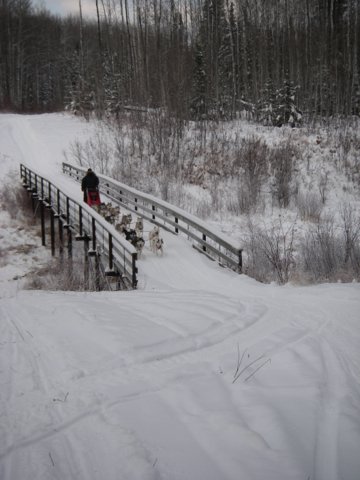 Crossing the bridge on the way home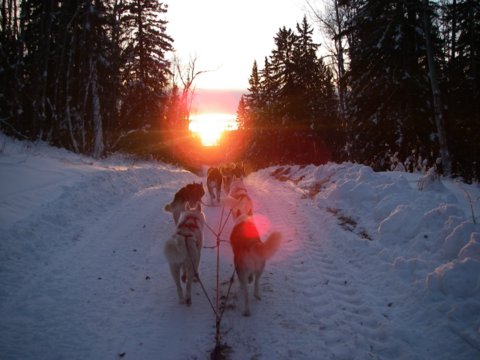 My team heading into the setting sun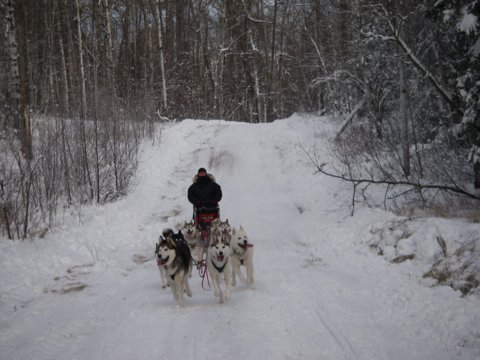 Nearing the end of Sunday's run - still looking good and happy!
A tremendously enjoyable weekend!
Now it is Monday morning and a million things need to be done before we leave for Alaska on Wednesday.
I've already decided what 24 dogs are heading up to Sheep Mountain with us, but will do another diary entry before we leave to fill you all in on those details!
Some of you may have noticed that we have an ad up on
SledDogCentral
for a handler again.
Matt
is still with us for the time being and will be until later this month, but he and his girlfriend have decided to head out to BC to look for a place they can both work. The long distance relationship thing just isn't all it is cracked up to be, I guess!
Definitely disappointing, but we understand the situation! It has been very nice having Matt here for the last month and we have really enjoyed getting to know him.
Anyway, all for today! More before Wednesday….
Karen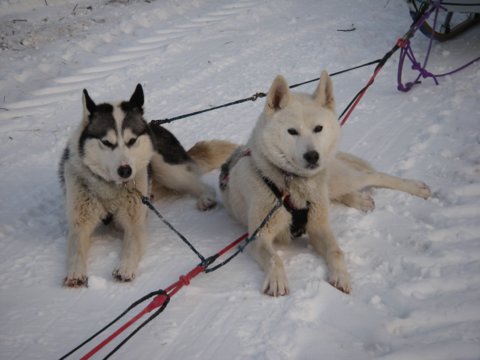 Charge & Boom