It occurred to me that I have not told everyone what dogs are actually up here in Alaska with me. Okay, it didn't really ''occur' to me – two or three list members reminded me!! The 'outcome' (this diary entry) is the same regardless of how it came about!
J
I thought I'd do this this time with a bunch of pictures that I took over the last couple days!
First up are the veterans –
As I have 23 dogs up with me this year instead of the usual 22, I have had to make use of the pen in the dog lot – of course, it went to Kara, who I believe is enjoying her own private space.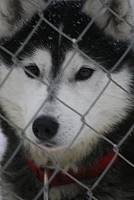 Of course, her brothers Odie & Loki have accompanied her back to Alaska.
Odie has even got a 'winter fling' going on with Jamie's house dog, Kipp. We haven't mentioned to him yet that she is spayed.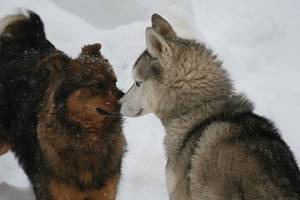 Next in seniority are :
Moses and Olena - opps, that isn't 'Evil' – she wasn't interested in getting her picture done – that's Jamie's new horse, Nick standing in for her!
All three of the handsome 'Hs' came back to visit their place of birth!
Hector, Herman & Hilda
Our 'junk food' year is well represented by –
Chocolate bars – Crunchie and Snickers - and Soda Pup, Barq
The lovely and capable Dasher is one we expect big things from this season.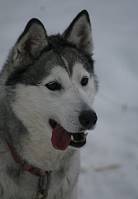 Littermates Batdog and Holly both got on the truck this year!
Junior is the sole 2002 pup to make the trip this time!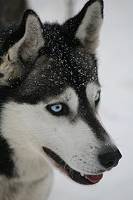 Jinx - oops another dog that didn't want to be photographed – and another of Jamie's 'herd', Angel – and Q may have been rookies last year, but this year they are acting like old pros!
Oh goodness, I almost forgot Eeek aka 'Eeek the Geek'.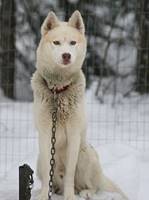 And then there are the real rookies. They have spent the last week wide eyed and with their jaws moving, but they are also showing TREMENDOUS potential!!
Charge, Watt, Tess, Boom and Spider
And when you put them all together (well, 12 of them anyway), they look like this…
Happy Trails!!
Karen