Phew, I don't know what I was thinking, but I really booked up my schedule for the last part of July and beginning of August. Last Tuesday when I sat alone in the house drinking a cup of coffee in the morning, it was the first time in 31 days that I wasn't away or didn't have company. I'm fried!
But I did have alot of fun with everyone!! I believe I've already spoke of my trip to California (and if I didn't, I can easily sum it up - good food, GREAT wine and GREATER folks!) and Corrine's visit.
Corrine's Dad, Brian (Mark's younger brother); her two brothers, Cooper and Wilson; and Mark's Dad all showed up to pick her up. We had a nice family get together that evening, with Mark's older brother's family as well, and the next morning we got all the kids out for rides on the scooter.

That same day Colleen showed up for a week long visit and the next day Nicole, a young lady from Prince George that would like to run Jr. Iditarod this year, arrived.

We did alittle running of dogs, playing with puppies, a fair amount of grooming, some blueberry picking, and alot of chatting.


The house has been quiet now for the last week and I've got to admit it is nice. The blueberry crop this year is FREAKY. Not only are the berries plentiful, they are HUGE.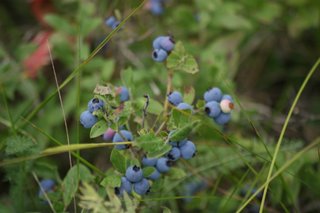 So, I've been out doing a bit of picking. Nothing nearly as serious as some of my neighbours, but enough to keep Mark and I happy. I don't think a day goes by that we don't eat something 'blueberry'. This morning I had a blueberry/banana smoothie for breakfast and made up a container of 'microwave blueberry jam' for Mark for his breakfasts. Yum!!

The really disappointing thing right now is the weather. Normally but this time of year we are down near freezing just about every evening. Not this year, I haven't been able to run dogs in almost a week. Over the weekend we broke a number of weather records with temps up in the 30s everyday. Normally we only have a few days over 30C all summer, 3-4 days over 30 in mid August is riduculous for us.
I'm optimistic things will change soon - afterall the fireweed is still predicting an early winter.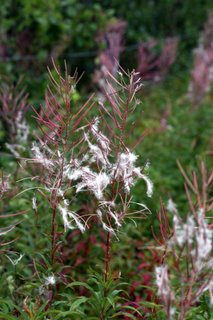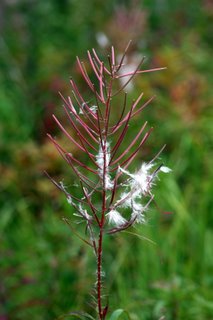 ... today has been alot cooler and overcast, so fingers and dog toes are crossed that we will get a run in tomorrow.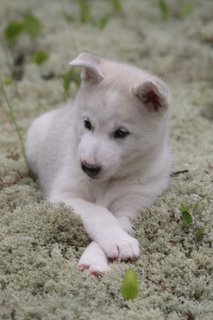 Okay, this is an older picture of Kim - and she really doesn't care if the big dogs get to run or not - but I thought it was a cute shot of crossed dog toes.
Anyway, I have had the camera out a bit and there are some new albums up on the Picassa site that some of you may enjoy checking out.
Pictures of the Energy Drinks at -
Kim and Kelly at -
and some of the 'big dogs' at -
Let's hope the next batch is all shots of running dogs!!!
Karen