by Gwen Ross

A few paw prints from the Taiga 300, April 2007.
"If you're coming with me you need nerves of steel, Cause I take corners on two wheels.."

- Pam Tillis, Mi Vida Loca

The drive along the Alaska Highway from Willow to Lake Louise, Alaska is nothing short of spectacular.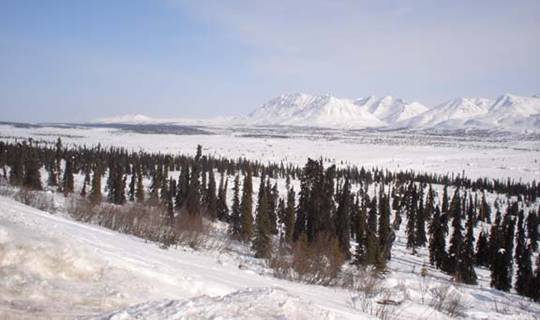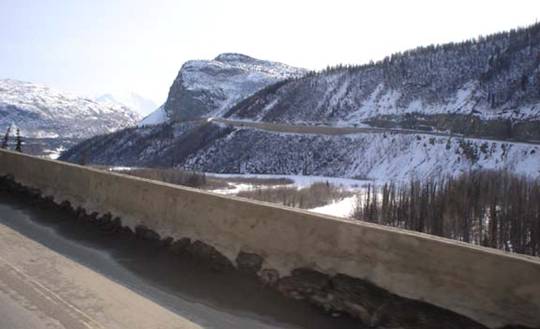 I started calling it the 'sports car' of dog trucks because of the way Karen drives that big hunking beast, I'd swear she has taken lessons from Jeff Gordon! The truck eats up the miles, she passes while barreling up hills, and even in tight parking situations she can maneuver it backwards around corners and obstacles, even on sheets of ice! It takes corners like a dream.

Well… all except one corner….

We pulled into the Wolverine Lodge turn-off and the truck gracefully took the corner, and kept taking the corner until it ended abruptly with one wheel over the edge. "Gwen", said Karen, very calmly "Would you please lock the hubs?" Out I hopped, locked up my side and then stepped round the front to lock up the driver's side when suddenly I plunged up to my armpits in snow!

"OH OH!!!!"

We hiked down to the lodge and one of the young employees agreed to give us a tow out.

"So how big is it?" He asked, " a ¾ ton?" "Ah, No!" was all Karen replied.
His eyes were as big as saucers when he saw the truck. And for all you 'Ford vs. Chevy' folks out there, it took not one, but two Chevys, in tandem, to pull us out! Karen knows how to make an entrance!

We arrived with 22 dogs and will leave with 24! Kluane is coming home, Togo, from the Bergs, is the newcomer. Mike Ellis brought them with him.


| | |
| --- | --- |
| Kluane | Togo |

Race Day:

The day starts with a drivers meeting. There are 7 teams that will start the race, at two-minute intervals starting at 11:00am sharp. The mushers ask lots of questions, mostly about the trail conditions. The first checkpoint will be back at Wolverine, so the handlers drag straw and drop bags for their mushers over to where the teams will be parked. This is an unassisted race, so up until Karen leaves I'm allowed to help her with whatever she needs, but after that point my assistance will be very restricted.

As we get closer to the start time I string out the gang line and help harness dogs.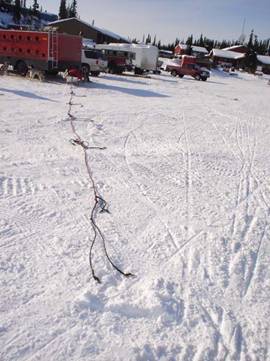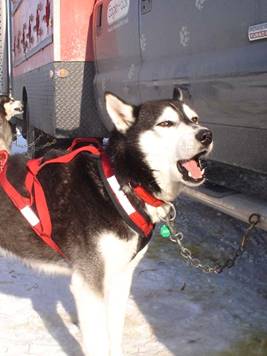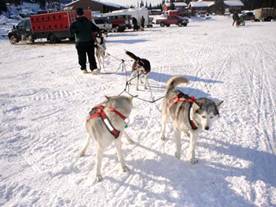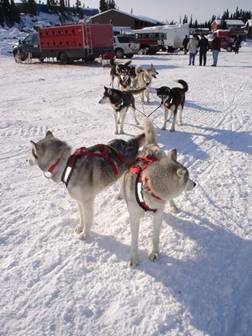 Hooking up….

And before I know it, she is off!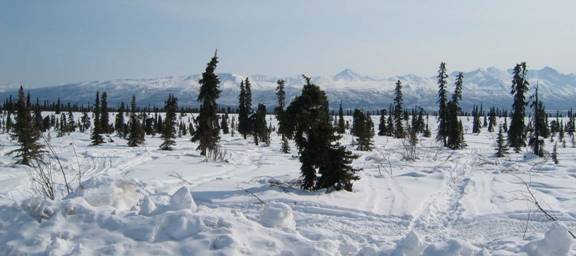 And then there is just silence.


Question #1: So what do handlers do while they wait?
Answer: We lay bets on when the mushers will come back!

And back they came, quicker than any of us had anticipated. I had just finished dropping dogs and moving the truck away from the checkpoint (as per Karen's instructions) when someone hollered, "Gwen, she is coming in!!!"

There's a flurry of excitement to grab the leaders and lead them around to park them all lined out, like a series of tractor-trailers.

The race Marshall gave me my instructions; I can talk to the musher, and I can "kick the musher awake". Other than that I can give no assistance, except to break up a dogfight, or… prevent a breeding!!!! The teams had a mandatory 8 hr lay over and I spent most of the time doing exactly that, preventing a breeding. Or multiple breedings, as Karen had 3 of her leaders in season.

Karen didn't get any sleep, and before I knew it, it was time to get her out of the checkpoint. This time in the dark, but with a good full moon, and strong headlamps, it wasn't really dark.

Getting the team up and moving proved to be quite a test of patience for Karen, as the dogs certainly had the call of nature on their minds. For me it was blur of running out with the leaders, watching the team leave, then seeing the line accordion, running out again, grabbing leaders, lining them out, watching them leave, seeing Karen's headlamp light whip around (looking for me), and repeating this process numerous times. I was uncertain as to how far I could help her, and wondered if I might have to run the entire second leg like this!!!

Later the other handlers shared a giggle as they told me from their perspective at the steps of the lodge, they could see my headlamp light bobbing along with the team, see it stop, hear Karen yell "Thanks Gwen" then hear her yell "Gwwwweeeeennnnn" and my headlamp light bob along again, repeat the process until finally they heard "I'm on my own now Gwen" and my light switch off in reply.

Too wired to think about sleep I moved the truck back, moved all the discarded drop bag gear back into the truck, and finally raked the left behind straw into piles. Afterwards I stood outside just looking into the night for a while and wished my friend a good run.
Wolverine Lodge is wonderful!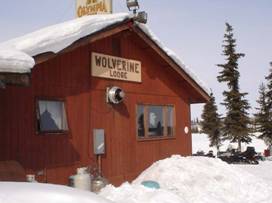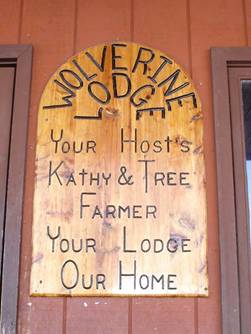 The next morning after they left, I was up at 6:00am to drop and feed the dogs. I turned on the tap to fill buckets and there was no water! Uh OH!!!! Not to worry, Tree, was also up, and when he saw my dilemma and discovered I had 12 dogs in my care he immediately scooped ice out of the ice machine into a large soup pot and melted me enough water for my morning chores. Getting water from the lake was no easy task as their lines had frozen up, but he promised there would be water for dogs and mushers from this point forward.

The water truck pumps water from a hole in the lake and then drives it up to the lodge's holding tank.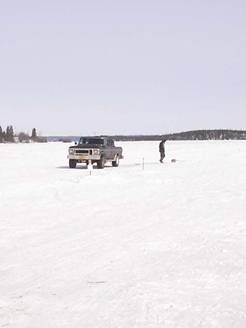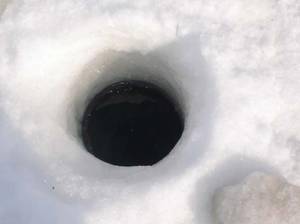 Question #2: So what do handlers do while they wait?
Answer: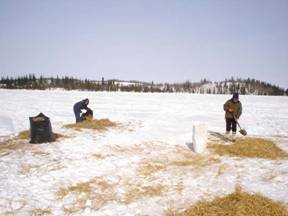 We rake up and bag straw!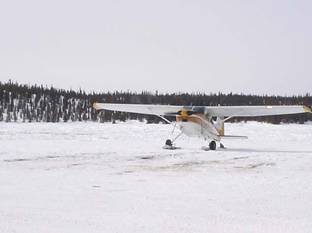 We watch planes come in!
We groom dogs, and snuggle dogs….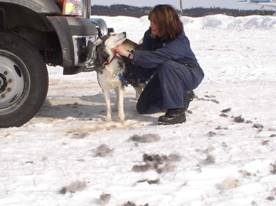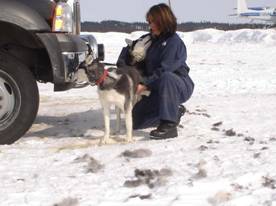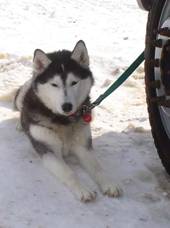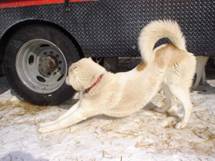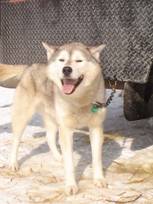 Some snoozing, some stretching, some talking and laughing….
At least I had dog chores!

Anticipation started to mount as the dropped dogs came in via snow machine.



The teams arrived through the afternoon, into the night and finally in the wee hours of the morning, all the teams were in. Karen's team came in strong at 11:40pm.

We heard plenty of stories afterwards including thwarted breedings, porcupine encounters, overflow, tricky ice bridges, and even sneaky foxes.
Karen is well liked for her trail etiquette and kindness to other mushers. I heard this first hand when one of the rookie racers told us of how grateful she was that Karen had stayed with her and helped her through the rough spots. She was very insecure about running in mountainous terrain as she is scared of heights. Karen made it possible.

An awards banquet was scheduled, but as the mushers all arrived sooner than anticipated, the banquet became an "Awards Brunch" and although most mushers will say, "The best moose is a dead moose" I'd have to say the best moose is moose steak and eggs, Wolverine style!!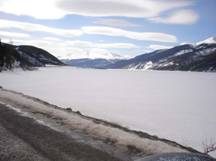 The drive to Alberta is long and stunningly beautiful.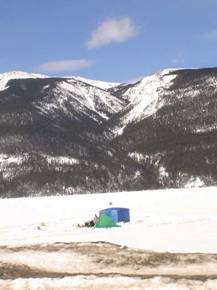 Ice fishing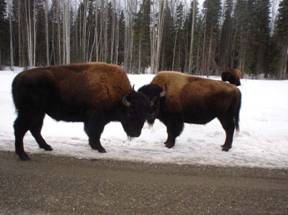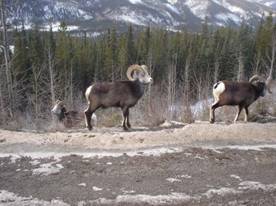 Wildlife abounds.


We chased Caribou up the highway; we saw Moose, Deer, Big Horned Sheep, Bison, and even a Bobcat!

And Karen's foot tends to get heavier the closer Alberta gets!
Thanks Karen for the opportunity to handle for the Taiga 300. I've never done anything like this before and I learned so much!
Gwen Ross

Rookie Handler - 2007 Taiga 300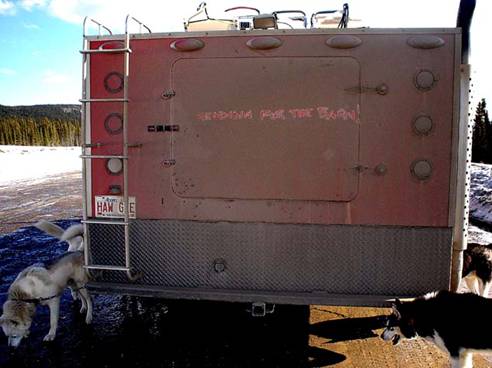 "Heading for the barn!"

Footnote: Duct tape – don't leave home without it!