Utin and I have a secret!!! On Monday evenings he and I have been sneaking out to obedience classes!!!
Many may not know it, but it was the sport of obedience that brought me into the world of purebred dogs. I know, it seems amazing that it was obedience that got me in and I ended up with one of the most notorious difficult breeds to train - but that's my story.
See my first dog was an amazing Sheltie type cross named Skeeter. Skeeter was a bonafided puppy mill dog, but really his only desire in life was to occupy the same piece of the planet as I was.
I don't think in the 17 + years that we spent together that I ever said "Where's Skeeter?", cause the fact was, wherever I was, that was where Skeeter was.
I took him through obedience classes while we were living in Calgary and he was so easy to train it was almost embarassing. I was devasted to find out that I couldn't compete in shows with him because he wasn't a purebred and vowed my next dog would be a purebred.
Of course, if my sole focus had been on obedience, I probably wouldn't have choosen Siberians, but the obedience still interested both Mark and I and over the years we put titles on a number of our early Siberians.
Still, it has been well over 10 years since I set foot in an obedience ring.
Then last summer Lisa Wright, a neighbour across the valley who used to be a dog trainer, got back into teaching obedience and agility classes -
http://www.trainingwithouttrying.com/
.
Having Lisa so close made it harder to come up with excuses for not doing a bit of obedience again - and a budding friendship between us made the excuses sound even lamer.
Late last summer, Lisa took the time to come over and 'evalute' all my puppies to picked out the dog that she felt would be the best obedience prospect for me. The winner was handsome, young Utin.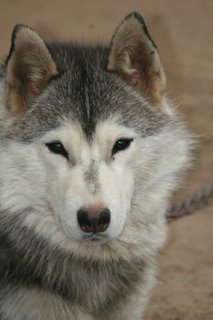 Of course, fall came along and training the team took priority and Utin's obedience 'career' was sidelined before it even began.
This spring I slowly began puttering with some clicker training, guided patiently by Lisa. Progress was inconsistent, mostly because my training was too, but in the last few weeks, in no small part due to gentle prodding and egging on by Lisa, my dedication increased and it has begun to look like I might really have an obedience prospect on the end of my leash.
Now, of course, Utes has a different take on this. I caught him telling the yard that now that he has trained Mom not to step on him, to pay attention to what hand she's treating him with, to practice more, and how to walk in a straight line I'm showing some good potential.
You guys can decide which of us to believe. And Lisa, if you are reading this, you are not allowed any input on the subject, 'cause I know who you will side with.
Utin now drags me to the van and sits happily looking out the window with a huge grin on his face as we drive over to Lisa's . Last night, he was so happy at class, his fur could bearly contain him. Yet his brain stayed engaged throughout the whole time - not an easy task for a super happy, young Siberian.
Don't know whether we will even make it to the obedience ring, but I will say that that is the goal. I doubt we will be competing with Jackie and her amazing Siberians for High in Trials - but do know that Utin and I are having a BLAST together - and who knows where that will take us!
Karen (and Utin)