Yesterday Kara presented us with 2 lovely little daughters.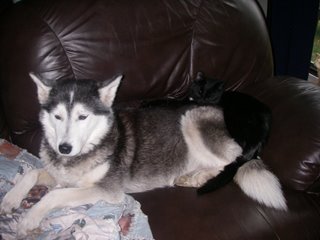 Oh gosh, thankfully that isn't one of her puppies - that is Tic looking for a cosy place to sleep last week. Kara was less then impressed.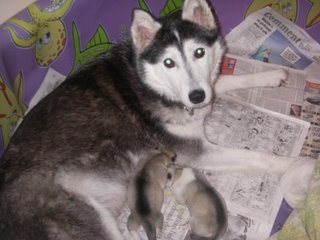 She looks much happier with these 2!!
Being that Kara is an older Mom (she will be 9 next month), I didn't expect a huge litter, but I was hoping for 3 or 4 little ones. Oh well, a healthy Mom and pups is really the only thing we really ask for - and that, it looks like we have gotten.
Kara's very first litter, way back in 2001, were 2 lovely little grey and white girls,
Dasher and Dancer
. So it looks like maybe she decided to end her whelping 'career' the same way she started it.
Of course, the issue of a 'theme' for this litter has already been raised. I will say that our original intent, seeing that they were the 'mo' 'ka' litter, was to use 'coffee' as a theme. I had a huge page of great names, but now that there are just 2 I don't think it will do the theme justice, so we will leave that for another litter.
I snooped around a little on the internet last night for some female duo names that caught my eye - "Thelma and Louise" "Lucy and Ethel" "Laverne and Shirley" "Cagney and Lacey", but nothing really stood out. Right now I'm leaning towards 'Zig' and 'Zag' - or maybe "Summer" and "Solstice" - but we are really open to suggestions!
It was pretty warm yesterday - at least for our part of the world - and didn't really cool off a bit last night. This morning is warm and windy - feeling like something is blowing in. I'm off to start my day so I can hopefully get everything in the yard done before it starts to storm - or gets really hot again.
Oh, forgot to mention - we watched the 2008 Iditarod DVD 'Deja vu' yesterday. Really well done. Nice footage and excellent commentary by Bruce Lee. Even some nice shots of my team and a quick quote from me at Finger Lake. It's available through the Iditarod online store.
Karen