Well, so much for that 'break' in the weather. Temperatures today were sitting right around -25C when I left on my run and down to -28 by the time I got back in. BRRRR....but it was awful pretty while the sun was out. Helped keep my mind off the fact that my knees were solid blocks of ice.
Since I'm sure you are all sick of 'dog butts' - here are some 'non dog butts' pictures that I squeaked in before the camera froze.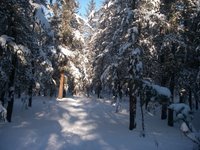 Looking back at our 'out trail'. Pretty, isn't it?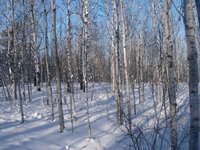 I love the stark look of bare trees against the snow and blue sky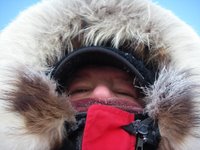 Do I look cold?? I am!!!!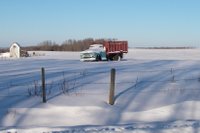 I've been meaning to take a photo of this truck for awhile. I love the colors!
Karen