This morning started off with Junior (literally) dragging me over to Vern Halter's so I could borrow their nice inside facilities (and awesome handlers Misha and DeeDee) to take his stitches out.
He was so well behaved on the table that I swear he knew that getting those stitches out meant he got to run!
Everything looked great, so later in the day we took Junior out for a test run!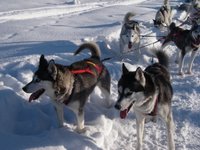 He ran lead on a smokin' 20 mile run and Mark described his run as 'Perfect!!'.
Actually, the whole run was pretty perfect. The sun was shining for most of the run, the trails in awesome condition, and the dogs ran really nice.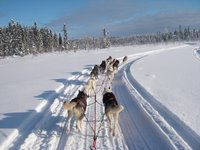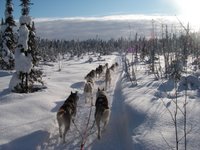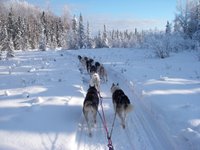 You might notice I only had 11 dogs hooked up. X took the day off. Nothing serious, I'm just babying his feet alittle. I fully expect him to be ready to race next weekend. We are just playing it safe!
We did play around with our teams alittle and a couple changes have been made to our Quest teams. Bingo and Boom moved over to Mark's team and Runner and ROCKET moved up to my bunch.
So that means my Quest 300 team (barring any last minute changes) will be;
Jinx
Tess
Dasher
Rocket
Crunchie
Barq
Q
X
Charge
Herman
Watt
and Runner
Mark's team will be -
Sprite
Spider
Bingo
Isis
Wonder
Wifi
Flash
Wolvie
Boom
Hector
Jr
and Togo
Everyone is happy and ready to roll - us too!!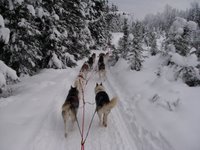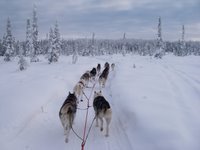 Happy Day!!
Karen