A million moons ago, shortly after Mark and I got married, Mark's Aunt Joanne taught me how to bake bread. I really enjoyed it and for a brief while all the bread in our house was homemade. However busy lives soon pushed that onto the backburner.
When they first came out, I bought a bread machine - but honestly, I never found tossing ingredients into the machine and closing the lid to really be rewarding - and the bread never really tasted that good. I'm not even sure where the machine is anymore.
For the last few months I kept telling myself I should make time to make some bread, but well...you know how these things go. This morning, despite the chilly weather I wasn't up to running dogs (still very run down from that nasty cold) - so I decided I needed to knead.
I forgot just how rewarding pounding and kneading bread is.
And, of course, the smell of baking bread filling the house was divine.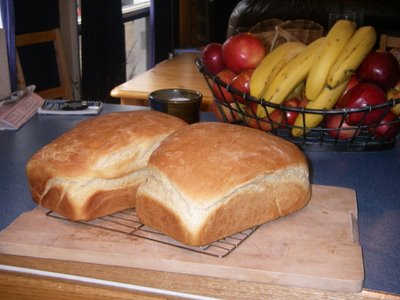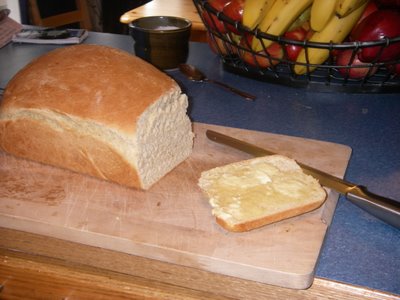 Before Utin, Bet, Toni, Corky and I headed over to Lisa's (private obedience lesson for Utin and I; Toni and Corky played on the agility equipment; and Bet got to hang out with other flop earred dogs) I tossed a stew in the slow cooker, so dinner tonight was thick slices of homemade bread dipped in stew.
Can it get much better??

Karen