Greetings Everyone,
(from Sue and Richard - Willowbend Siberians
Just a quick note to invite everyone to join us in wishing
Norman
a Happy 13th Birthday today. Norman has lived with us for several years now. He came to live with us and help train our puppies and young dogs. This past Monday some of those puppies turned 3 yrs old and of the 6, 3 are out in lead these days. I'm sure it's a combination of good genes and a good teacher.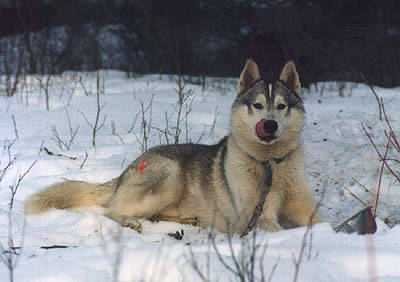 Norman (aka Ch. NorthWapiti's Against All Odds)
Norman has been fully retired now for 2 yrs. Somewhere around 10 something he started to let me know that he preferred the sled bag to his harness. When we would stop to sort out some problem he would bail from the bag and run down the trail with out us. Always we would find him happily holding down the dog truck waiting for us. Apparently I was very well trained. From then on though he trained puppies in the summer on the skijoring line for walks.
He is mostly blind in one eye due to a cataract and is quite deaf, still wondering if that is just the selective hearing thing coming out. He's had a few minor surgeries this year and trudged along like a good Siberian does. He is a wonderful soulful old gentleman and he still happily negotiates the kennel and the house with a purpose (especially the couch), although a bit more slowly and cautiously. He dances like a puppy when supper is served and continues to join in the daily howl fests. He gives the puppies crap when they annoy him and respectfully continues to teach the young men of our kennel.
We wish him all the best today and all his remaining days to come. Although frail he is happy and we will continue to do our best to make his remaining years happy and healthy.
Thanks Karen and Mark. We have enjoyed his company immensely.
Happy Birthday Norman!!
Sue and Richard
Willowbend Siberians

How well I remember the night Norman was born. It just can't be that that was 13 years ago. Amazing how time slips away.
Norman was a special dog in our lives too - and we also immensely enjoyed our time with him. We are so pleased that we were able to find such a fabulous home for him - where he could have a job and feel important - and one that would take such wonderful care of him in his Twilight Years. He deserved the best - and we know that is what he got.
Happy Birthday Normie.
With love,
Karen and Mark