Sinking a hook. Mushers lives seem to revolve around the "sinking of a hook". At this time of year, all our conversations, whether by phone, email or in person quickly come around to the question - "Can you sink a hook yet?"
Of course, we aren't talking about fishing - not many mushers have time to fish at this time of year - but rather sinking a snow hook. Whether or not it is safe to switch from whatever form of fall training you are doing (for us, 4-wheelers) to running with sleds depends on whether there is enough and the right consistency of snow that a snow hook will 'hold' a dog team. The size of team is also dependent on this. You might be able to get a snow hook pounded into the snow enough that it will hold a 4-dog team, but it might not be solid enough to hold an 8-dog team.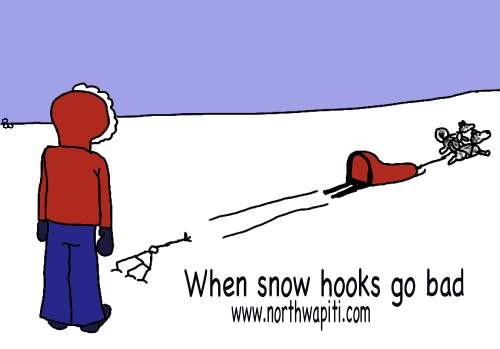 Now, while I've heard lots of grumbling out of Alaska about snow conditions, we in central/northern Alberta have early and plentiful snow. In fact, it is the earliest that I remember snow in Perryvale - and we definitely have more than we did all last winter!
So, after a bit of insurance snow on Monday (enough that Mark put his car in the ditch trying to get up the driveway Tuesday morning) the answer to the "Can you sink a hook yet?" question at the Ramstead household was a grin and a resounding "YES".
Getting out on a sled for the first time each season is just the most wonderful thing. Honestly, when I pull that snow hook and the dogs head off into the woods with only the sounds of their paws and the runners on snow, it's like I'm instantly taken back to my first experience behind a dog team. My world seems just RIGHT."
This year I had a special treat, because for my first runs I had passengers in my sled, all who were having their first experience dog sledding.
For my very first run, I carefully selected a team that would willingly plough through unbroken snow and put in a nice trail for me. Who better than Snickers for that job? So, she and Hilda had the honour of leading the first sled out of the yard this year. My passenger was our new handler, Matt.
Matt, who is from the UK, started working for us last Sunday. I had been teasing him one night that he didn't use my favourite British expression, "Brilliant". I guess we just hadn't given him the right motivation yet, 'cause when he climbed out of my sled after a 4-mile run, he described the experience as "Brilliant". * VBG *
Once back in the yard, we put away one team and quickly hooked up another. This team's passenger was Jan, a visitor up from the Red Deer area. I'm fairly sure she had as good a time as I, as when she got out of the sled, she gave me a huge hug!
My last team of the day, led by Olena and Runner, with Jan's friend Lori riding, was definitely the fastest. I was glad driving a sled is a lot like riding a bike and you don't quickly forget (remember, the last time I was on the runners was in Nome last March) as we maneuvered through the trees and around tight corners.
So the day ended with a lot of smiling faces, both Siberian and human - at least in our neck of the woods!
Karen