We are sending out HUGE congratulations to
Hugi
(aka NorthWapiti's Tucoldturain Hugi CDX, CGN) and his owners Jackie Wepruk and Rick Austin this morning.
Yesterday Hugi and Jackie received their first qualifying leg at the 'Utility' level of obedience competition.
For those not 'in the know', Utility is the highest level of obedience competition. It is extremely difficult to train and compete in. The dogs must do a number of complicated exercises, like following hand signal commands, picking a dumbbell their owner recently handled out of a pile of dumbbells, directed jumping and more.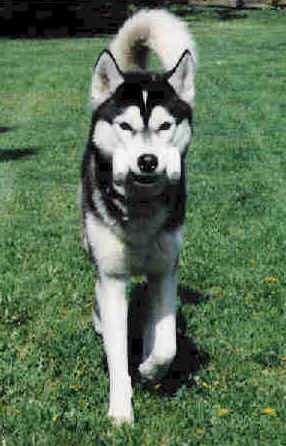 Hugi (pronounced Hewey)
Very few Siberians compete at this level and we know Jackie and Hugi have worked very hard for this 'leg'. Two more 'legs' and Hugi will have his Utility title, making him one of a very elite group of Siberians (but that includes Jackie's first Siberian Tasha!).
Wahoo!!
Karen