I've had a couple false starts writing this diary entry. Something that only usually happens when I'm sharing bad news.
We discovered on Monday that
Chester
is in the advanced stages of cancer. This has caught us totally off guard.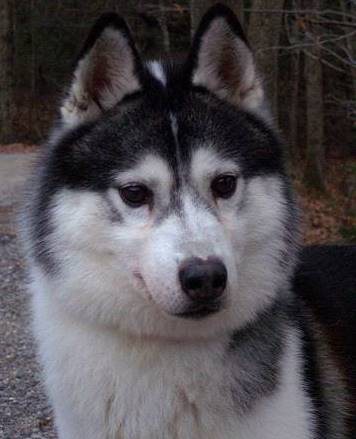 Chester
It started with a small cough at feeding time last week. As Chester has always been a voracious eater, the first time it happened Mark and I figured he was just eating too fast and chided him for inhaling his food rather then chewing it, but when we noticed it a few days in a row, I made a vet appointment for him.
On Monday morning when Matt and I were walking out to Geriatric Park to get Ches, there was a large, very obvious lump on his head. Mark and I were gone for all the daylight hours on Sunday with teams, but I know it wasn't there Saturday and Matt doesn't remember seeing it on Sunday when he was visiting with the seniors. In my heart, I instantly knew this was a very bad thing.
X-rays and tests confirmed my fears. Chester is having trouble swallowing because his trachea and other assorted things are being pushed up almost to his spine by a large growth. The lump on his head is a nasty, aggressive mast cell tumour as well.
Treatment is not an option; everything is just too far along.
Tanis figures he has, at best, a month. I honestly would be surprised if it takes that long. In our experience with these dogs, they are stoic and 'hide' their problems until they absolutely cannot any longer - and then generally go downhill very quickly. We hope Chester will be an exception to that, but we are already seeing a few of the 'warning signs' Tanis told us to expect as the cancer advances.
Chester has moved into the house - and we are all doing everything we can to make what time we have left with him comfortable and happy. I feel very blessed that we have this opportunity to spend some special time with this special boy.
Karen
PS. Tara Lemieux of Kazlo Siberians bred NorthWapiti's Whinny at Nanook to Chester last year. Two of those kids -
Kazlo's Shooter of NorthWapiti
and
Kazlo's Trigger of NorthWapiti
live here. Trigger is a female CLONE of her Daddy - in both temperament and looks.
We are very grateful to have them both here.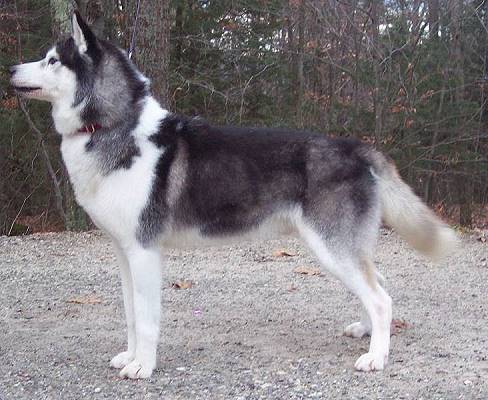 Major Races
Iditarod 2001 Finisher
Iditarod 2000
Iditarod 2003
Iditarod 2004 Finisher
Klondike 300
2005 Copper Basin 300

Show Status

Group 4th (Leslie Rogers)
Chester's Photo Gallery
(click to enlarge image - hold mouse over image for description)