Chester is the dog that has spurred me to do this - but I also do it in special honor of Sissy aka The Flying Nun of NorthWapiti and Squeaky aka NorthWapiti's Robert E Lee - one fighting cancer currently and one lost to cancer earlier this year - and in honor of all the other dogs that have passed through my life that were taken away too soon by this awful disease.
Karen

For Immediate Release

Contact: Jamie Bishop, (402) 420-0909,
Jamie.bishop@genia.com

Photos available at:
http://www.pet4pets.com/media.asp
Iditarod Racing Team To Sport Charity Collars For Cancer
Karen Ramstead, a dog musher and six-time competitor in the Iditarod Trail Sled Dog Race in Alaska, is joining in the fight to help find cures for pet cancer.
"All the dogs on my Iditarod team this year will be sporting bright orange Pet4Pets charity collars," said Ramstead, a racer and Siberian Husky breeder near Athabasca, Alberta. The collars are sold at pet stores, veterinary offices and at
www.pet4pets.com
to raise funds for pet cancer research.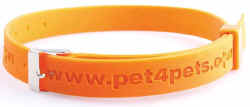 Pet4Pets charity collar

Click on image to enlarge
The legendary Iditarod follows a 1000-mile trail through deep snow, two mountain ranges, along the lonely Yukon River, and finally up the coast of the Bering Sea.
The race celebrates the dramatic March 1925 delivery of lifesaving medicine for diphtheria outbreak in Nome, Alaska. A string of dog sled teams made the journey to save human lives.
Today, the orange charity collars highlight one of Ramstead's new racing goals - to raise awareness and funds for pet cancer research. Each charity collar sold earns $2 for the Animal Cancer Foundation.
"Like many dog owners, we have lost a number of dogs to cancer. As I speak,
Chester
, one of my 10-year-old retired leaders, is living out his last days. It breaks my heart to watch as this once amazing athlete is beaten by cancer," she said.
Ramstead saw the collars at the veterinary hospital. At that moment, with fresh agony at Chester's diagnosis, she saw in the cancer a way to honor her canine companion of thousands of miles.
Chester arrived in her life at a grim time in the winter of 1996/97. She had lost her father to cancer. Her husband, Mark, was out of work. The last thing they needed was another dog. But Chester was special, so he stayed.
Soon Mark got a new job. They relocated to Perryvale, near Athabasca, in Northern Alberta. And Karen, a Toronto transplant, sought her dream to run the Iditarod.
She had run teams in smaller races and qualifiers. But the Iditarod is the big one. She and Chester, with 15 other dogs, gave it their
first shot in 2000
but did not finish. The
next year
she became the first Canadian woman to complete the 1,151 mile dog sled race.
Chester, though young, was one of the leaders in the first team of registered Canadian Kennel Club Huskies to cross the finish line, she said.
In 2004
, her team, led by Chester and her superstar leader,
Grover
, set the third-fastest time for a purebred team.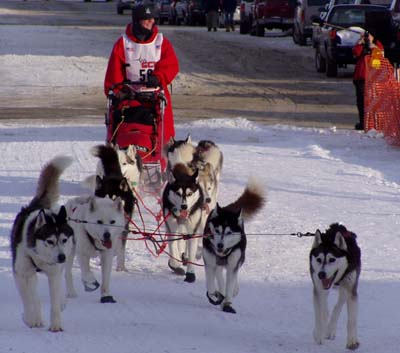 Chester running right lead (with white shawl) and
Grover leading down the finish chute in Nome.
© Sunhusky
As celebrities, she and Chester were touring schools throughout Alberta, Montana and New Hampshire for dog sledding speeches and workshops. Chester loved kids, and they loved him right back.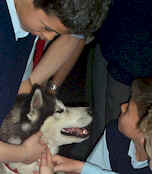 Chester during a School Visit in 2001

Click to see the entire image
"With his non-stop wagging tail and friendly Siberian grin, he made friends wherever we went," she recalled.
Chester was also a Champion show dog. When he obtained his Canadian Championship he became one of only seven Siberian Huskies that are both Iditarod finishers and Champion show dogs.
In January 2005, Chester retired from racing after a shoulder injury. He spent the winter of 2006 in New Hampshire, then he came home to retire.
Recently Ramstead saw he was having trouble swallowing food. A lump appeared on his head. An X-ray, barium swallow and biopsy confirmed that
Chester had advanced cancer
and less than a month to live.
"Our once proud, strong sled dog has moved into the house so that we can enjoy every moment we can with him," she said.
"Chester and I have traveled 20,000 miles together in harness over the years. We have conquered the Alaska Mountain Range, brutal storms, ice, overflow and more - but this is something that he and I can't beat."
As they sprint across the frigid northern wilderness to honor the brave dog teams of 1925,
her 2007 team
will wear the orange collars to show how to save dogs from a disease that afflicts millions of pets and people - cancer.
Pets get the same kinds of cancer as people, just more of it - dogs get 35 times more skin cancer, four times more breast tumors, eight times more bone cancer, and twice as much leukemia. Scientists studying pet cancer can also shed light on human disease and pets can benefit from new human cancer therapies.
Each orange Pet4Pets charity collar sold provides $2 to the Animal Cancer foundation, which focuses funding on new science that benefits both pets and people.
"If telling Chester's story can help make it so someday another dog owner doesn't have to watch their dog go through this, I'm all for it," she said.
For more information about Pet4Pets charity collars, visit
www.pet4pets.com
.