After our unsuccessful Quest 300 (we scratched after I got sick on the first leg of the race) Mark, Markus, Kelly and Chris took the teams home to Perryvale, but I stayed in the Yukon to be a race judge for the second half of the 1000 mile Quest (more on that in another blog).
On March 1st I flew from Fairbanks home - and it is GREAT to be back!! The dogs are all happy, boisterous and obviously feeling fine!
Mark and Helen have been hard at work keeping the critters in shape and yesterday Helen and I took them for a really nice 40 mile run on the Athabasca River.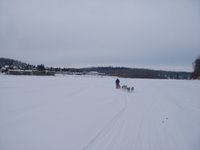 My team heading under the Athabasca Bridge.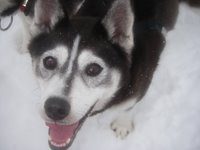 A very happy Spidey Dog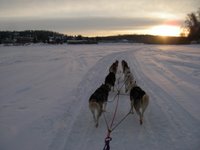 Heading home.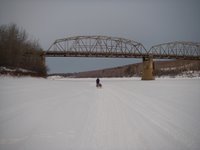 Helen's team heading home.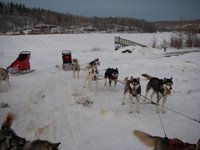 Way fun!!!
Karen