After scratching we hustled back to Whitehorse. Okay, I slept in the truck, but the guys all hustled and loaded everything and safely got us back to Vincents. We chatted a bit with Lee, Tim and Hunter before I headed off to bed. Markus, Kelly and Chris all stayed up to drop dogs for us.
I slept about 12 hours, which might actually be a record for me!

We spent Tuesday at Vincents. The guys, under Mark's supervision, repacked the truck while I just hung out.I still felt sick and beat up. Wednesday morning I woke up just annoyed at everything that had happened and generally mad at the world. I figured that meant I was feeling better.
We hit the road back to Braeburn and beyond. We stopped in Carmacks to recover our drop bags before 'catching up' with the race in Pelly. The guys grabbed the drop bags while I checked in with Doug and picked up my blue 'Race Official' parka - aka 'The Yurt' for it's sheer size and bulk. I tossed all my gear into one of the race official cars, said goodbye to all (it was really hard to watch my loaded dog truck drive away) and beat a path for Dawson City.

The drive up was actually lovely and I enjoyed the quiet time to listen to CBC and get my thoughts in order. I saw 3 moose and a pretty little fox dashed across the road on the outskirts of Dawson City.
I wasted no time getting to the checkpoint as I knew the first musher was due anytime and I didn't want to miss that. The checkpoint volunteers told me I had a bit of time, so I zipped over to our hotel and got checked in before heading back down to the checkpoint to hang around and wait. Turns out I would do alot of that (waiting) throughout the rest of the race.
I was quite shocked at how big the crowd was waiting for the first musher. There was much spectulation about who they were and when it would be. Everytime more then one 'blue coats' (aka race judge) walked outside, a crowd would follow, sure that we had inside information. We didn't.
Finally word hit the checkpoint that a headlamp was coming off the river. When the musher pulled up under the banner and lifted their head it was William Kleeden. He was checked in and then headed off to the campground to start his 36 hour layover.
The next few days were spent mostly waiting and checking in mushers (although I will fess up to one very 'off duty' late night at The Snake Pit). I got to visit with alot of handlers as they waited (some patiently, some not so patiently) for their mushers to arrive. I think my favorite part though was to see the handlers and dogs reactions to each other in the chute. See for most of the race the handlers are not allowed to touch or even speak to the dogs, but as soon as they get to Dawson, handlers are allowed full access. It quickly becomes obvious what handlers are part of the team and which are just working the race when you watch their reactions to each other.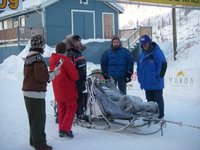 Checking in Warren Palfrey
I wandered down to the dog lot a number of times, visiting with mushers and handlers, answering a few questions, chasing away a few spectator vehicles and just generally keeping an eye on things.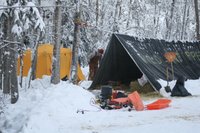 Brent Sass's Dawson Camp

Once the 36 hour layovers started to be done, we headed down to watch a number of teams leave. It was very interesting to have to time to look at other musher's gear set ups and interactions with their dogs. Usually in races I'm too preoccupied with my own team to pay too much attention to everyone else's.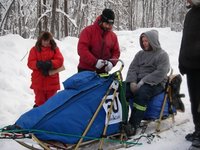 Sab waiting out the last minutes of his layover


Eventually the last of the team's arrived and Dawson began to empty out. Time for us to head up the trail too!
More pictures at picasaweb.google.com/northwapiti/dawsoncity
Karen