I was up hanging out with 'The 'Toons' this afternoon and they were complaining that they aren't getting any 'blogger time'. They are getting big now, but still have those nasty little puppy teeth, so I best pay attention to their complaining!
So, in order to appease the 'mass of killer puppies' - I present Toon pictures -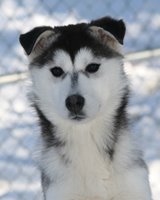 This is the incredible fence climbing Grimmy. She is actually the first dog fed in the yard every night. If she isn't, she scales the 6 foot chain link fence and comes down to see what the hold up is. She has trained us all well!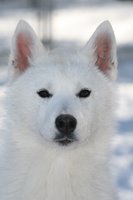 This adorable little 'Mo-ette' is Tramp. She is as sweet as she is cute.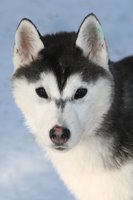 Snert is a very cool young man. He was actually the last one I got to pose for a portrait as he always wants to be by your side!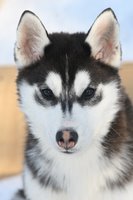 Bolt is known for the black lightning bolt marking low on his chest. Very cute.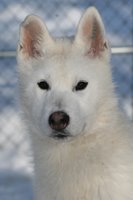 Astro is as scrappy as he was as a puppy, but being the biggest in the litter, he can generally get away with it. Very handsome - lots of presence!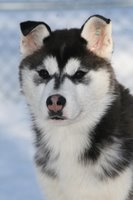 Skookum was more then happy to pose for pictures. In fact, I think he was playing me to make sure I got his 'good side'.
We have these monsters separated into 2 different pens. Boys, Skookum, Snert, Astro, and Bolt in one pen and the chicks, Tramp and Grim in another.
Now Jack, who is formerly known as Riverrun's Whiskey Jack, has a good excuse to be noisy - he is a son of our Nik (aka Ch. Chuchinka's Nicolai 2nd). Jack's mom is KitKat, littermate to Crunchie and Snickers - and he comes to us from Gwen Ross.
He is a doll and we are very much enjoying him - despite the noisiness.
Anyway, there we are guys - a post about the puppy pen. Maybe my shoes, hair, hands and sleeves will be safe from attacks tonight. I doubt it, but maybe....
Karen