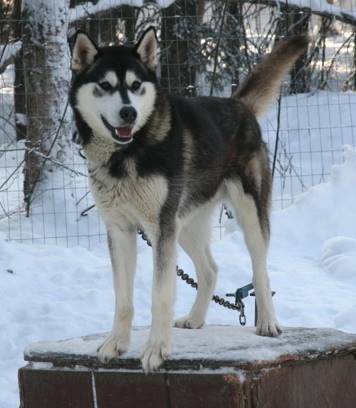 It's been a long time since I had to write one of these for one of our Siberians. I expected it to be for one of the geriatrics, not one of the best main string dogs I own – but life doesn't always roll the way you expect or want it to.
This morning, very quickly and unexpectedly Watt passed away. I had taken him to the vet because things just weren't 'right' with him. I was thinking that he had injured his back or neck, as he was showing no signs of illness (no vomiting, loose stools, was eating, etc, etc), just some general stiffness and soreness. While they were attempting to get blood from him, he 'crashed' and they were unable to resuscitate him.
It is looking like he may have had some kind of bacterial infection. We will know more after his necropsy this afternoon.
I have having trouble wrapping my head around this. It doesn't seem possible. Watt was just 5 years old and one of the best dogs in the yard. He had already accomplished a lot with us and he held the promise of so much more. I had been working a lot with him in lead and it was looking like it was something he was going to excel at.
I wish we could have had a longer trail to travel together…
Karen