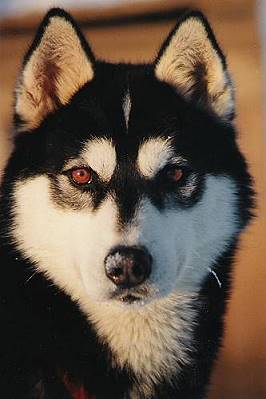 June 22, 1995 - March 2, 2006

Life has its own schedules and agendas that often pay little or no attention to what else is going on.
Right after the Iditarod Driver's Meeting on Thursday, I received a call from Anna that Striker had suddenly and unexpectedly passed away. It certainly took us by surprise. When I told Mark he said, "Who's Striker?" because it never occurred to him that it might have been OUR
Striker
.
My stories and remembrances about Stiker are many - the story of how he came to live with us, of how he almost ended up being named Bozo, how he got his nickname "The Fugitive", etc., etc. Unfortunately, I just don't have the time right now to 'put them to paper', but that doesn't mean that Mark and I aren't remembering and sharing stories of his life.
Striker was one of the best wheel dogs I've ever driven. He was a finisher in my 2001 Iditarod team and many other 200 and 300 mile races - but what I am most grateful to him for are the furry legacies he left behind.
His litter
with BIS Ch. Chuchinka's Dance in the Wind SDX (
Breezy
) was perhaps one of the most versatile and accomplished litters in the history of the breed. They included:

Kara

Loki

Odie

Freya

Hugi
Iditarod finishing
Group Placing
Ch. NorthWapiti's Valkyrie Kara

Four Time Iditarod Veteran




The first & only bitch in the history of the breed to be a Champion Show Dog and an Iditarod finisher

Iditarod finishing
Ch. NorthWapiti's Loki


Four Time Iditarod Veteran

Iditarod finishing NorthWapiti's Odin

Four Time Iditarod Veteran

Ch. North Wapiti's Freya, WD, CGN

2003 Iditarod Ceremonial Run




a St. John's Ambulance Therapy Dog




(owned by Brenda Potter)

Multi High
in Trial winning NorthWapiti's TuColdtuRain Hugi CDX, CGN

The #1 Siberian/#7 Working Dog in Obedience in Canada for 2003




(owned by Jackie Wepruk and Rick Austin)
We are forever grateful to
Karen Yeargain
for a call - "How would you like pick male of that litter?" (Referring to a repeat breeding of Meomar's Faux Pas x Spindrift's Shulaces.) Our kennel would not be where it is today without it - without Striker.
As I once again venture onto the Iditarod trail, capably lead by some of Striker's children and grandchildren, you can be sure my thoughts will often turn to my 'Handsome Little Man'.
Godspeed My Friend.
Karen L. and Mark Ramstead
NorthWapiti Kennels "Pretty Sled Dogs"
Iditarod Finishing and Best in Show winning Siberians