Kara's 2008/2009 NorthWapiti Racing Season Raffle
As we all know Kara is an exceptional mother and she has raised some concern about her offspring as they go off to race in Alaska. She has decided to organize a raffle to raise funds for them to have all the little extra's that these special dogs should have. She raided Karen's office and came up with some great prizes to give away.
The prizes are:
1. A limited edition print "Northern Lights" number 5 of 200 by well known Alaskan artist Dave Totten
http://www.davidtotten.com/
. Northern Lights is a painting of Karen and her team running under a beautiful sky of northern lights. It is based on a 1999 photograph that Dave Totten took at the start of the Klondike 300, it features Smiley, Gus, Chester, Spud and Grover leading on his first race ever (the original hangs near Karen's bed as she cherishes it).
2. Black fleece jacket, size XL, 2008 for Snickers Iditarod logo on it. This is the only jacket made with this logo on it, not even Karen owns one of these!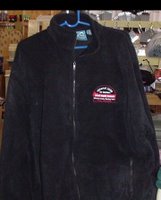 3. A photograph of Jr taken at the Takotna checkpoint of the 2008 Iditarod and his 2008 Iditarod tag to go with it.

The first raffle ticket picked will get the limited edition print
The second raffle ticket picked will get the fleece and the 3rd ticket will get the picture of Jr and his dog tag

Beginning today October 5 you can buy tickets on Paypal. The tickets are $5 each.

If you buy your tickets between today and October 10 you can get 6 tickets for the price of 4 or $20.
If you buy your tickets between October 11 and October 17 you can get 5 tickets for the price of 4 or $20
After that all tickets will be sold for $5 each and the raffle will end on Friday, October 31 at 5pm (Mountain Time zone)

Just click on this button

. From there you can enter how much and we will confirm with you the number of tickets and tell you your raffle ticket numbers.

Kara is counting on this raffle being a success because otherwise she may not let her children go off to Alaska to play this winter!
Good Luck