When I emailed Karen about the job of temporary dog handler (minutes after her email hit my inbox) she emailed me back asking if I had seen the job description because it was a bit of a rigorous job. It included things like being fairly physically fit, shoveling the dog yard, being able to carry buckets weighing 25-30 pounds a fairly long distances and as well being able to tolerate very cold temperatures. So I of course assured her that I could manage all those things and that besides it was only 6 weeks and I was sure I could do anything for 6 weeks.
Now first of all I have to say that I love the job, the kennel, the dogs, Karen and yes even Mark. But what I think is important to mention here are all the things Karen neglected to include in the job description.
Let's start with rescuing a suicidal cat (I know Karen calls it invincible!) from four very excited Siberians who thought nothing of chewing on the cat while I wrangled them away.
Then there was the night Karen came banging on the cabin door because there was a porcupine in the yard……hm, I didn't remember the clause about chasing porcupines out of the dog yard or removing quills from Roscoe's nose.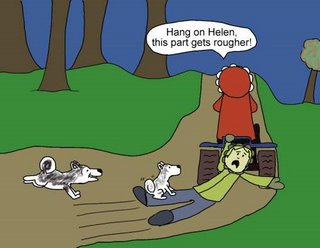 Now has there been mention of the over population of beavers that are building dams and preventing the dogs from crossing the river? Well it seems Karen also forgot to mention beaver dam destruction not just once but several times.
OK so she did warn me about the 25-30 pound buckets to be carried a long distance but she forgot about the 40 pound bags of kibble that I lift every night and the two five gallon buckets of water (my estimation is 40 pounds each) that are carried a fairly long way. Well she did say fairly physically fit so I guess she is covered there.
Also there was mention of Mark but not one word about his arsenal of blond jokes or the fact that I would get to learn all there is to know about NASCAR.
Oh and I almost forgot about the brutal weather here in Alberta…..that week of 75F was barely tolerable as well as the gorgeous fall days of late.
Now I think it is also time to mention the other things Karen said in the job description…..like working with some really cool dogs and leaving here with lots of stories. Yes plenty of stories that she was right about as well as the cool dogs but there are other things she neglected to tell me.
First of all that she is a really good cook and that I would have great meals here, and what a treat that is! Second of all that I would have 70 new best friends here that would hug and kiss me everyday each with their very own distinct personality. Nor did she mention how much I would laugh and that I would look forward to each and everyday. So the next time you see the ad go out for a dog handler just know she is only telling part of the story!!