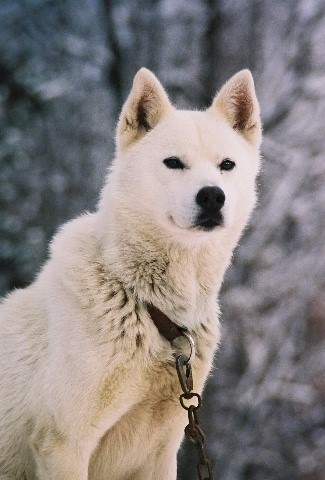 Clout's Moses of Velikaya
January 1, 2000 - April 3, 2013
Moses was a remarkable dog. A gift from one of his breeders, Bob Chlupach. And what a gift he was.
An incredibly hard driving sled dog; a great, although stubborn and independent minded, leader; and undoubtedly the 'coolest' dog I've ever known.
And did I mention so very handsome???? A spectacular looking dog right up till today.
I've spent the day today thinking about nothing but 'Moses moments' - most of them I just need to hang onto for myself for awhile - part of my grieving process, I suppose - but one I'd like to share.
During the '06 Iditarod Moses was in lead between Safety and Nome. The trail was changed a bit from the '04 race and we turned earlier to go over towards Cape Nome. Moses remembered the previous trail and was CONVINCED I was leading the team astray. He FLATLY REFUSED to turn when I tried to 'gee' them, flashing me withering looks of disgust. It wasn't till the fourth time I walked up and moved them over to the correct trail that he agreed to 'try it my way'. Thankfully, once he decided to concede, he conceded wholeheartedly!
Moses had his own fan club - and I know many will mourn his passing - but none as much as I. He was wildly valued, greatly respected and deeply loved.
RIP Mossamo.