I think most of you know about my 2007 Iditarod and the loss of my very adored lead dog, Snickers, in the checkpoint of Grayling. I've told the story many times to many people over the years, but I've never been able to sit down and write it down. Some memories just have to be handled with care. I did however write this
thank you
that will fill in some of the details for those of you that don't know.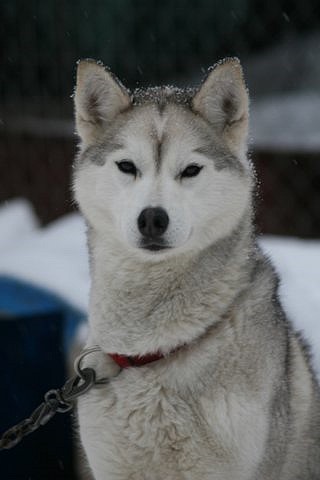 Snickers
It is not a coincidence that I have not run Iditarod on an 'odd' year since then. Iditarod only travels through Grayling on 'odd numbered' years and although I hold nothing but gratitude for the folks of Grayling and the compassionate treatment I received there that night, I just have never felt up to go back there and relive that horrible experience.
When Mark Nordman and I spoke about my being a race judge this year, I had only one request - I didn't want to go to Grayling. Mark was on the phone with me many times that night in '07 and knows the story well. He agreed without hesitation, but other friends told me I should go and 'face the demons'. I actually began to think they might have been right, but the request had been made.
When my assignment for Shageluk came through I was pleased. No demons lurking there - or so I thought.
When I stepped into the village a wave of bittersweet memories washed over me. It may have been 6 years, but I remembered so well Snickers leading me into town and I could point out exactly where the team was parked.
She was in lead dropping down onto the slough and leaving town, although I did take her out of lead a few miles later with what looked like a minor wrist injury.
If only I could go back.....but in reality the wheels were already in motion even at that point. If I had known then what I know now, I still couldn't have saved her, I know that without doubt....but you still wish.
I've become a different musher since that night....a different person. I've healed...I honored my promises to her - taking her ashes to Nome and making the Race a better event (with help from funding by the Snickers Memorial Ulcer Research Fund, no dog has died on Iditarod of a bleeding ulcer since that year)..... but I will never forget.
It was the right decision to not go back to Grayling....some memories just need to be handled with extra care.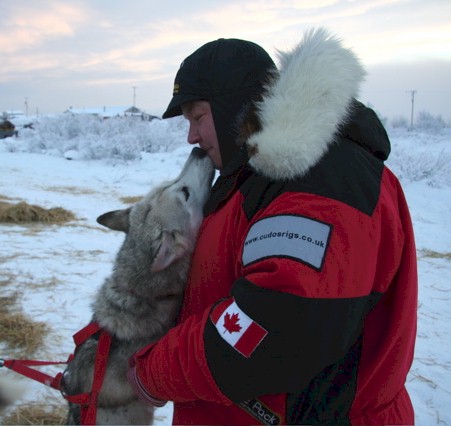 Kisses from Snickers on the Sheep Mt 150. Photo by Donna Quante