With the holiday seasons fast approaching, and the new year not far behind, I'm sure you've been wondering how you can buy some fantastic holiday gifts and get a new calendar and be a part of Iditarod history.
Well, that's incredibly easy!
The blog bar to the right contains everything you need for shopping nirvana right from your computer. No parking spot circling, no long lines, and no annoying kiosk people trying to get you to buy some microwavable neck warmer thing!
At the top,
Skookum
brand is offering free shipping when you mention the coupon code "RAMSTEAD" during checkout, and Karen will get a commission from each sale!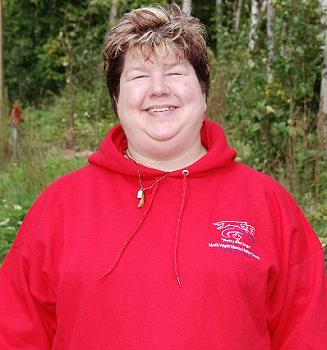 Next is the coveted and must have
North Wapiti Red Sweatshirts!
Very stylish and warm, you'll be the envy of all your friends when you show up wearing your Pretty Sled Dog supporter gear! Great as gifts and all proceeds go to Karen's 2010 Iditarod run.
Who wouldn't want a
North Wapiti bracelet?
Crafted by Dona Miller, these one of a kind designs are a must for every mushing fan, and yes, proceeds go to Karen!
Want to experience some yukon cooking while you follow the 2010 Iditarod? Well, you and your friends will really appreciate the "When Kibble Won't Cut It" North Wapiti cookbook! Everything you need to survive the every day and the not so every day with delicious recipes for you and your dogs as well! Click on the link to the right for International orders and US orders (depending on your location).
You can support the team through the various sponsorship programs available:
Sponsor a dog
,
Happy Feet Sponsor
.
You can buy great, one of a kind clothing, tiles, and other gifts at the official
North Wapiti Cafe Press Store
! This just in, FABULOUS calendars,
SIX different calendars
in all, everything for everyone and then some. Mushing scenes, behind the scenes, and the whole North Wapiti crew, including Cricket, Bait, and Bet. If you can't find a picture you want on something, we'll make it for you, all you have to do is ask (e-mail penny@northwapiti.com)! All proceeds go to Karen!
Last, but not least, if there's nothing that you want there, you can help Karen by shopping at Amazon.com. Simply use the amazon search link to the right to find whatever you want, and Karen gets a commission on whatever you buy through Amazon.com.
So, prop up your feet, warm up your mouse and get shopping and help Karen and the Pretty Sled Dogs in the 2010 Iditarod!