Well, I can tell you what I'll be up to - I will be harnessing and hooking up 16 Pretty Sled Dogs and heading for Nome!!! Yup, my entry went in today for my 10th running of the
Iditarod
. (It will likely be a few days before ITC gets my name up on the
musher listing
)
As much as I enjoyed last winter, sitting out Iditarod was still painful.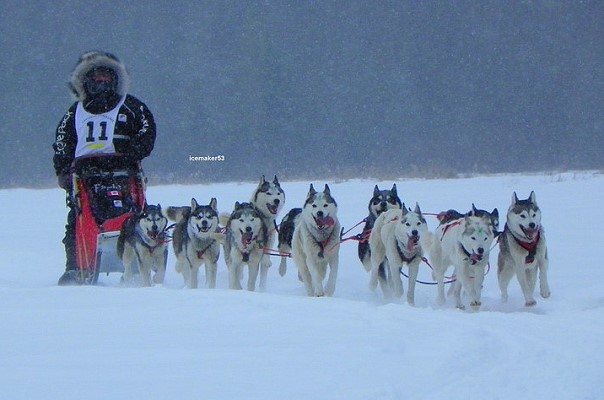 I admit it - my name is Karen Ramstead - and I am an Iditarod addict.
The bitter cold, the energy sapping wind, the chapped lips, the cracked fingers, the aching back, the bone hurting exhaustion.....none of that compares to....
... the Ceremonial Start in Anchorage....the 'go' moment in the chute at the ReStart. ..the hotdog stand on the way to Skwentna...the wild ride down the Happy River Steps...the challenging, technical trail from the Steps to Rainy Pass...the amazing trip over Rainy Pass...the oasis that is Rohn...Buffalo Camp...the sharp climb up the river bank into McGrath...the great views of Takotna as you run in...EVERYTHING about Takotna...sleeping in the straw with the dogs on the way to Cripple...dropping out of Ruby onto the Yukon River...all the fabulous volunteers that make this event happen...my fellow mushers...northern lights on the Yukon...beds in Galena...Old Woman Cabin...Peace On Earth Pizza in Unk...the great ride down the backside of the Blueberry Hills...arriving in Shaktoolik.....the great cliffs around Elim...caribou at the base of Little McKinley....the Topkok hills....the climb over Cape Nome and the view of Nome on the other side...and lattes in Nome!!!!
I can't wait to see what young dogs will come into their own on the journey - and of course, watch those tried and true veterans set the example and lead the way for the youngsters.
I'll get to visit Orion, whose ashes were spread on the Yukon between Galena and Nulato - and Snickers, whose ashes were spread on the backside of Cape Nome.
Oh, I am such an Iditarod junkie - not an ounce of doubt!!!!