NorthWapiti's Bingo
DOB - July 25, 2005
Sire - NorthWapiti's Draco
Dam - NorthWapiti's Nahanni
Nickname - BEE-ingo and B.I.N.G.O.
Finisher of the Goose Bay 120 and Don Bowers 200.
Out of the 'Mosquito' litter (a fictional rock band that ran to Gilligan's Island to escape their rabid fans!). Bingo is a littermate to Bang, Bongo and Irving!
Bingo is as cute as a bug. Sweet, lovable and easygoing. I know I've written a few entries about Bingo in the past - one about her 'coming out' as a lead dog and one about her VERY bad habit of taking cheap shots at other girls when she thinks she can get away with it.
We are still working on the cheap shot thing (we all have to have a bad habit or two, don't we?) but on a good note Bingo is really starting to live up to her early promise as a leader. In fact, the last two runs she has been on she ran lead - doing an awesome job, first beside Dasher and next with Jinx.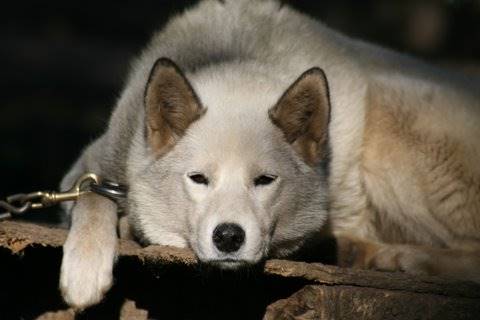 Bingo is sponsored by Mary Atkinson of Aumsville, OR