My 10 1/2 year old man Crunchie has certainly been the talk of many folks on our Facebook page during Iditarod. I thought that since that was the case I would tell Crunchie's 'story' to everyone.
Crunchie was one of our 'Chocolate Bar' pups out of my all time favorite dog, Grover and a cool little black girl named Visa.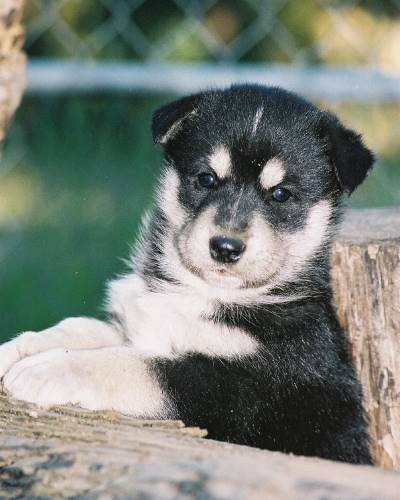 Adorable Crunchie pup
He is named for the 'Canadian' chocolate bar Crunchie, a delicious chocolate covered piece of sponge toffee.
Tasty... but not adorable
Crunchie was my favorite pup from that litter even as a very young dog. His cool dark markings and awesome personality just shone for me.
As a 2 year old Crunchie made my 2003 Iditarod team. He was the only one of his litter to do that and he set his own 'bar' for things to come.
Since that first season Crunchie has been a key player in almost all my dog teams. He has NEVER BEEN INJURED OR DROPPED in any race he has run. I've referred to him over the years as my 'Iron Dog'.
This summer the 'Iron Dog' turned 10. Ten dog years, which is about the equivalent of 65 - 70 human years, is pretty darn old for a competitive athlete, forget a competitive distance runner.
Crunchie had nothing left to prove to anyone - especially not me. I knew what an amazing animal and athlete he was. With sadness at the loss of a valued team mate I announced that he was retired.
One small problem....I forgot to tell Crunchie.
In fall training I routinely start off running everybody in the yard - yearlings, two year olds, main string dogs and recently retired dogs. As the pace and distance of the runs increases, the young and old normally falter a bit and are cut from the 'pool' leaving me with the best athletes in the yard by the time races roll around.
Last year was no different. Recently 'retired' Crunchie began training and was doing well. So well in fact that when the rest of the retirees were cut, he was doing well enough that he wasn't cut.
Time came to make the final selections for the 24 that were going on the dog truck to Alaska and low and behold, Crunchie was in that group.
I well expected that even though he was making the trip to Alaska, he likely wouldn't make the Iditarod team. And honestly, I was okay with that. I adore that black dog and any excuse to have him around was good in my books!!
Photo by Tony Turner
As training in Alaska progressed it began to look like Crunch wasn't going to give me an 'easy out' and give me an excuse to cut him. I fretted alot about the decision. I didn't want to set him up to fail. I respect him far too much to do that to him.
Finally Richard was able to help me put things in perspective and when restart day for the Iditarod came around Crunchie was harnessed up and ready to roll.
For the next 13 days he gave me a detailed lesson in humility. That dog that I had written off as 'too old' proceeded to lay down the best Iditarod of his career.
Every checkpoint when I stepped out of the building to start getting the team ready to go Crunch was watching for me. He was always the first dog on his feet and ready to hit the trail. He never struggled or showed his age even a bit. He was a star.
I was proud of him before, but now.....I can't even begin to explain how proud I am of him now.
Crunchie will be eleven in June. I have discussed things with him and he is now officially retired.
As breeder, one of the things that takes a dog from greatness to legendary status his their ability to produce offspring as good or better then themselves. Crunchie is producing fantastically. Two children from his first litter were in my Iditarod team this year - Turtle, who I named my 'Rookie of the Year' and Smartie, who led me across the finish line in lead.
In my books he is a legend. I am honored to know him.