The beginning is hard to determine. Months, heck YEARS go into planning and preparing for Iditarod. So when I say that my 2004 Tales of the Trail are going to start at the beginning, that is not entirely the truth. Where I'm beginning the 'Tales' is the morning of the restart, when 64 little dog feet and 2 human ones actually set foot on the Trail and began moving towards Nome!
Most years, wherever we are calling 'Home' in Alaska is NOT were the Iditarod restart will occur. In 2000, when we stayed in Willow, the restart was in Wasilla. In 2001, we stayed near Wasilla and the restart was in Willow. In '03 we were in Willow, the Restart in Fairbanks. Now here we are in '04, we are staying in Willow and the Restart is in.Willow!! Surprise, surprise! This means that we didn't have to get up at too terribly early an hour. Jamie, Janet, Mark and I all sat down to a breakfast of steak, eggs, hash browns and toast, which for the last 3 races has been my traditional pre-race fare. Many thanks to Janet for doing the cooking for us!
Then it was time to load up the dogs and head to Community Center. Nahanni stayed home, as I had already made the decision to cut her due to her being in season and I didn't feel we needed her around to distract the boys that morning either. But 17 other dogs were loaded in the truck, because I really hadn't decided for sure which 16 were heading to Nome with me.
Just about as soon as we got settled into our parking spots the hustle and bustle of Race Day began. The 'Pee Crew' was over drug testing a few of the dogs. Poor Herman, he is a very modest and somewhat shy dog and he was very uncomfortable about having to pee in front of so many people. I think if you asked him even now, he would tell you that was the worse part of the whole Iditarod for him!!
The microchip folks came by and it was time for a final decision on the Race team. Denali was the dog chosen to stay behind. I can't really explain that decision too much. Denali has had a good training season and is developing into a solid and dependable leader, plus he is a big cheerleader in the team, but he is Kobuk's brother and I knew that I would worry about him developing a similar condition to his brother's out on the trail. So I guess it was a decision based not on his abilities, but rather my insecurities.
So, the final Race team would be -
The veterans - Grover, Gus, Camilla, Chester, Surge, Draco, Olena, Squeaky, Loki, Odie and Kara
And the rookies - Crunchie, Moses, Herman, Hector, and Hilda
The morning passed quickly and in no time volunteers had gathered and it was time to hook up.
We had watched a number of the early teams have problems getting their teams down the hill to the starting chute and Janet took charge of explaining to all the volunteers and our own handlers that we were going to WALK the team down that hill. Everyone listened well and did exactly what was asked of them. I was thrilled at how smoothly and calmly the team was brought into the chute. I ran over and kissed 'The Moms' (my and Mark's Mom), who were next to the starting line and kissed Mark. Again, exactly as instructed, the handlers all stepped away from the team as the announcer hit '10' on her countdown. My previously calm team woke up and the sled jumped forward, catching the starters off guard. Luckily, they held on and we shot out of the chute as scheduled.
We were Nome Bound...
The Trail to Yentna and Skwentna
The 'warm fuzzies' that I got from the Race officially starting were quickly dashed away as I struggled to keep the sled upright in the heavy snow. The trench dug by the brakes of the 56 teams ahead of me tried to suck my sled in and tip it. The dogs struggled, especially little Kara, who also seemed a little put off by the crowds - she ended up back with my swing dogs, Moses and Grover. I could feel the crowd collectively gasp as the whole front end of the team threatened to tangle. I stomped as hard as I could on the brake and that bought the leaders and swing dogs enough time to sort themselves out. We were off and running again.
We had trained on almost the same version of this trail a few times this winter, so the dogs knew where they were going and moved out steadily. There was only one intersection that they balked at briefly, wanting to go towards the Rolly Creek Trail that we had always taken to the river during training.
As time wore on I was amazed that more teams had not passed us, only Cim Smyth had gone by us before the river - very different then when we started from Willow in '01. Eventually Charlie Boulding caught up and passed, and as time wore on a few more teams. That actually relieved me, I was worried up to that point that I was letting the dogs move out too fast for the early part of the Race.
Now I began to focus on another worry - I had to pee. On an open river with crowds around every corner and other dog teams in front and behind you, this was a perplexing problem indeed. Just before the junction of the Big Su and Yentna River my prayers were answered. The group standing on the side of the trail waving and cheering included none other then Ted and Deb Norris, Natalie's youngest son and his wife. I stopped the team, QUICKLY snacked them and asked Deb to stand on my brake while I ducked behind the umbrella they had set up to shelter their 'facilities' for their 'tailgate' party. Ahhhh.
The entire trail to Yentna was scattered with fans. Some had come on snowmachine, some skis, some by plane. The river was just buzzing with activity! Many commented on how beautiful my team was as we passed by - that made me smile - 'cause I think they are beautiful too! Of course, I also think they are clever, tough, hard working.but I appreciate that it is hard for a spectator to judge all that as they watch us pass by. *G*
I was surprised at how quickly we arrived in Yentna Station. The 'Plan' was to blow through and head straight to Skwentna, as Mark and I had done in training just a few weeks prior. I hoped my leaders (now Grover and Kara) agreed and were willing to pass all the teams that were sure to be camped at the Checkpoint.
We signed in and out at the same time. The vet that waiting with the checker commented that the team looked good and signed off my vet book. I pulled the hook and off we went. The dogs slowed and gawked a bit at the teams as we passed, but kept right on going. The noise and general ruckus in Yentna reassured me that the dogs would have gotten no rest there and the decision to go on was a solid one.
Just a few minutes out of the checkpoint I caught up with and passed a team that is significant to me - Wayne Curtis. Wayne was running the only other team of Purebred Siberians in the Race this year. Now, first off I have to say that I love this breed more then anything else and I am very happy to see other Siberian teams on the Race and doing well - however I am also human and YES, I wanted to beat Wayne! I wanted Wayne to have the best Iditarod of his career, but I also wanted to get to Nome before him! Wayne and I said "HI" and he made some very gracious comments about my team.
Many teams were camped along the river, so we passed some and were passed by a few on the move, like Aliy Zirkle and Vern Halter.
I stopped and snacked the dogs again. They were in great spirits - happy to eat and then to get moving again.
Just as it was getting dark enough to think about putting a headlamp on we pulled into Skwentna.
I was, frankly, a little scared when I noted I was the 23rd musher into the Checkpoint. I knew I wouldn't stay in this position for long, but I did worry some. Why weren't more teams coming straight through? Was it that foolish a move? I reassured myself that my Race Plan and my team were solid. Something that was confirmed as the dogs attempted to drag the sled, the checkers and I around as we tried to park them - running the 70 miles straight to Skwentna had taken nothing out of them.
As of Sunday, March 7th @ 5:13pm AST
Karen was out of the Yentna Checkpoint in 33rd place.
Place

Checkpoint

Time from Previous Checkpoint

Rest Time
in Checkpoint

Status:

Dogs

Layovers

33

Yentna

3:58

00:05

Left: 03/07 15:55

16

24 Hr 8 Hr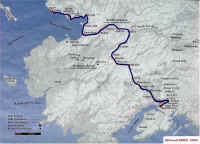 Karen was into the Skwenta Checkpoint in 23rd place.
From Skwentna, the trail heads through thin stands of
spruce and alder to Finger Lake, 45 miles farther along the trail.
Place

Checkpoint

Time from Previous Checkpoint

Rest Time
in Checkpoint

Status:

Dogs

Layovers

23

Skwentna

3:32

Resting

24 Hr 8 Hr

Skwentna to Finger Lake
The dogs were so wild for their Eagle Ultra kibble when I got into Skwentna that I fed them another meal once they were all bedded down. They all polished that off with extreme gusto too.
The vets went carefully through the team. Odie had an older injury to one of his pads that they were able to fix up really well. It wasn't painful for him, but this probably made it more comfortable to run on. Other then that the dogs had no problems. They snuggled into their straw and I headed up the steep riverbank to the checkpoint. On the way up I exchanged a few pleasant words with Rick Swenson, who was heading down to his team. When I walked into the checkpoint building, there was Martin Buser. I had thought these 'big guns' would be long gone when I got to Skwentna - apparently not.
The folks at Skwentna are a terrifically hospitable bunch to mushers. Not only do they have hot water and fresh baked pies available for mushers down on the river, they have great food available up in the checkpoint. I inhaled a huge plate of fantastic chicken stew with mashed potatoes and then found a spot on the floor upstairs to grab a few hours sleep. Sleep didn't come easy, as I wasn't yet tired enough that a bare chunk of floor is a welcome rest, but I did manage to get a little bit.
When I wandered back downstairs at about midnight, I was pleasantly surprised to find Mark, Ted Norris, and Constant hanging out. The three had talked about a trip up to Skwentna by snow machine, but I was a little skeptical that it would come off. It was nice to have company, though Mark and I had seen each other only 12 hours ago and we didn't have too much to say. (Interestingly enough, the trip was a real eye opener to Mark about how hard it is to see a dog team from behind when you are traveling by snow machine. The musher blocks all the reflective stuff on the harnesses and the lights. For next year, I will be sporting a triangle of reflective tape on the back of my parka and on my legs - as Cabelas currently outfits their Trans Alaska suits).
We wandered back down to the teams and I fed the dogs yet again. They barked, screamed and inhaled every last bite.
I wandered off and found Doug Grillot to see what his plans for leaving were. Turns out we were both planning on leaving around 2:30.
I suppose I should 'sidebar' here and
'introduce' Doug
to everyone, as he will appear frequently in the 'Tales' from now on.
Way back in 1999 I came up to Alaska to run my qualifiers. My first one was the Knik 200 (Knik was Doug's first 'big' race too. He has gone on to finish the Yukon Quest twice and an outstanding 2nd place finish at the John Beargrease Marathon, among other accomplishments). Early on in the Knik I had a less then pleasant encounter with another musher. I ended up getting sworn and yelled at for things that were not my fault. Turns out that Doug had witnessed the event and later took it upon himself to apologize on behalf of the other musher. I thought that was a particularly nice gesture on his part and over the years since then Doug and I have remained on friendly terms, exchanging the odd email and seeing each other at the start of Iditarod. Each year I'm up in Alaska, Doug always invites me out to train, but we never seem to hook up. This year I took him up on his offer and we ran out of the Willow Community Center together. Doug provided maps and took a lot of time to show me the trails, so I could run out of there on my own with confidence. A very nice guy!
It was never our 'Plan' to travel together on this Iditarod, but that ended up being what happened.
Anyway, back to Skwentna.
On schedule, at 2:30 in the morning, I kissed Mark goodbye with a "See you in Nome" parting and called the team up to head to Finger Lake.
The dogs left Skwentna well and after a mile or so of 'stop and go' travel while they emptied themselves, they settled reasonably well into traveling mode. I passed a couple mushers camped just outside of Skwentna. It looked cold and lonely, I was glad to have partaken the hospitality in the checkpoint.
As we were traveling along I noticed a very disturbing thing about Hilda, who was running in wheel - she was getting bigger and bigger as we went down the trail. I stopped the team and was horrified to find out that she wasn't the only one; Chester was sporting a bloated belly too. I thought back to Skwentna and slapped myself in the head - I had fed them 3 full meals and a number of snacks in the time I was there. What had I been thinking?? I was so thrilled to see how great their appetites were I had overfed them. What a stupid rookie mistake that was. I know better!
Luckily, neither dog's bellies were tender to the touch and both had had a bowel movement, so I knew things were still moving safely through. We'd just have to take it easy and let them work through it.
I kicked myself repeatedly the whole way into Finger Lake.
Traveling in the wee hours of the morning is hard on mushers - some, like Jeff King, say it is hard on dogs too. I drifted off a couple times on the sled before snapping back. A number of teams were camped between the checkpoints and that at least provided some distraction to help keep us all focused. This section of trail can be a challenging one, but this year lighter snow machine traffic and an abundance of snow left us with only one or two tricky spots.
The trail seemed to go on for a long time, especially because it was still dark and I couldn't see the landmarks that would let me know I was getting close to the Checkpoint. Finally, the sky started to brighten a bit and I was able to make out the distinctive mountain, which meant the Lake was right around the corner. At 8am we rolled (okay, Chester and Hilda waddled) into the Checkpoint.
Place

Checkpoint

Time from Previous Checkpoint

Rest Time
in Checkpoint

Status:

Dogs

Layovers

Finger Lake

5:30

7:00

Resting

16

24 Hr 8 Hr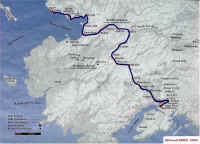 We were back to our normal routine here. The dogs were snacked, straw laid out, the few booties removed, tug lines undone, ear and belly scratches given, and vet checks done before I began to prepare their meal. I've been feeding Eagle's new 'Ultra' kibble on this Race and can't believe how quick and simple it has made feeding. I tossed a bag of sliced ground chicken into my cooler, added hot water that had been heated up in my cooker and let it soak for 5 or 10 minutes as I sorted out bowls and dished out kibble. After the kibble the dogs eagerly drank up their thin soup and settled down to nap.
It was just starting to get dark and already the temperature was rapidly dropping. The forecast was predicting a cold night – something in the –30 range – which could make for a nasty journey through Rainy Pass and over to Rohn later that evening.
After sorting out my drop bags, organizing my sled bag some, heating up a meal for myself and thawing some juice packs, I packed up some fresh clothes and my cold weather gear and hiked up to the building set aside for mushers. There was a spot to hang gear to dry, but it wasn't very warm and I figured nothing was going to be getting too dry. There was a room filled with tempting cots, but that was off limit to mushers. For us there was sleeping mats laid out on the floor – not as comfy looking as the cots, but a definite improvement over bare floor, but I just couldn't get warm enough to fall asleep. A young man that lived at the Lodge came by and fiddled with the wood furnace, but he obviously thought it was cold too and showed up 10 minutes or so later with blankets for all the mushers. I was asleep in seconds!!! What a treat.
After an unsatisfying short few hours of sleep, it was time to hit the road. Kelly Williams shared a delectable piece of cheesecake with me as I sorted out my clothing, switching over to my Northern Outfitters gear and Trans Alaska boots – the temperature outside was now –28F and expected to be colder up on the Pass. I gathered up my belongings and trudged back to the dog teams to start the routine of preparing the dogs for the trail.
The trail left Rainy Pass in a different way then the other 2 times I'd been here. The full moon allowed me a pretty reasonable view of the unfamiliar country though. Doug had been planning on following out pretty close behind me and trailing me through the Gorge, so I was looking over my shoulder every now and then to look for his headlamp. I was surprised to see 3 or 4 headlamps working their way along the Pass behind me. Honestly, the memory of that bright, cold moonlit night with those headlamps winding through the night behind me is one that will remain with me for a long time. Rainy Pass as long been one of my favorite spots on the trail – heck, probably one of my favorite spots on the planet – and this night just made it more so.
The first part of the Gorge looked like it had had a lot of avalanches earlier in the year and was quite filled with snow, making it as nice a trail as I've ever seen there, but there were still many challenges to be found.
As we came through the alders and into the bigger timber, I stopped and let Russ Bybee and Doug catch up with me so I could warn them that if they were so inclined, now was the time to undo a few tuglines. I choose not too, but I think Doug did. Russ's team was moving really well, so he passed and headed off. My guys fell in behind, but within minutes missed a sharp corner and wound up buried in dead end trail of brush and shrubs. Apparently, many teams in front and behind me make the same mistake. I was lucky to have some help (Doug and Bennie Stamm) in extracting my team and getting them pointed in the right direction. With Camilla in standing heat, my boys were taking full advantage of the tangle and all trying to get close to her. On my own, it would have been a real headache to unwind everyone and I probably would have ended up with an unwanted breeding.
At that point the trail becomes every bit what the legends make it out to be. Sharp turns with big trees to negotiate around and ice bridges with open water rushing underneath them. I heard some yelling and a few 'choice words' being spoken behind me – and I understand that a few teams had dogs go in the water at one spot – but the best thing I could do was to keep moving, so as not to cause a 'traffic jam'.
Usually a SIGNIFICANT drop onto the icey Innokko River marks the end of the Gorge, I kept anticipating and dreading that, but this year the Gorge dropped gently to a finish and the River itself had a decent layer of snow on it. I let out a huge breath that I wasn't really aware I had been holding.
Grover and Gus easily dealt with one good-sized patch of overflow on the River and we finished the run into Rohn without incident. As we rolled into the checkpoint, I was pleased that 2 of the toughest chunks of trail were safely behind us, but well aware that one of the worst pieces was still next on the agenda!
Place

Checkpoint

Time from Previous Checkpoint

Rest Time
in Checkpoint

Dogs

Layovers

Rohn

5:33

5:35

16

24 Hr 8 Hr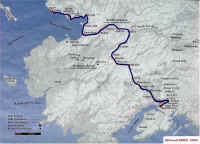 Rohn to Nikolai
The vets had a scare for me as they checked over the team. "Dog 'A' (indicating the lettered identification tag the dogs wear on the race) has a sore wrist", they reported. As I'm sure Karen Yeargain and others on my NorthWapiti News mailing list can tell you, whenever I make up lists of dogs for any reason, and even when I state that the lists are in 'no particular order', Grover is found at the top. My team list in my Vet Book is no different and 'Dog A' refers to him. I hadn't seen him limp or act like it was bothering him on the trail over, but, sure enough, it was swollen. I gave it a good long massage; wrist wrapped it and said my prayers.
Doug shared some water with me so I didn't have to make the long hike down to the river before feeding my team and I got everyone fed and bedded down. While I was still puttering around my sled, I noticed Rick Swenson emerging from a nifty little 'tent' that he had attached to the side of his sled bag. Although, Jeff King is more readily recognized as the 'Master Innovator' of the Iditarod, Swenson seems to always be looking for new and better ways to do things too and a number of nifty little inventions can be credited to him. My interest in his little tent was quickly replaced by wonder at what exactly he was still doing in Rohn. So when he spotted me and said 'Hi' and asked how things were going, I tossed the question right back at him. He explained that his sled had broken and he was 24'ing in Rohn. He still seemed very keen on his team and honestly didn't seem too stressed by his situation. He really is the 'Master of the Iditarod' and I believed that if anyone could recover from being thrown off his or her game plan so badly, it would be Rick. (I was on the money with that thought, as Rick still managed to pull off a 7th place finish, despite his troubles). I told him what Kelly (his long time girlfriend and kennel partner) was planning for her runs when I had spoken to her in Rainy Pass, he was very cheered by the fact that he would get to see her while on his break.
I could put off the inevitable no longer and made the trek down to the Kuskokwin River to get more water. I was still wearing my Trans Alaska boots and quickly discovered that they are not ideal for climbing down and up the face of a small cliff in, even if they have a rope there for us to help haul ourselves up by. As soon as I got back to the checkpoint I switched my footwear back to my Lobben boots with the Neos overshoes. That would be the footwear that I would wear for the rest of the Race. In fact, I even sent home my Cabela's boots a few checkpoints later. My feet have never been so comfortable and warm!
My original plan had me not stopping in Rohn, but the more I thought about it earlier in the Race, the more I thought that might not be wise. Besides, the run over had taken longer then I planned, so a small break was in order. I went over and conferred with Doug about departure times and went into the cabin for some food and down time.
In no time at all, I was back outside doing more dog chores. I took off Grover's wrist wrap and was dismayed to find the wrist no better, but it wasn't really sore – my gut was telling me this wasn't a typical wrist problem. I walked him around a bit and could see he was now favoring it a little, so I took off his harness and secured a drop line to his collar, planning on walking him over to the vets to look at, figuring I was going to drop him. Any of you that follow our racing and training must realize what
Grover
means to our team and to me. The thought of dropping him this early on was a crushing blow – but I love and respect him far too much to ever allow him to continue if it would hurt him to do so. What happened next will continue to puzzle and amaze me for years to come – and it raised my adoration for this dog to a whole different level – somehow Grover seemed to know what I was thinking – although, I don't understand how – he has never been dropped from an Iditarod before. In everyway he could communicate with me, he began to tell me that I was making a big mistake. My agreeable, levelheaded leader fought against the drop line I was leading him by the whole way over to the vets. As the vets were going over him, he was leaning as far away from them as he could and when I gaited him, they could see no lameness. They said they could see no reason he couldn't stay in the team and when I turned around to head back to our parking spot, he dragged me back as quickly as he could.
Although he looked at me with what seemed to be disgust when I moved Kara up to lead and tucked him into swing, that was a concession he was going to have to live with.
I'm sure he had a good chuckle when I was forced to put him up front just a few miles later as Kara balked about going over the glare ice and rocks that awaited us outside of the checkpoint. I left her up front because I wanted her to figure these tricky conditions out, but by putting Grover next to her, I gave her more confidence and me more control.
Thankfully, he moved strongly without favoring his leg at all.
Once into the trees the trail became not too bad at all, definitely the best I've ever seen it, actually, but the wind had picked up now to a level that was scary! I passed two snowmachiners struggling to take down a tent. They were concerned with their tent and I had my parka pulled tight around my face, so I didn't recognize Bob Jones and his traveling companion, Jim that I had camped with at the Tripod Flats cabin outside of Kaltag in 2000.
Just pass that spot there was a large, dark brown lump in the trail ahead of us. My leaders took a moment to sniff it and I figured out that it was a dead moose. There was no way around it, so the dogs just marched over top of it and the sled followed. I wondered what the story was that put it there and later found out that it had been killed by wolves around the time that the front of the pack went through (Ken Anderson told me it was so fresh, it 'splashed' when he went over it! YUCK). I wondered what the trail had in store for us next.
The answer to that question was WIND. Wind so strong that the trees whipped back and forth and I feared they would snap. Wind so strong it moved dogs and sleds all on it's own. I don't know that I've ever experienced wind this strong when traveling by dogteam. I kept hoping that each corner we rounded and mountain we passed would bring some relief, but it didn't.
The series of lakes that the trail traverses, ending with the wide, always windblown Farewell Lake worried me. By now I had
Kara
up front with
Olena
. I toyed with putting Grover up front, as he has proven himself over and over again on these icy lakes, but I also wanted to see if Ollie and Kara were up to the challenge too. In the end I decided to give them a chance to prove themselves and they didn't disappoint! They shouldered into the wind, through the snowdrifts and across the lakes like seasoned pros! I was so proud!
On a number of the lakes there were footprints of wolves and buffalo shaped into 'raised relief' sculptures as the wind swept away the snow around them. It was really interesting phenomenon and I wished I had the time and proper camera equipment to capture them! I, of course, didn't – so I settled for committing the images to memory.
In 2000, I camped with some other rookie mushers on a wide spot in the trail. The next morning, I was annoyed to find the semi permanent 'Buffalo Hunter's camp just a few miles further down the trail. This year, that mistake wasn't going to be made, as the Hunters had put up mileage signs to let us know how far away the Camp was. The signs made it very clear that the Camp was open to all travelers of the Trail, including Iditarod mushers!
When I arrived, many other teams were camped and a fire was blazing away in the stove. Doug and a few other mushers pulled in as I was starting to feed. It would have been a pretty cozy spot to take a long break, but it was still windy where the dogs were and my schedule only called for 4 hours here. Still, I took the opportunity to lie down on the straw covered sleeping platform in the tent. Between the talk and Bennie Stamm trying to burn the cabin down by lighting his glove on fire, there was no real rest to be had.
Darkness was starting to set in as we left the Camp, but there was still enough light that when I came to the part of the trail where it straightens and flattens out, I was still able to glance over my shoulder and see the Alaska Mountain Range spread out behind me. It is always an exhilarating moment to me to look over my shoulder and know that I just drove a dog team through there – and a moment to celebrate that part of the Iditarod Trail being behind me!
With Kara and Olena in still in lead we glided along well. The Northern Lights made an attempt to dance, but it was a short and fleeting display.
Doug, and later Bennie caught up with me and we traveled on and off together for a long time. Then on one large lake crossing, my leaders magically forgot how to 'Haw' and started drifting off to the right, away from the other teams, and away from the trail. No amount of verbal urging (or insulting) was changing their minds. Finally I was able to find a spot to catch my hook in to have words with them. They both looked very sheepish and embarrassed when I got up front and pointed them back towards the trail. After that they were back to their usual responsible, responsive selves. Strange little beasts!
I caught up with Doug again, as he stopped for a brief break with his dogs and we traveled the rest of the way into Nikolai together.
Place

Checkpoint

Time from Previous Checkpoint

Rest Time
in Checkpoint

Dogs

Layovers

Nikolai

14:34

7:53

16

24 Hr 8 Hr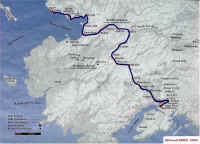 Nikolai to McGrath
It was really nice to be in Nikolai. After a couple very rustic checkpoints and some very rough trail, it was back to more 'civilized' checkpoints and more 'civilized' trail, at least for a while. The folks in Nikolai had opened their school for mushers, which was terrific. We had real warmth, running water, flushing toilets, decent places to sleep (I chose the noisy but dark boiler room over the bright, but quieter staff room), places to sit, and in the morning, kids cooking up a super breakfast for us. I took advantage of the privacy of the bathroom to change all my underclothes and wash up. I also got my first good look at the bruise on my hip from my encounter with the tree on the Happy River Steps. I knew it was swollen, throbbed pretty constantly and was horribly painful to bump or touch (a crash on the ice and rocks early on on the trail out of Rohn, in which I landed on that side confirmed that!) – but I was rather shocked to see just how bruised it really was. It stretched from almost my knee up to my hip - an explosion of yellow, purple, blue, red and black. I wished it were somewhere I could have shown it off better – it really was spectacular.
Many mushers were making use of the phone in the school to phone 'home'. I had accidentally left my Cabela's Iditarod vest with my money and calling card in it back in Rainy Pass when I changed into my Northern Outfitters stuff. (I was hoping to be reunited with it in McGrath) That and the fact it was the middle of the night kept me from making a phone call. I know Mark would figure things were going badly if the phone rang in the middle of the night – and they weren't. No need to panic the hubby unnecessarily.
When I went back out to feed the team at around 6:30am or so, I checked the sweat I had on Grover's wrist. Again, his wrist seemed worse after the wrap then it was when we came into the checkpoint. I called the vet over and asked him to take a look at it. Turns out it wasn't a typical wrist injury - it was tendonitis. He showed me a specific way to massage it to bring down the swelling. We discussed the fact that it didn't seem painful, that it appeared better when he was working on it and decided he was 'good to go'. I told the vet my plan for McGrath and 24'ing in Takotna and asked if I was going to be able to get Grover to Takotna, where we could really work on him. He didn't feel that was a problem.
I did the massages a lot in the next 2 hours and the swelling looked considerably better before we were ready to go. When I was making my final preparations to get ready to leave, Grover stood up and began his patented motion of rocking back and then hitting hard into his harness to let me know he wanted to get going. He was the only dog with an excuse not to want to leave and he was the first to hit his feet wanting to go. I told other 15 dogs that he was putting them to shame. That is one amazing sled dog.
The trail in and out of Nikolai kind of crisscross each other, I witnessed a musher get mixed up and lost in 2000, so I've always been nervous about getting turned around leaving here. We, of course, were on the right trail, but worrying gave me something to do for an hour or so.
After a couple hours, as expected, Doug caught up with me. He was having trouble with a dog and we 'leap-frogged' each other a few times. The last time he said he was going to 'bag' (put him in his sled) the dog. I expected he would do just that and would catch me again, however that was the last time I saw him until Takotna.
I pulled out my I-pod and wired myself for some tunes. We bopped down the trail to Sonny and Cher, Toby Keith, and Michael Buble, among others.
As we hit mid day, the sun came out from behind the clouds and it got brutally hot out. The dogs slowed down considerably, but we still caught up with and passed Wayne Curtis, who was also struggling in the heat.
As we got closer to McGrath, big clouds blew in and we were struggling with near zero visibility in a snow squall. Weird weather, for sure. Every time it cleared a little, I could see a team off in the distance behind me. Whoever it was (turns out it was Doug) I wanted to get in and out of McGrath before they arrived – and before the dogs got the thought in their head that we were staying here for any length of time.
Place

Checkpoint

Time from Previous Checkpoint

Rest Time
in Checkpoint

Dogs

Layovers

McGrath

6:45

3 minutes

16

24 Hr 8 Hr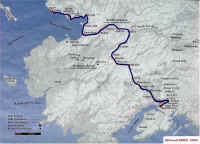 McGrath to Takotna
The official results show I was in McGrath for a total of 3 minutes. I know it wasn't long, but don't think it was that quick. I signed in, had a vet check Grover while I ran over to my second sled (shipped there prior to the Race) and grabbed a few things – my seat, my ski poles, some extra Karen food and dog booties. As I was stuffing things into my bag, I asked if there was a package there for me – hoping my vest had made it up the trail. It hadn't, but there was a small package that had been mailed to me. I stuffed that in my pocket, signed out and left.
Kara and Olena were in lead and they weren't pleased with this change in the routine. The figured they were entitled to a break in McGrath and tried a couple times to take side trails back to town. I finally gave in and just put Grover up front with Ollie. Kara has turned into a surprising and nice little leader, but she won't drive a team out of a checkpoint like Grover. Nobody in my team does that like Grover – yet!
I fished around and pulled the package that was delivered to me at the checkpoint out of my pocket. This wasn't the first mail I received on the trail – back in Nikolai there had been a really cute card waiting for me from friends and sponsors, Travis and Alice Fitzgerald of North Stonington, Connecticut. This package was a Snickers bars and a note from Barbara and Jerry Lake. It certainly picked up my spirits to get it, even if I did drop and lose the chocolate bar while trying to open it (only if it is an item of EXTREME importance will a musher stop and walk back behind their team to retrieve something).
* Sigh *
As I was about to lose sight of the village, I looked over my shoulder to see if the team that had been behind me had stopped or blown through the checkpoint. I saw a dog team moving towards me at HIGH speed. That team seemed to be moving way too fast for an Iditarod team at this point of the Race. I shook my head, trying to clear my vision, and looked again. It was still closing in quickly and it looked to be a rather small team. The mystery was quickly solved when a young local boy and his 4-dog sprint team pulled up behind me. Demonstrating excellent trail manners he stopped to hook down behind me. I asked him if he'd like to pass and he politely said, "Yes, please". His well-disciplined team took his commands wonderfully and passed mine with hardly a sideward glance. He thanked me, called them up and off they went. I was very impressed.
As we dropped down onto a river the dogs seemed somewhat confused about which way to go. I called to them to 'Gee' onto what I thought was the right trail. We hadn't gone far when I realized the problem – the track to the right, that we were on, was that of the sprint team, the Iditarod trail veered left, indicated by a few markers. Grover and Ollie were very good about plunging off the trail we were on and breaking trail to get back onto the Iditarod trail.
Weather wise the day continued to be a strange one. One moment the sun would be beating down on us, causing me to run without my hat on, next moment it would be snowing like crazy and I was bundling up. Kept me busy, if nothing else! It was also fun to watch the dark clouds drifting into different shapes and moving across the sky. Pretty country! A plane made several low passes over us. I figured it was photographers or spectators and waved. Turns out it was official photographer Jeff Schultz and one of those photos is currently gracing the desktop of the computer I'm typing this on.
I was used to doing this section of trail fairly quickly – in 2001 I had 24'd in McGrath and my fresh team fairly roared over it. This year they weren't as spunky and things seemed to be dragging on. Finally we reached the summit of the trail and began the descent towards Takotna.
Grover seemed to be having some trouble with the downhill running. I swapped him around in the team until I found him a more comfortable spot for him (swing) and slowed everybody down. I wasn't going to try to bag him, the injury wasn't that bad and Grover would never go for that unless he was in real distress. An extra ½ hour to get to the checkpoint was well worth it to keep Grover happy.
We dropped onto a river, which we traveled along for a bit. Finally we rounded a corner and there was Takotna. On three Iditarods I had strived to make it to Takotna to take my 24-hour break, this was the first time I'd made it!
Place

Checkpoint

Time from Previous Checkpoint

Rest Time
in Checkpoint

Dogs

Layovers

Takotna

3:10

25 hours
( (24 hour break plus 60 minutes of start differential))

16

24 Hr 8 Hr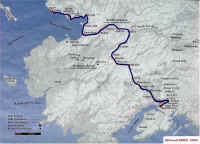 Takotna to Ophir
It took a bit of time for the volunteers to track down a parking spot for us, while they did the dogs all remained on their feet, visiting with spectators/officials and hoping for snacks. It felt great to be in Takotna with a strong 16-dog team. Grover's wrist was quite swollen, but based on the way he was dealing with it and the amount of time we had here, I was confident we were going to get him back on track.
Finally a runner led us up the hill into a nice quiet parking spot next to the church and between Kjetil Backen and Robert Bundtzen. (I was rather shocked to be 24'ing right next to one of the Race favorites).
The checkpoint routine began like any other one, until I removed the harnesses from the dogs. This is the only time on the Race that the dogs get out of their harnesses and the veterans know that is a sign of a long break. I also replaced some necklines with tug lines to give the dogs more room to stretch out and get away from each other.
I was thrilled to find a few of my favorite vets working this checkpoint and while I puttered getting the dogs settled in Dr. Krista Roberts worked her way through the team. Her comments were ones that I will hold onto for a long time – "Disgustingly healthy", she said, also commenting that you would never know these dogs were in the middle of a 1000 mile race. A musher traveling where I do in the pack isn't eligible for the 'Humanitarian Award' (you must be Top 20 to qualify for that) – so remarks like this I really value.
In regards to Grover's tendonitis, Krista felt that it was not a normal case of tendonitis and wanted to try a bit different then usual course of treatment. I was game and she prescribed antibiotics and told me to continue with the massage (or MA-ssage, as she pronounces it with her great Kiwi accent).
Crunchie was also a bit of a concern. He was in great shape, but didn't feel like eating. I felt it was just a case of a young dog being a little shell shocked and vowed to get some food into him before we left the village.
I got the dogs cared for, fed and tucked in for their first nap. Then it was down to the checkpoint to see what culinary delights awaited the mushers.
Takotna has an amazing reputation with mushers and deservedly so – the food is incredible and they refuse to let you pay for anything – which was great, as I still didn't have my vest – and hence, my cash back (actually when Doug heard that I was broke he graciously insisted on loaning me some money – so I wasn't going to starve! Kind man, that Doug).
Each musher is 'entitled' to one steak while visiting Takotna and I settled down immediately to a steak dinner. While I ate, I marveled at the other mushers I was taking my break with. Very cool to be in a checkpoint with the likes of Vern Halter, Ramey Brooks, Mike Williams, etc..!
After dinner, I decided to phone Mark. Natalie was gracious enough to accept the collect charges when I phoned the house, but Mark wasn't there. She said he was out for dinner at Maureen Chrysler's (our landlady in AK in '99 and '00). Maureen was also kind enough to accept the collect call and I finally got Mark on the phone. We had a nice chat about all sorts of things. He filled me in on race stats – including the fact that Doug Swingley had scratched here in Takotna (knock my socks off!), I filled him in on the trail, the dogs and such.
Then it was up to the church to check on the dogs and then grab some sleep. I didn't sleep well or long (I'm beginning to sound like a broken record on this) but it was still great to get some down time and I was feeling pretty refreshed when I got up to feed the crew.
All the dogs, except Crunchie were eating like pigs. I thawed some special snacks for him, but he just turned his nose up. Grover's wrist was looking a lot better, so I continued on with the massage and wraps.
The day passed very leisurely – eat, feed dogs, nap, eat, feed dogs, nap…. I even found time to squeeze in a very much-needed shower. A relief to everyone around me, I bet.
By this time Kjetil and Robert had long since departed (Kjetil's leaving was missed by no one, as a number of young Norwegians were volunteering in the checkpoint – doing a TERRIFIC job, I might add – and they sang Norwegian songs and waved flags as his team pulled out! Quite the Fan Club!). The dogs and I now had a nice quiet area all to ourselves, so I took turns turning a few of them loose and letting them sniff around, mark everything in sight and stretch their legs. They wiggled and wagged their tails and bounced around. Grover is quite the character, we were parked on a hill and he flipped onto his back at the top of the hill and then twisting his body side-to-side slid down the hillside. When he got about ½ the length of the team, he popped up, trotted up the hill and preceded to do it all over again.
Crunchie really seemed to like this break in the routine and this time when I offered food he nibbled at some of the thawed meat I offered. Ta-da!
Doug and I sat down and mulled over the next few legs of the Race and how we wanted to deal with them. I was scheduled to be free of my '24' at 7:55 pm and he at 8:26. We decided that we would blow through Ophir and camp somewhere between there and Cripple.
The last hours were spent gathering gear, phoning home again, re-harnessing dogs, reorganizing my sled, and other such tasks.
Krista came over and checked the team again. She pronounced both Crunchie and Grover 'good to go' but advised that I have a vet check them both over in Ophir. The difference in Grover's leg was dramatic, but how it handled the next leg of the Race would tell the real tale.
As I made final preparations to leave I was faced with a problem that I know I will have to spend time 'fixing' in training next year – the dogs hate to 'dump' in their straw beds next to where they are sleeping Fancy bunch of 'pedigreed' pups they are, they seem to feel that is beneath them, even when it is okay for every other dog team on the Race. While the straw beds of other teams are littered with the by products of 4 or 5 meals fed to the dogs in the last 24 hours, my dogs had a total of three piles near their straw. Why this is an issue is because once they finally get up and moving around (as when I'm trying to get them to leave the checkpoint) they are busy 'emptying' themselves. Sure enough, as we made our way down to the front of the checkpoint with the help of handlers, it was a stop and go procession as each dog did their business. Then once we got in front of the checkpoint, the dogs really put the local kids to work cleaning up after them as each one AGAIN took a break. The amount of poop my team was leaving on the main street of Takotna was downright embarrassing! I routed through my sled bag and came up with enough Canada flags pins for all the kids in town, so they would hopefully have nicer memories of us then cleaning up after the team. (I spent a lot of time on the trail mulling over this issue and think I have come up with some good ways to deal with it for next year).
Finally the checker gave me the official countdown and with a bag lunch as a final parting gift from the nice folks at Takotna in my sled, we hit the trail again!
After a few more miles of 'stop and go' the critters settled into a nice pace. It started to snow and soon the tracks of the teams in front of us were obliterated. That's fine, as the trail runs along on a summer road, so it is pretty obvious.
About 8 or 9 miles from the checkpoint I noticed a headlight in the dark behind me. I expected it to be Doug, but it turned out to be German musher Bernhard Schuchert. We exchanged greetings and my dogs slipped in behind Bernhard's for an easy hour into Ophir.
Place

Checkpoint

Time from Previous Checkpoint

Rest Time
in Checkpoint

Dogs

Layovers

Ophir

2:57

24 minutes

16

24 Hr 8 Hr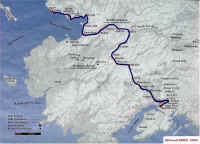 Ophir to Cripple
The plan was to not stay in Ophir, but I did need to get Crunchie and Grover checked and rifle through my drop bags before I left so we were going to be here a bit (turned out to be 24 minutes, according to the check in sheet).
When the vet watching the teams come in asked if there were any issues with my dogs, I steered him to my two 'problem' children and mumbled something about Grover's wrist and asked him to double check Crunchie's hydration. It was music to my ears when he announced that there was absolutely nothing wrong with either dog. I explained the 'Grover situation' fully and we looked at his wrist again together. The swelling was indeed COMPLETELY GONE, with no pain, restriction of movement or anything else in the joint. I was walking on a cloud! To further boost my spirits when I walked by to offer snacks to everyone, Crunchie was carrying on and just about took my hand off in his eagerness to get his. There I was standing in Ophir with 16 dogs, all completely healthy and ready to rock. What a great feeling.
While all this was going on Doug pulled in behind me. I moved my team up a bit onto the out trail and asked one of the vets, Veronica Devall (another of my very favorites – and not just because she is another Alberta gal!) to stand on the brake for me while I ran back to speak to Doug. Veronica was out visiting after we were home in Perryvale and told me a story about this. She said when she was standing on my brake, 16 sets of eyes were completely and totally focused on me while I was off the sled. She said not one of them took their gaze off me for even a moment. I'm often asked by people if I can develop as close a relationship with 16 dogs, as they can with their 1 or 2 pets at home. The answer is undoubtedly YES. We are not 16 individual dogs and 1 musher – by this point, we are one unit – a dog team. It is a relationship beyond anything I've ever experienced with an animal before. It is magic and it is, to me, one of the most addicting parts of this sport.
In great spirits, with a great dog team, a fabulous night for running, a solid plan for the trail ahead, and a friend to travel with we left Ophir.
The dogs were running great, but I was still surprised when I caught up with Karen Land. As I was passing, it became obvious she was having some problems, so I stopped to see what was going on. Karen was fussing and fiddling with her headlamps, but seemed to have some mystery situation going on – very like problems I experienced in the 2001 Race. Sympathetic to her situation I gave her my back up headlamp on the condition that if we didn't see each other in Cripple, she would leave it with the checker for me. She readily agreed and thanked me profusely. Doug caught up with us shortly after that and the three of us traveled on and off together for a while.
After several hours Doug and I began to look for suitable places to camp. Finally we came across Rick Mackey camped along the trail. He had a small fire going and told us we were welcome to join him. As Doug said, it isn't often you get a chance to camp with a former Iditarod Champion and he had no intention of passing up the opportunity. It took some doing, but we finally got our teams off the trail and bedded down in the deep snow. As we were feeding and watering them, we chatted away with Rick, who really is a terrific guy.
After a few hours Rick packed up and hit the trail. Doug and I continued to play with the fire. Okay, in reality I played with the fire, Doug watched. Seems when it comes to collecting wood, Doug's former gentlemanly demeanor stepped aside, and he was content to watch me plow through snow above my knees to find burnable wood, occasionally pointing to some good looking prospects deeper in the trees.
(I'm really just teasing Doug here, as I'm pretty sure he is reading my Diaries. I am a fire bug and I was very content to collect wood and stoke the fire to pass time :) )
It was a very enjoyable morning chatting fondly about family, spouses, and other things that were all a long way away from this remote, quiet stretch of trail on the Iditarod.
The morning was a foggy one (ice fog) and sound carried for miles up and down the trail. We could hear other teams camped further up the trail and could also hear dog tags jingling and mushers offering words of encouragement (or correction) to their dogs miles before they passed by.
Finally, after 5 hours we began to pack up. A half hour or so later, we were on the move again.
The day began to get really hot. My team wasn't moving near as well as they had the previous night and Doug quickly pulled away, never to be seen again, I figured.
We went up and down endless small hills and through bits of open water. I stopped and snacked the dogs a few times and they all ate well, indicating that despite the heat, they were all holding up fine. I fussed quite a bit switching around my leaders – and then admonished myself for doing that. That is something I tend to do when I have it in my head things aren't going well. It just wastes time and I have tried very hard to break this bad habit. There are times when changing leaders can pick things up, but running through all the dogs in the team, trying them up front is counter productive at this point.
I had been listening to my I-Pod all morning and decided to try listening to one of the books I had downloaded to try and make the trail go by quicker. I choose an inspirational book and listened to it for about 20 minutes before deciding it was just too darn upbeat. It is too hard to suffer and whine to yourself with upbeat stories bouncing around in your head. I switched back to music and occupied myself studying the trail to see if I could remember landmarks indicating that I was getting close to Cripple, despite the fact that when I arrived here in 2000, it was dark and I was exhausted and hallucinating.
I was surprised when I came over a rise in the trail to find Dexter Kanzer and Noah Burmeister camped. Just ahead of them stopped, but not camped was Doug. We all griped about the heat of the day, the length of the trail, etc. I told them I wasn't sure how far it was to Cripple but that I thought we still had to skirt around the toe of a small mountain that lay ahead of us.
Turns out I was right and about an hour later we arrived in the checkpoint.
Place

Checkpoint

Time from Previous Checkpoint

Rest Time
in Checkpoint

Dogs

Layovers

Cripple

17:44

7:07

16

24 Hr 8 Hr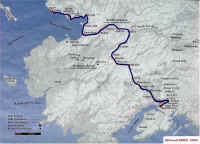 Cripple to Ruby
Iditarod 2000 was the only other time I had been in Cripple. The trip in that year was miserable and I remembered the checkpoint as being much the same. Boy, had they ever improved things for 2004!!! Now, 'improvement' is certainly a relative term – it is still a tent checkpoint with very few amenities – but having somewhere decent to sleep and a somewhat private place to pee really are big pluses in my book!
It took some doing to park my big dog string – by this point I was one of only 2 mushers still traveling with their full 16 dogs. My team stretched up off the slew and my leaders were tucked into the trees – pretty nice for them!
Off the trail, the heat of the day was now a very enjoyable thing and I was able to shed a few more layers of clothes while I did chores. The dogs suntanned in on their straw beds – I always feel the sun is healing when they can stretch out in it in checkpoints, if not for the body, then for the soul.
I rifled through my food bags and came up with a few 'not so great' choices for my dinner. After starting some juice packs and water bottles thawing in my cooker, I wandered over to visit with Doug. When he offered up a package of lasagna, I snapped it up. As some of you know, in previous years my friends, Lynda and Dwayne did up all my trail meals for me and they were amazing. This year, for a few reasons, they didn't do them and I was surviving on McDonald's McGriddles, Mac and Cheese, checkpoint food and Doug's extra lasagna! (I have already told Lynda and Dwayne that they HAVE to do my food for next year – no offence to your lasagna Doug! It was much appreciated!).
Cripple had a couple tents set up for mushers to sleep in. The tents had bunks and a stove in them – heaven. Rick Mackey was lying on a bunk that had a foamy mattress on it. As I was stripping down to my long underwear, I eyeballed it longingly and when a checker came in to tell Rick there was a commotion in his team, I asked if he was coming back. He said he was, but offered me the bunk with the foamy anyway. SWEET!! I was asleep in seconds and seriously considered ignoring the checker when he came in to wake myself and a few other mushers up an 1 ½ or so later. That was undoubtedly the best rest I'd had yet on the Race.
It was hard to get moving again, but still, at midnight Doug and I hit the trail together. The dogs seemed to feel my desire to head back to that foamy and were also sluggish leaving, but in a mile or so they had worked out most of the kinks and were back in the game.
The first part of the trail dips, twists and winds in spots - made even worse this year by some changes made by large downed trees from a windstorm a while back. It helped me stay awake – which I was having some trouble doing. A few mushers caught up and passed us during the night and we passed a few others stopped along the trail. Some mushers camp on this leg, others push straight through. Doug was kind of wanting to stop for a bit, I was keen on pushing through to get to Ruby before it got too hot.
We came across Rick Mackey camped almost in the middle of the trail. He apologized; explaining that he hadn't thought there was anyone behind him for quite a while. Doug went up to straighten out a problem in his team and my leaders were stopped next to Rick. I had Kara up front, Rick looked down and pronounced that she was so cute "you couldn't help but smile when you looked at her". I'd like my dog team to be remembered for being tough or disciplined or…. Well, just about anything else rather then CUTE, but he's right, she is really cute. I smiled.
Doug and I continued to travel together as daylight broke, but then he decided to shut down for an hour or so. I just didn't feel that was the wise choice for my guys, so I pressed on.
As the day warmed up, the dogs definitely slowed up a bit, but I knew it wasn't far now till we hit Ruby. I put Chester and Surge up front. Chester is quite the character. When he is in lead, I swear all he hears is what we hear when adults talk to Charlie Brown – "Wa..Wa..Wa..Wa..Wa" It seems he listens to NOTHING I say, but he will always keep a dog team moving forward. This trail had no real decisions on it, so I was content to let him to his thing – besides if I really needed the leaders to listen, Surge was not afraid of standing up to the big, mouthy black and white beast and seeing that my instructions were followed.
The dogs really perked up as we skirted around the edge of the village of Ruby. There is a pretty good hill as you arrive in town (actually the whole village is on a hill, so everything is uphill or downhill there!). The checkers were standing at the top, calling the dogs to encourage them.
"Wa..Wa..Wa..Wa..Wa", heard Chester, so when he spotted a young boy just off the road, he saw no reason we shouldn't go visit – Chester loves kids.
Sixteen dogs have trouble swinging around a 90 degree corners, especially going uphill (speed sometimes can help carry you around corners), so before I could do anything Draco and Loki where smucked into a snowbank. Draco figured it was all Loki's fault and pounced on him to teach him a lesson. A couple sharp words from me and everyone settled down – but not before Loki got a small wound inflicted under his eye. I ran up front and straightened Chester out – and we finally got to the checkers – although it was a much less gracefully entrance then I had hoped!
Place

Checkpoint

Time from Previous Checkpoint

Rest Time
in Checkpoint

Dogs

Layovers

Ruby

12:13

8:08

16

24 Hr 8 Hr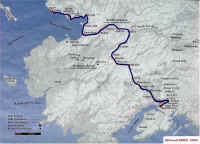 Ruby to Galena
I've always liked Ruby. I think that is because my first visit here, following the Race in '98 was such fun!
The checkers helped my team into a lovely parking spot near the church. On a clear day, like this one, the view from up on this hill is spectacular!
The vets quickly began going over the team, all the while teasing me that I was making them work too hard because I had so many dogs. I told them that in '98 while I was following the Race Dr. Sonny King pulled into town with all 16 of his dogs still in harness. There was an absolute buzz in the checkpoint about how amazing this was. My traveling companion, Karen Adam and I rented a snow machine and went partway down the trail to Galena. On the way home, Sonny passed us leaving Ruby, still with all 16 dogs. We stopped and watched in awe as his big string trotted by. Now, here I was running Iditarod myself, in Ruby - still with 16 dogs. It was rather mind boggling to me. The vets made some very complimentary comments about my dog care and my team – I was so pleased.
The cut on Loki's face wasn't bad at all, but because he is a show dog in the 'off season' we decided to put in a couple stitches to make sure it wouldn't scar. I held his head while the vet stitched. What a brave and stoic dog, he didn't even flinch when the needle went in!
As I was tending to my dog chores one of the checkers came over with a pleasant surprise – the vest I had left in Rainy Pass had finally caught up with me! Yeah! Another nice treat awaited me inside the checkpoint – a box of goodies from my Mom. How cool! Moms always know the perfect things to send their kids!
After some food and something to drink I wandered down to the washeteria (a combination washroom, laundry, and shower facility that you find in many of the villages in Alaska). As much as I love Ruby – I have learned that one should NEVER use the outhouses in town – even in an emergency – they are atrocious! I didn't take the time to shower, but I washed my face, changed clothes, and otherwise freshened up! On the way back I stopped in the hardware/general merchandise store looking for some bolts. Three of the 4 bolts holding my right footboard on my sled had sheered off on the trip over. Kind of strange – but this is the Iditarod Trail! As I was sifting through their box of bolts one of the locals inquired what I was after. I showed him one of the broken bolts and he assured me he had some just like it at home (the store didn't). He offered to go get them and meet me back at my team. Very typical of the hospitality to be found in the Yukon Villages! In no time at all I had my footboard again securely attached to the runner.
I decided to see if I could get a little sleep before leaving Ruby, so headed back into the checkpoint building. For Iditarod the building has dividers put up in the middle so mushers can sleep in the one half. It isn't really comfortable or quiet, but it it'll do. I was too lazy to pull out my sleeping bag, so I just stretched out and quickly fell asleep in the middle of a 'rug' of other mushers. I woke up a very short time later, shivering because all the mushers around me had left – taking their body heat with them. I still had a bit of time before my wake up call and when I found a noisy but warm corner next to the furnace, I took advantage of it. Obviously, the warmth was just what I was looking for, as I understand the checker couldn't get me to wake up at the requested time. That has never happened to me on Iditarod before! Gratefully, I believe it was another musher that snapped me back into reality. Checkers are sometimes too polite – other mushers rarely are!
Nighttime was just taking over when I left town. The lights of Ruby look so pretty nestled in the banks of the Yukon when you look back on them from the trail.
The trail took an entirely different route then I'd been on previously. In fact, we weren't even on the River, but a slough that ran parallel with it. I felt kind of gypped, as I had prepared myself for a river run. Maybe the dogs were feeding off my mood, because they moved along very poorly. I was puzzled, normally runs at this time of the evening are among the best I have on a race. Doug was planning on leaving 40 minutes after me (we had both taken our mandatory 8 hour rest on the Yukon in Ruby) and I had bet him he wouldn't catch me before Galena. I was frustrated, but not surprised when he caught me not even halfway into the run.
I went through a rash of leader changing and then got a grip on myself. About that time, the trail spit us back onto the Yukon. It perked up my spirits that I knew the spot, as there was a light on the far side of the River that I remembered from last year. It is very, very rare to see a light outside of a village along the River. The trail crossed a strange stretch blown clear of snow; it seemed to be frozen sand and rocks that we were on. Interesting things were happening overhead too, as the Northern Lights had started up and were coloring the night.
As we hit the wee hours of the morning, even though the dogs were moving along better, it got very tough to stay awake. I caught up with Doug, who was having the same trouble and he said he probably would have just shut down and napped if I hadn't been out there with him.
The lights of Galena play wicked tricks on the mushers at night. Quite a way out of town there is a red beckon. Even though I KNOW Galena is still well over an hour away, it always gets my hopes up. When the lights of town do pop into view, they appear deceivingly close, again getting the dogs and I all excited – only to never get closer. About the time you are about to go insane, the trail swings up the bank and into Galena. What a relief!
Place

Checkpoint

Time from Previous Checkpoint

Rest Time
in Checkpoint

Dogs

Layovers

Galena

8:33

10:11

16

24 Hr 8 Hr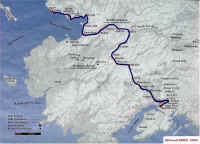 Galena is a wonderful checkpoint – there is just no doubt about that. Good food, real beds and even showers for those that desire them – pretty well a musher's paradise at this point of the Race. Before I could head inside though, I needed to have the team looked over, get them fed and bedded down.
Draco
had been limping a little coming into the checkpoint and figuring that out was my first order of business. Dray is a really honest working dog, so if he is mentioning there is a problem, it is probably not something minor. As it turns out, it was a minor problem – but a painful one – his toenail had jammed back into the nail bed but it was not something I could manage on the trail. Plain and simple, he needed a good long break off his feet. I filled out the paperwork to drop him, but said I would keep him with my team until I was ready to leave. I wasn't really disappointed in having to drop a dog – getting to Nome with a big team was not my first goal this year, but I was disappointed that the dog was Draco. He is one of my veterans, a solid leader and a real favorite. He was also a fond connection to his brother, Orion for me. He had done a great job on the trail this year, but it was time for him to go home.
With everyone fed and sleeping, I went into the building and found some food and a bed. Oh my – what a treat.
After a few hours sleep, but still feeling groggy, I stumbled out to check on the dogs. They were all still snoozing comfortably away.
I went back in and called Mark. I don't remember much of the call, I was still very tired – but I think they had to get him out of bed. Hmmm, first call I interrupted him at a dinner party, second one I got him out of bed – he was going to start telling me not to call home. Despite it, he sounded happy to hear from me, even if he did have to remind me what checkpoint I was in. I told him Draco was coming home. As much faith as I have in Iditarod, I trust my husband much more and I know he will make sure any dropped dogs get safely back to him. We chatted for a while longer about various things I don't remember and then said 'goodbye'.
The 'plan' for Nulato was to stay only 6 hours, but a couple hours before that Doug approached and told me he thought we needed to stay longer. The morning was warming up fast and leaving after only 6 hours would put us out in the worst heat of the day – 11am. Up until now, I had been pretty close to the schedule I had written out for myself and more importantly, still within striking distance of that Siberian record. I knew Doug was right, but it was very hard to do what I knew would take me off my goal setting pace. I phoned Mark again and ran things over with him. I had pretty much made the decision to stay longer before phoning him, but I needed words of reassurance from him that I was doing the right thing. He listened and agreed that I should stay longer. I berated myself for not thinking further ahead when making decisions in Ruby – but what was done, was done. I couldn't control the weather. I went and got a few more hours sleep.
In making preparations to leave Galena, I had to do some rearranging in my sled for the next leg. Riding in the very front of my sled bag since Willow was the tin box containing Orion's ashes. In the vet clinic on the day he died, I knew where I wanted to scatter them. In 2003, the leg from Galena to Nulato was one of the best runs of the Race for me – in fact, it may be the best leg I've ever had on any race ever. Fresh off our 24-hour break on a very cold, icy morning the dogs literally flew down the trail. I was riding my drag brake with both feet for a good part of the way. I remember stopping to snack the dogs, and although I have no memory of who else was where in the team, I remember Orion standing up in lead with his big trademark, 'pointy teeth' grin. He was so happy. I knew that was where he belonged.
I wished Draco a safe journey home, gave him a hug and left Galena.
The River was a pretty busy place at 3pm on a Sunday afternoon. Galena was having a Winter Carnival. Lots of kids and dogs were around for the Jr. Races and everyone waved and cheered as we went by. Families piled onto snowmachines would pass me later in the day, towing sleds with crated dogs on them – Yukon River 'dog trucks'!!
A couple snow machines I didn't appreciate roared by at speeds that scared both the dogs and I. A lone foxed abandon an old wolf kill and scurried up the River bank. We passed Bishop's Rock, one of my favorite landmarks on the Iditarod Trail. Other mushers caught up and passed us.
As the sky began to soften and fade, I pulled Orion's box out of my sled. I didn't stop the dogs; I just talked about him quietly with them for a bit. Then I opened the box and set him free on the slight breeze created by the passing of the team. When the box was empty I turned on my runners and set the Yukon sunset in my mind. It was beautiful – a fitting tribute to a beautiful dog. I would hold onto the memories, but the River and the Iditarod Trail would hold onto his ashes.
The rest of the run was done in quiet contemplation. The dogs moved steadily along, respecting my needs or maybe needing some quiet time of their own.
Place

Checkpoint

Time from Previous Checkpoint

Rest Time
in Checkpoint

Dogs

Layovers

Nulato

7:10

5:29

15

24 Hr 8 Hr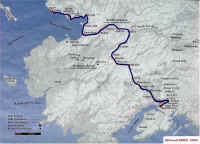 Nulato to Kaltag
Nulato was pretty much asleep as we ran down the streets of town. The auditorium that served as a checkpoint was abuzz though. Many teams were camped out in front and locals had a big barrel of steaming hot water that they were keeping filled for mushers. That is always an appreciated treat!
Kirstin Roberts was one of the vets here and she was very pleased to see Grover and Crunchie still in the team and looking so well. As before, she had very kind comments about the health and condition of all the dogs.
Everyone fed and tucked in for a nap, I headed inside to do the same (eat and nap!).
The comforts at Nulato are not near what they are in Galena and I grabbed a bit of sleep on the hard wooden bench seats around the gym. There were a lot of other mushers doing the same – a few of them snoring in a BIG way. YIKES!
I was keen to get out of town relatively early, so as to get over to Kaltag without being caught by the heat of the day again – so just before 4am, we were off.
The run to Kaltag has always traditionally been one that the dogs started slow on and then settled nicely into their stride, giving us a really nice trip. Not the case this year – in fact, it was the opposite – they left without hesitation, but never settled into a nice rhythm. A bit of a wind storm on the river made things worse.
This year there were also mileage markers all the way down the river. You would think that would be appreciated, but they stopped me from convincing myself that things were going better then they really were. Sometimes it's not a bad thing to be delusional!!
Finally, Kaltag came into view and the dogs marched up the bank and into town.
Place

Checkpoint

Time from Previous Checkpoint

Rest Time
in Checkpoint

Dogs

Layovers

Kaltag

5:59

6:12

15

24 Hr 8 Hr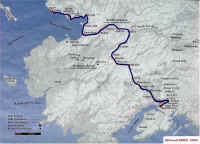 The vets in Kaltag were doing double duty, parking teams as well as checking them in. They were all a little giddy – probably due to lack of sleep – a common problem on the Iditarod Trail! Veronica Duval was one of the vets there and we had a nice, enjoyable chat as I puttered around the team in the sunshine doing chores. One of the other vets came by and asked if I would snack one of the dogs so he could take some pictures. The whole, frozen herring I feed the dog are not only a dog favorite, but a spectator favorite too! Hector jumped to his feet to volunteer when I pulled out the snacks – what a keener!
The warm afternoon was perfect for the dogs to catch a good snooze in the snow bank and for me to sort through and re-organize my sled bag. That done Doug and I treated ourselves to a burger, fries and Diet Coke at what passes for a 'restaurant' in Kaltag. It was wonderful!
I had been a little discouraged that the dogs were not coming together more as a team. They were healthy, eating great, strong in number, and in good spirits, but they just seemed to lack that 'spark'. The art of 'peaking' a dog team still seems to be somewhat eluding me.
After grabbing a way, way too short and pretty uncomfortable nap – I headed out to the team, determined to be upbeat and enthusiastic about the upcoming run. Maybe it would rub off on the dogs.
The strategy showed good promise right from the start, as Hector led his teammates in a group howl as I started to prepare to leave. A few of the other musher's dogs joined in, but they were definitely outclassed by the voices of the Siberians. Siberians are wonderful singers! Everything stopped in the checkpoint for a brief moment to listen – it was very cool.
The team's song seemed to really pick them up, they left Kaltag better then any other team I've driven out of there – and definitely better then they had left the last several checkpoints. Three teams passed me right after leaving town, but that was fine – they were stronger teams and I expected it. My dogs were doing well for them and that was the only yardstick I was holding them up to.
This piece of trail is one I really enjoy and the run was a pleasure as the afternoon slowly turned into night. Nighttime brought many more issues though, the lack of a decent nap since Galena was catching up with me and I was really having a tough time keeping my eyes open and the sled on the trail. I was gratefully to finally arrive at Old Woman Cabin.
A half dozen teams or so were camped in the clearing that surrounds this wonderful refuge on the Iditarod Trail. Doug had got there a while before me and was as taken with the Cabin as I was. He said it would be nice to have the time to stay and explore some of this area in the daylight. I told him if he could see the spot in the daylight, he would want that even more. The dogs were quickly fed and I settled in the cabin for a much needed nap.
Traditionally I have had some of my best rests ever on the Iditarod in this spot. This year was no different. My sleep was short and some world-class snoring serenaded me, but I felt very refreshed when I got up just over 2 hours later.
Kelly Williams had pulled in while I slept and I visited with her for a bit while getting ready to leave. She is such a nice lady.
Again, to my delight, the dogs hit the trail pretty strongly. A ways out, I stopped and fiddled a bit with leaders, finally settling on Chester and Grover. That was a combination that really clicked and I was thrilled with the way we were moving down the Trail. I had my I-Pod going and was having a wonderful time.
All of a sudden the middle of my dog team started tangling and darting around. I was completely puzzled by their behavior until a small black shrew (or something similar) darted out of the middle of the team and dived into the safety of the snow. How embarrassing that one little shrew outsmarted 15 Siberians and managed to get away from them. I had a great laugh at the dog's expense!! Hilda was mortified and grabbed at every black speck on the trail from that moment on till Nome. She was not going to let the next one escape!
Just before we got up to the Unalakleet River, Doug caught up and passed me. His run seemed to be going pretty well too. When both teams hit the river, they broke into an easy lope, always a treat at this point of the Race. Doug's team eventually outdistanced mine, but I was just happy to be moving along well.
There was a plane parked and a couple tents set up on the banks of the river and someone waved their arms and called out my name as I passed by. I smiled and waved back. What a nice morning.
In a scene much different then my 2003 experience, we trotted into Unalakleet – strong spirits and in great health!! I don't think the grin could have been wiped off my face!
Place

Checkpoint

Time from Previous Checkpoint

Rest Time
in Checkpoint

Dogs

Layovers

Unalakleet

17:33

resting

15

24 Hr 8 Hr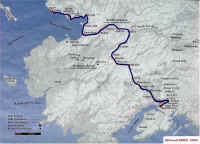 Last year my visit to Unalakleet involved lots of disappointment, a trip to the doctor and many visits to the bathroom. That was all behind us now though!
The dogs were looking great and the vets were very kind with their compliments. The only issue was that Olena had vomited a bit on the trip from Old Woman Cabin. The vets listened to her lungs and cleared her to stay in the team. Everyone ate well and they even got some snuggling time in with a few locals before drifting off to sleep.
I hiked up to the checkpoint and talked Doug into ordering a pizza with me. As you all must know, one of my primary reasons for running the Iditarod is so I can have a pizza at the best pizza place in Alaska – Peace on Earth Pizza in Unalakleet. It was great!
I phoned home and chatted with Mark for a bit. Sleeping sounded like a good idea, but they really didn't have anywhere set up for us to lie down. I tried sleeping on the uncomfortable linoleum for a bit, but it just aggravated all my existing aches and pains, so I headed back down to check on the dogs.
While I was down there a few mushers left and others were getting ready to leave. One of two things can happen when a musher leaves Unalakleet, the team gets up easily and heads off down the river or they don't – usually they don't. For some reason, Unk seems a hard place for teams to leave and many balk. Once they get rolling, everything is fine, but it often takes a bit for that to happen (much like me around the house in the morning). The fact that the trail out is very open and often icy adds to a musher's headache. In '00 I left Unalakleet doing big circles as Buddy kept trying to point us back to town, and then would swing back around to the trail when I'd holler at him.
As I watched this year Ellie Claus's well cared for, happy team moved easily out of town but others had trouble. I begged quietly into Grover's ear for a performance like Ellie's team.
When it was time to go, they did get up and readily leave town, but not with any great amount of speed. Doug's team looked super leaving. Doug and I had planned to travel this section together (most legs we just did our own things and ended up at the checkpoint close together, but a few legs we planned on running together for the whole time) – however, it quickly became obvious that my team was a little flat and his team was on a roll. I told him to go ahead and I'd see him in Shaktoolik.
The Blueberries Hills, which lie between Unalakleet and Shaktoolik offer some of the hardest climbs Iditarod has to offer. With a flat team, things were especially slow going – and then things got significantly worse. Several miles before the 'summit' of the hills I heard a large 'CRRRRRACK' from my sled. I looked down to find my right runner completely broken. That is just not supposed to happen to these high tech metal sleds. The next miles were horrible as I struggled to balance the weight of the loaded sled through the dips and rises on the trail. Thankfully the major downhill down to the coast had good snow and that helped me control the sled a little. It was dark when I hit the coast and the wind was howling. It wasn't a major storm, but it was windy enough that I was having an awful time keeping my crippled sled on the trail. Many of the trail markers had been blown or knocked down and there were spots on the ice that I could spin in a full circle with my headlamp and not catch a reflection for a single marker. I was completely trusting Chester and Grover to keep us headed in the right direction. It was a very exhausting 13 miles to Shaktoolik, both mentally and physically. I checked in totally spent and really bummed. The officials were all bundled up against the storm when I signed in and it was hard to recognize any of them, but I was pretty sure the checker was a friend of mine. After doing the official stuff, I leaned over and asked if that was Palmer. Palmer and I have traveled the trail together on a few occasions and he is one of the people involved in Iditarod that I have the greatest admiration for. In reply he reached over and hugged me. EXACTLY what I needed.

I must admit that it was at Shaktoolik that the only thought of how nice it would be to be home crossed my mind during this race. I did up all my chores and headed into the checkpoint building. Doug was still up and poking around, despite having checked in well ahead of me, I figured I could get some sympathy out of him, but when I told him about my sled and tough trip in, he basically said 'So?? Go get some rest so we can get out of here at a decent hour.' I'm sure I muttered some ungracious comments about his character under my breath, but really his reply was just perfect. It was, in fact, pretty much what Mark would have said to me if he had been around. Well…actually…Mark would have worded it somewhat along the line of "Suck it up Princess", but the sentiment would have been the same. I didn't need nor want anyone to hold my hand on the trail. I went and guzzled a huge amount of Tang and was asleep on the crowded floor in no time.
I slept hard and soundly, although not for too long – as I still had to get that sled fixed. Palmer had a game plan all worked out when I went outside and in no time, with a couple scraps pieces of metal, a drill and some bolts, I was ready to hit the trail. I asked Palmer whether he thought the repair job would hold the whole way to Nome. He said I should see what I thought after driving it over to Koyuk, but I was feeling very confident and in a much better mood as I prepared to leave. One sad thing was that
Camilla
was going to be staying behind here. She had been off gaited and not pulling for a while due to a sore back and it was time for her to go home and get a good, long rest.
It was blowing pretty good when Doug and I left Shaktoolik, but then again, it always blows pretty good in Shaktoolik. The dogs worked out their kinks and settled nicely into a gait. Despite their decent clip, Doug's team had long since pulled away from us and out of sight. The miles and hours tick by slowly on the featureless terrain on Norton Sound. The wind was obscuring most of the sled tracks in front of me but there were signs that a team in front was zigzagging back and forth over the trail – obviously someone's leader didn't like this stuff. My leaders figured they'd follow that track so I put
Grover
up front and he got us all straightened out. I think that team in front must have added an extra 2 miles to their trip with all that wandering (What do you think Doug – was it an extra 2 or more?).
Due to some unstable sea ice, the trail didn't go straight across the Sound, but arched to parallel the shoreline most of the way. Peter Bartlett caught up to me and passed at the point that we were closest to land. As his team pulled away from mine a large, light colour, what I assumed to be coyote flushed out of a little gully right next to the trail and bee lined inland. It was many weeks after Iditarod when it occurred to me that that was a wolf I saw, not a coyote. Very cool.
You can see Koyuk for a long time before you get to it, but the dogs all picked up their pace as it came clearly into view.
Kids were waiting when the team pulled into town and ran along side us as we checked in and parked.
Chester
was in lead and his tail was wagging like crazy. The kids asked for booties and I agreed to give them some if they would do me a favour – pet Chester. He grinned ear to ear, just like the kids, at the extra attention. What a ham.
In 2001 I described Koyuk as one of my favourite places on the trail. In '04 it remained that way. It is a neat little village with a terrific spirit to it, tucked into a pretty location - and much less windy then Unk or Shaktoolik! Or maybe it is just that Unk and Shaktoolik seem to be 'trouble spots' for me on the trail and I'm happy to have put them behind me! Whatever - I was happy to be there.
First thing in Koyuk I was in for some bad news for me though. The vets in Shaktoolik had commented that Olena's pulse took a bit longer then the rest of her teammates to come back to normal and her gum color was a little pale. As her appetite and attitude was still top notch, it was probably nothing but they told me to keep a closer eye on her. The vets in Koyuk had exactly the same comments and Ollie was dropped on the spot. They thought it might be early signs of an ulcer and after losing Kobuk just weeks earlier, I was still freaked by the thought of ulcers and taking no chances.
When I got inside I borrowed a phone and tracked down Mark. I wanted to make sure he was watching for Ollie in Nome and that he was aware that there were some problems with my sled and that there was a chance I might need a new one in White Mountain. The sled had driven decently on the way over, but I was worried about how it was going to handle over Little McKinley. I asked permission to have my 2nd sled, at my expense, shipped from McGrath to White Mt, just in case - but the Race Judge wouldn't allow it. He claimed my sled was still 'drivable' and therefore I wasn't allowed to move my other one up the trail. The ruling then, and even now, sounded bogus to me - but I had no choice, I was just going to have to hope the repair held. Mark assured me he would line up a sled and snowmachiner, so if I needed a replacement one shipped to White Mountain, he could hopefully get it to me before my 8 hour mandatory rest was up.
The checkpoint had a wonderful area sectioned off for mushers to sleep, with mats on the floor and blankets hung so it was quiet and not too bright. Fabulous. Problem was, after my nap in Shaktoolik, I wasn't very tired. Kelly Williams came in and we ended up chattering and giggling our way through our rest time. I really enjoy Kelly's company.
Dark settled in and it was time to go.
Doug left a bit after me and when he caught up we stopped and chatted for a moment. Those middle of the night runs are brutal. Many of the top mushers avoid running between midnight and 5 or 6 am and the more I race, the more I'm seeing the wisdom in that. However, as my trail speed doesn't quite match theirs, I don't have the flexibility they have and have to do the odd 'Midnight Run'. A diversion, like someone to talk to, is always appreciated during those times. For many hours during the night I would catch glimpses of Doug's headlamp when he looked over his shoulder, but he was miles ahead of me. Most of this trail is along sea ice and/or the coastline and light carries for miles and miles. It was still nice to 'have company'. Later that night though, something occurred where I wish I had had much closer company.
We were traveling along at a nice little clip when all of a sudden all the dogs bunched up and started barking off to the left. They were acting like they were scared of something - my headlamp picked up nothing. I've seen my dogs go through a lot of emotions on the trail, but I've never seen them do their 'beware bark' at anything. The hair on the back of my neck immediately stood up - I'm not nearly as brave as they are - and whatever it was was scaring them. Now, I am not by any stretch of the imagination saying it was a polar bear, but there is only one animal that I've ever heard mushers say their dogs reacted to with fear - and that is it. Although the Iditarod organization denies that there are polar bears along the trail, mushers that I respect have told me stories of seeing them, folks in Nome tell me 1 or 2 a year are killed in that area, and in '98 when I was in Unk there were polar bear warning signs posted in town.
I'd say I 'commanded' the dog to go - but really it was more like begging. I had tucked my gun up in the front of my sled a few checkpoints back, thinking I'd have no further use for it. I debated digging around for it, but decided there was nothing that was going to convince me to step off my sled at this time. After what seemed like hours, but was probably only a minute or two, the dogs lined out and with a final few 'woofs' over their shoulder started off down the trail. I nervously glanced over my shoulder until pretty much until dawn.
Eventually we climbed over a small mountain and slipped into the picturesque village of Elim.
When I signed in at Elim, Jasper the checker told me he wanted to move my team up the road a bit, swing them 180 degrees and in behind Doug's team. I suggested that we would need some help as my team can get a little 'rammy' when being parked (in other words, they have a tendency to drag checkers wherever they want to go).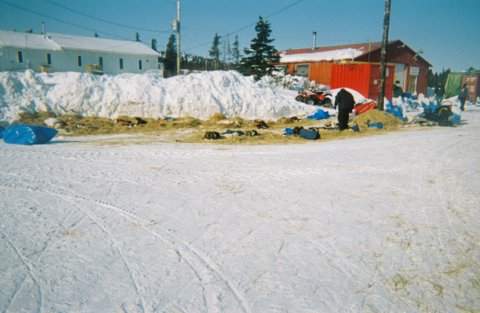 Doug's and my team in Elim
Jasper assured me no teams were rammy in Elim, but he was eating those words moments later when we struggled to get the team where we wanted them to be rather then where they wanted to be. Siberians always save a little something for these kinds of times. The team decided that they could sleep in the big raked up pile of leftover straw rather then the measly little beds I was going to lay out for them. I was too tired to argue and it just really didn't matter. When I pulled out snacks they were all very enthusiastic for them. Kara even stood up on her back legs and did a dance.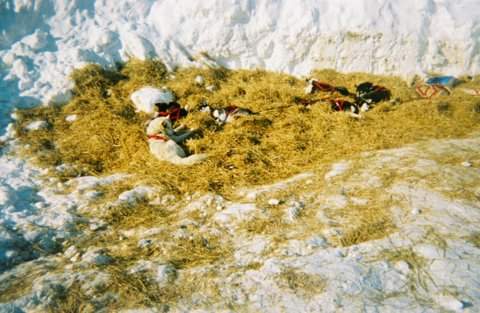 My team in the straw at Elim
One of my biggest memories from Elim in '01 was the outhouse. It was a port-a-potty just plunked on the ice. By the time I got there in 57th position it was basically full and tremendously gross. This year sitting in a similar spot in the standings, I didn't want to risk walking in there. I asked if there were any other outhouses for us to use and was told that the 'Town Hall' had offered us their washrooms – but, it was a 4 or 5 block walk to get to them. Four or five blocks for running water and a flush toilet – I was off like a shot. And well worth the walk it was, not only was there running water, the room was beautifully painted, had soft lighting, and scented candles. It was heaven. I took a few moments to even scrub my hands and face before heading back to the checkpoint.
Sleeping arrangements in the Fire Hall, where the checkpoint is located, aren't the greatest, but I scored a pretty decent spot and got an hour or so sleep before we headed out.
We were on a bit of a bad schedule and it was still really warm when we left at just after 2pm. My team slugged along in the heat for the first bit. Doug's did way better and he was quickly out of sight.
I think the first bit of trail out of Elim along the sea ice, with big rocky cliffs as a backdrop, is one of the prettiest pieces of trail on the Race, this year with jumbled ice that we weaved around it was even prettier. Once you leave the ice, you start the infamous climb up and over Little McKinley. The dogs weren't fast, but they moved steadily.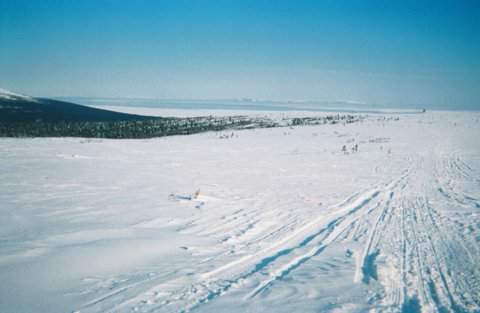 Starting up Little McKinley looking back at Norton Sound
Generally, before we left each checkpoint this year, Doug would ask me what the trail ahead was like and we would spend a few minutes discussing that. For some reason we didn't before we left Elim and I was really grateful. I would have sounded like a fool. See in '01 I came over Little McKinley in the dark. I remember the trail winding through a treed hillside before entering Golovin and then leaving town on a river with trees all along the left side of the trail. Imagine my shock when I crested the Mountain and found barren tundra and sea ice on the other side. Golovin is actually an island, surrounded by the sea. Seems I was pretty tired at that point in '01 and was hallucinating trees. Either that or a major logging and earth moving project had occurred out here in the last 2 years. I'm thinking I was hallucinating.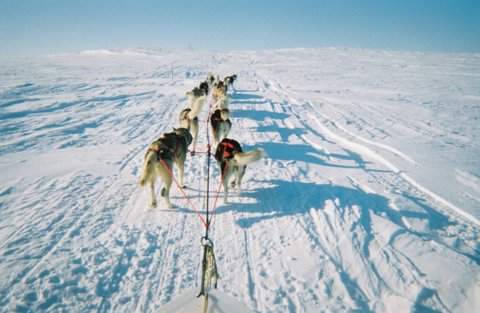 Climbing Little McKinley
As the team hit the sea ice I called them up and they picked things up to a great clip. Chester and Grover led right through Golovin at an easy lope, settling back into a great ground-eating trot once we hit the sea ice on the other side. They rolled really well the rest of the way into White Mountain and I was grinning ear to ear when I got there.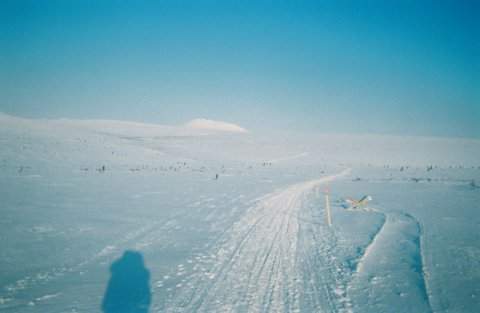 Looking back for the top of Little McKinley

White Mountain was nothing like '01, where I was the only team there. This year it was a hub of activity with all sorts of teams coming, going and parked. I got settled in and started dog chores. Squeaky had had an episode of vomiting on the trail over from Golovin, wasn't eating or drinking now and seemed to be feeling pretty sorry for himself. Sadly, my handsome red boy was going to miss the finish line of Iditarod by only 77 miles. I filled out the paperwork to drop him, but left him in the team for the 8 hours. The chance of him perking up and eating was better if he stayed with me as long as possible.
The checkpoint routine was now well honed after over 11 days on the trail. It was bittersweet to be running through them for the last time here in White Mountain. Yet when it was done, I gratefully headed for the checkpoint building thinking of nothing but sleep. When I stepped inside it was bright, noisy and not at all conducive to sleeping. Thankfully, Doug caught me as I was dumping gear and steered me towards a nice quiet, dark room that he found that had no one else sleeping in it. Bliss. I left a wake up call and was in my sleeping bag sound asleep within seconds.
When one of the volunteers shook me awake, I didn't wake up easy. The kind person trying to get me up, crouched next to me to talk to me for a few moments to make sure I was really awake. I wasn't. While we were doing that, Doug woke up and asked why I was getting up so early, I tried to explain that I had wanted to leave time to shower, but suddenly a shower didn't sound nearly as important as sleep. He mumbled something about sleep sometimes being the most important thing and he was right. I told the checker to come get me up in another hour and crashed back into my bag.
An hour later found me in a much better mood to get up. As I was packing up my gear, changing socks and such Al Hardman came by and asked what time I was leaving. He asked if I was thinking of staying till morning because the temperature had dropped so much. I was surprised to hear how cold it was - but delighted. I had been waiting the whole race for temperatures like this - I couldn't wait to hit the trail.
Ed Steilstra stopped to check the board showing what times each musher was 'free' to leave (everyone must do an 8 hour layover in White Mountain). When he noticed my 'out' time, he made some well-humoured comment about being beaten by a team of Siberians. I reminded him that there was still 77 miles to the finish line and he remarked that he hadn't caught me in the last 1000 miles; he wasn't going to catch me in the last 77. I smiled. Folks like Ed are one of the reasons this race is so enjoyable.
Back at our sleds, Doug and I busiest ourselves purging everything from our sled bags that we wouldn't need again - and that was a lot of stuff. Our return bags were both stuffed to the brim. Turns out I got a little overeager and sent home a few things (like my ladle) that Mark was counting on for feeding and caring for the dogs in Nome but we managed to get by okay anyway. Doug was set to leave about an hour ahead of me, so I stayed down with the teams long enough to wish him a good trip into Nome before heading back up to the checkpoint for a cup of coffee.
Just before 5:30 am Grover, Moses, Chester, Gus, Herman, Hector, Crunchie, Kara, Hilda, Surge, Loki, Odie and I left White Mountain on the final leg to Nome.
It was indeed cold - and crisp - and wonderful. I stopped a few times to booties a few dogs and just because it is part of 'getting in the groove' of a good run too. On one of the stops, Hector sat down, lifted his nose and started one of his soulful songs. The remaining 11 dogs quickly joined in and I just stopped what I was doing and enjoyed the moment.
Underway again the hours and miles just slipped away. I scared a fox off of the trail at the bottom of one of the Topkok hills, wildlife assisted the climb was easy. It was at this place on the trail in '01, I was listening to the Finisher's Banquet on my Walkman. This year it was Friday morning and the Banquet was over 2 days away. Sweet.
Kelly Williams caught up with me at the bottom of the last big climb before the coast. She was in a great mood, threw in her hooks and ran back to share a candy and visit with me for a moment. The morning had turned eerily calm and we both thought we might be in for some trouble in the blowhole - that whole calm before the storm thing, was what I was thinking. But only a few snowflakes and a bit of wind hit us when we crested the hill and arrived on the coast.
My team had been moving great all morning, in fact, I was surprised at how long it had taken Kelly to overtake us - and now they were close to keeping pace with her. She remained well in sight and my mood was soaring - and then the sun came out. As soon as that happened, it was like someone had locked the brakes on on my sled. It was around noon and the sun just beat down on us. Two more teams - Karen Land and Peter Barlett caught up and passed before we finally pulled into Safety.