How I wish you could all be here. It's been such a phenomenal experience to hang out with Karen and Mark this year! From meeting them out on the trails, to dinner with stories, to listening to Natalie Norris tell tales, to being a part of the Norris family, including celebrating the grandkids birthdays. Paul Norris's birthday party usually is postponed a week so that they can get the Iditarod well under way before stopping for birthday cake. This year his 17th was just included in the festivities!
In a way, you all are with Karen, you know. She wouldn't be out there on the trail without your best wishes and help. I can't think of anyone more deserving. She thinks of everyone of you as a personal friend.
I must start my story with riding Karen's second sled down 4th street for the ceremonial start. Several people asked why I was asked to have this honor. I have 3 ideas. Since Jamie Nelson did this last year, I've decided that Karen must like the name Jamie. The 2nd was she needed my extra ballast, yet someone who can make those corners without crashing too bad. Besides, I bounce! The other is that Karen is one of the warmest, most genuine people I know and she is rewarding me for doing what I can, when I can, toward her Iditarod commitment.
There are not too many events that I want to roll out of bed for at 4am after 3 hours of sleep. This was definitely one of which I didn't want to miss the truck. No problem getting up! Off to the Norris's and grabbed a cup of last nights coffee on my way into the truck for Anchorage and breakfast after parking in our Iditarod line-up. Then, there was plenty of time for visiting friends and neighbors out on the streets. It's amazing over the years how many mushing friends one does accumulate!
Before time for hookup I got a few instructions on when to break and how to be a good 2nd sled driver. The rules are don't run into the musher and don't break before turning a sharp corner (it pulls the 1st sled into the snow berm) and don't fall over. The only time I've ever 2nd sledded was with Karen last year. I ran into her AND fell over when I did.
A rescue group had sent Karen a backpack to take to Nome. It was my pleasure to have the little husky backpack as my Idita-rider. He (or she) peeked out from the top pocket in my sledbag and got lots of giggles and laughs as we went by. I swear, he looked like he was waving.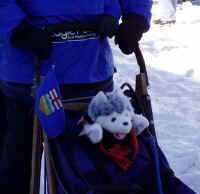 Special rider in the Tag (2nd) sled
© SunHusky
We talked of Orion as if he were still here. "Don't put a dog in that dog box. Orion is in there." It was actually his ashes in a small metal box. But, he was definitely with us. And, "Ok, where does Orion go?" He went into the sled with Iditarider Liz, before she was given booties filled with gold wrapped "loonies" to toss to the children in the crowd.
The 2nd sled ride was one of THE best "life" experiences. It'll certainly be the closest I'll ever come to running in a significant race! I hope it was as fun for our Iditarider, Liz, as it was for me. We shot down the downtown streets and I got to slide around the corner on the way to Cordova Hill.
Down we went the previous teams groves. I saw Karen wobble a bit as one of her runners went into a groove and the other didn't. It's just about impossible to break on this steep hill. She was under control in a split second. I steeled myself to "loose" it, but didn't find the same groove. Thank goodness.
The dogs loped and trotted past the downtown crowds and the smaller groups of folks along the bike paths toward the parking lot of the BLM (Bureau of Land Management) building which is nestled next to the trails of the Tozier dog sled trails in Anchorage. The bike paths wander along wilderness strips within the city and connect with multi-use walking and cross country skiing trails and then finally into the Tozier dog sled trail system. The trails were beautiful and the crowds complimentary how beautiful the dog team is. The crowds along the way have their race schedules from the Anchorage paper and identify the mushers as they pass. Almost every group we passed gave us a personal greeting of "Go Karen!!!" or "Beautiful team, Karen".
Somewhere along the path was the "muffin lady" who gave out muffins to passing mushers and riders. I heard this morning that one of the mushers had stopped for a hotdog along the way! A couple of miles from the BLM building mushers seemed to be closing the gaps between teams. They had left the starting line at 2 minute intervals. Karen had asked one musher that followed us for miles if he would like to pass. He said no thanks, he'd like to follow her all the way to Nome. Good luck keeping up!
The race could not be held without the hundreds of volunteers! They act as trail guards and crossing guards and crowd control. Thank you wonderful volunteers! And, thank you for designing the trail so that a "rookie" like me can have a clean and memorable run.
The trails were perfect and fun to negotiate. Neither of us crashed. Our 12 dog team was steady and trotted tirelessly. I was sorry to see the run end. I wish the conditions had been good enough to go to Eagle River. When we arrived at the parking lot, Mark, Karen, and Janet unhooked dogs while I stood on the brake. No way to hook down the team here. We watered and loaded dogs and sleds, then, off to lunch and back to the Norris's.
Thanks again, Karen, for including me in this wondrous adventure of yours.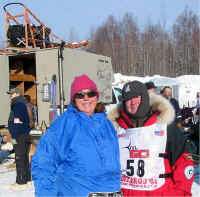 Karen and Janet Yeager at the Restart
Our thanks to Janet for use of the photos
on this page, unless otherwise noted.