I don't know how this tradition started, but for as long as we've been racing dogs our "A" team has worn red collars. Through out the year dog collars get changed for one reason or another. Sometimes we buy dogs that have collars that we don't like. Some of the collars are green or purple or blue, but one thing you can guarantee is that every dog on Karen's team in the starting chute of any race will be wearing a red collar with its name on it. This year the collars were put on the dogs on G street where the truck was parked for the ceremonial start. It was sort of a graduation day for the young up and comers, from this day on they can be called Iditarod dogs. It will be up to them if they want to called Iditarod finishers. For the veterans it was more than just a new collar and ID, it was Karen's way of saying you did it again.

With that said I think that I've let you squirm long enough, here is the team as the left the starting line: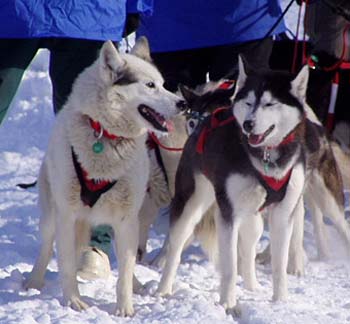 Gus & Kara
© SunHusky (all photos on this page)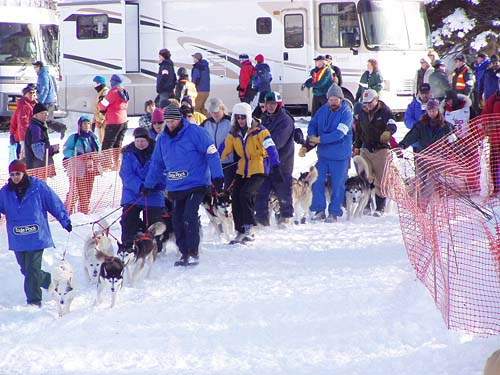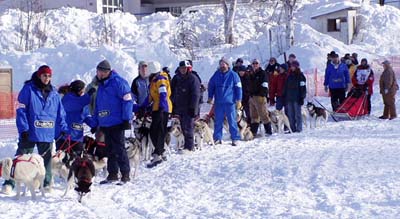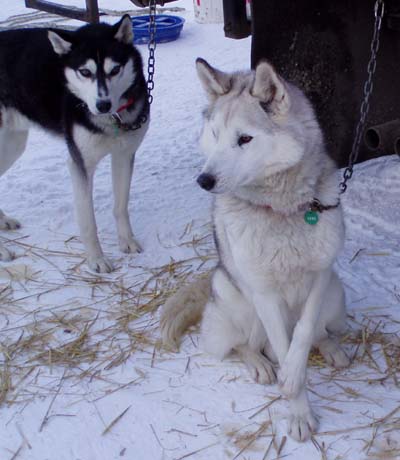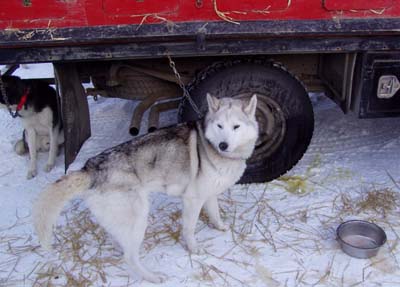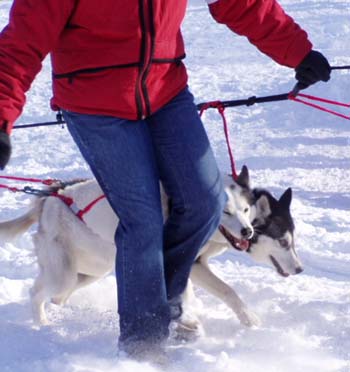 Camilla & Hilda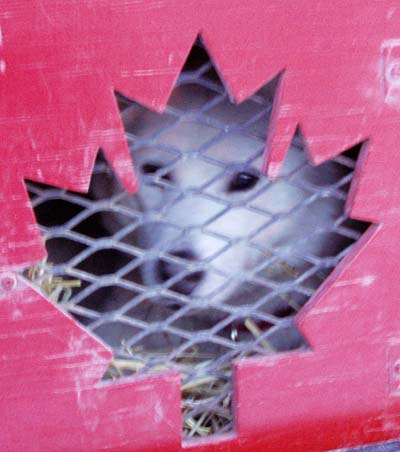 Moses or Squeaky?
Name

Sex

Status

Age

Weight

Training miles
As of 03/04

Camilla

F

veteran

7.5

40.0

2086.5

Chester

M

veteran

7.0

56.0

2005.0

Crunchie

M

rookie

2.5

48.0

2053.5

Draco

M

veteran

6.0

58.0

2017.5

Grover

M

veteran

7.5

51.0

2017.5

Gus

M

veteran

7.5

48.0

1894.0

Hector

M

rookie

2.5

43.0

2081.0

Herman

M

rookie

2.5

44.0

2063.0

Hilda

F

rookie

2.5

39.0

2053.5

Kara

F

veteran

4.5

41.0

1915.0

Loki

M

veteran

4.5

49.0

2004.0

Moses

M

rookie

4.0

46.0

2109.0

Odie

M

veteran

4.5

47.0

1991.0

Olena

F

veteran

3.5

40.0

1984.0

Squeaky

M

veteran

5.0

49.0

2038.0

Surge

M

veteran

5.0

54.0

1992.0