Okay everyone Karen has just left Cripple, this is the longest section of trail on the race between checkpoints, so she will be camping on the trail just like she did before Cripple. So go grocery shopping, do the laundry or walk your dog because you won't see Karen arriving in Ruby until later tonight. You guys have to realize that this isn't a race from check point to check point, the clock is always running, so it doesn't matter whether you rest on the trail or at a check point. Some of the check points are not spaced so that Karen can stick to her equal run/rest schedule If you see a musher blow through a checkpoint you can guarantee that they will be camping on the trail. Imagine if Karen had a "rest bank", the more her dogs rest the more she can get out of them later. Anyone who doesn't rest their dogs will pay for it later. The only time its important to get to a checkpoint is when you want to start your mandatory layovers. There are a couple of cabins halfway between Cripple and Ruby, I'm sure that Karen will stop at one of those.
Yes, Karen has a seat for her sled this year, she shipped it in her second sled to McGrath and picked it up on her way through, she will only need it for the river. Karen's dogs do have thick coats and are more than capable of handling very cold temperatures, a lot colder than it is now. she covers them with blankets when they are resting so they can rejuvenate faster instead of wasting their energy keeping warm, remember this is a race.
There were more diary entries last year, because Karen phoned more. This years race is more normal than last years, so there isn't as many deviations from the race plan. If you would like I could talk to Karen and have her spend half an hour at each check point talking to me instead of taking care of her dogs or resting (Attention teachers you can use the last sentence to teach your kids about sarcasm).
No, I don't know which dog Karen dropped, I'm sure that it will arrive in Anchorage today or tomorrow. I have included a picture of Karen's team sleeping at the Skwentna Check point. It was taken by Constant Hegeman, our thanks for letting us include it in our coverage of Karen's adventure.
Later
Mark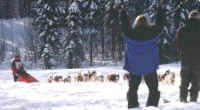 Ceremonial Start Trail
© Tracks of Alaska - Our thanks for the use of this
photo and the ones below.