As of Friday, March 19th, 2004 - 6:00:04pm AST
Karen has FINISHED Iditarod 2004!!
Wearing Bib #58, she has finished as this year's top Siberian Husky
team and 58th place over all. Karen and the other Iditarod Finishers
have mushed a total of 1,112 miles over the Northern Route.
Karen has done very well with her team of purebred Siberians
despite a broken sled and has shaved two days off of her former personal
best finish in Iditarod 2001 of 14 Days 23 Hrs 53 Min 16 Sec.
Karen's Iditarod 2004
Race Time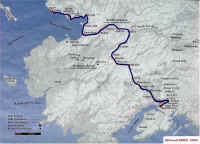 Click on the map for a larger version
Her average speed throughout the various checkpoints in the race:
| | | | | | | | | | | | | | | | | | | | | |
| --- | --- | --- | --- | --- | --- | --- | --- | --- | --- | --- | --- | --- | --- | --- | --- | --- | --- | --- | --- | --- |
| Y | S | FL | RP | R | N | M | T | O | C | R | G | N | K | U | S | K | E | WM | S | N |
| 11.3 | 9.6 | 4.8 | 7.9 | 9.3 | 6.4 | 7.1 | 7.3 | 12.9 | 3.4 | 9.2 | 6.1 | 7.3 | 7.0 | 5.1 | 5.3 | 6.3 | 5.8 | 6.4 | 6.4 | 5.5 |
Many fans watched webcams of the finish line in Nome at:
GCI Camera (http://208.138.130.117/netcam/nomecam.jpg when available) and Nome Nugget Inn (http://nomenuggetinn.com/images/webcam/iditarod.jpg)