Howdy Ho everyone, Bet your soon to be roving truck dog reporter reporting in on the finishing touches on packing for the trip to the
Canadian Challenge
!
Here I am carbo-loading for the grueling trip.
Only 2 days left and the curly tails are whooping and a hollering because they know its almost time to show their prettiness and their toughness on the trail for everyone to see!
The Musher informs me that she's made one serious decision on who is going, and I bet you'll never guess who is actually going to get a spot on the truck. No, Bait is still in jail (we haven't been able to post his bail).
They say that reds don't run, but this red may not only get to run, but has been a hard worker and diligent curly tail in the harness, so she's getting her chance to shine at the Canadian Challenge: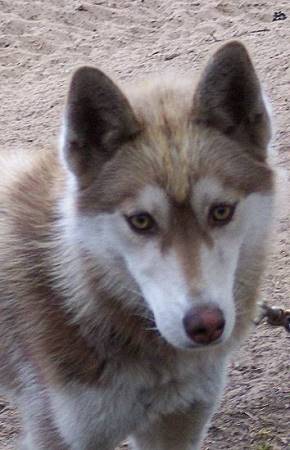 Its CASEY! Yep, Casey is getting her shot in the big leagues and is going on the truck.
Why doesn't she look happy?
Because nobody has sponsored her :(
Won't you please sponsor poor Casey. It would take a load off her mind to know that not only is she pulling her weight in the harness, but also pulling her weight for the team to allow them to continue doing cool races, educating the public on mushing and sled dogs, and be the shining example of the way mushing should be! (insert sad violin music here).
Just click the button... on the upper right hand side... sponsor a dog, or contact Musher Minion Karen E at karen@digitalartsupplies.net if you want to go in on sponsorship with someone else.
Once again... I will lay here and stare at you until you do.
- Bet