I've been patiently waiting for the Musher and my personal toe masseuse to return home, when I get this e-mail today:
"We are in Whitehorse this morning with our friends Lee and Tim and their son, Hunter. Trip is going well. We had breakfast with the wonderful folks from
Skookum Brand
anoraks yesterday, then drove out to the Discovery claim to poke around before coming back.
We are going to soak at
Liard Hot Springs
a bit today if the schedule goes well."
Um... I'd like to point out at this tidbit in the little disclaimer for the hotsprings: Caution: Beware of bears, even in areas where groups of campers are bathing. If there are warning signs posted about bears, please heed them!!
So... bathers are like Bear soup?
The Musher continues with:
"Dogs are traveling home well. A few had wrist injuries on the Percy from the hard, fast trail, but all are better now. Turtle has been nicknamed 'Gerbil' because he won't stop peeing in his dog box and it smells like a gerbil cage all the time. The boy has issues - Crunchie is appalled at his son."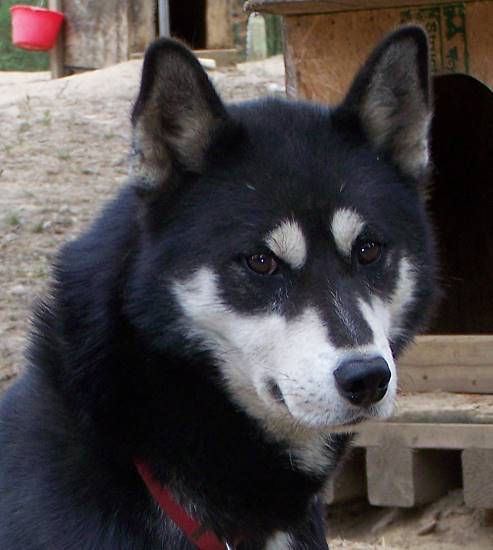 This is Crunchie looking appalled.
It seems that while I'm at home, suffering from the crampy toes, the Musher and Richard are taking their sweet time getting back to the homestead.
I found a map and have superimposed their travel route (in blue) with the alien tracking device route (in red) they are taking back to North Wapiti.
I'm not amused... especially since
I'm not sure how much more I can take.
- Bet