Howdy Ho everyone! Its your preparing to leave for
The Percy
race official reporter Border Collie Bet here!
Yep, I'm all packed and ready to go on the road to report all the goings on and doings of The Percy!
Before I get into the details, I just wanted to assure you that poor Odie has found his sponsor!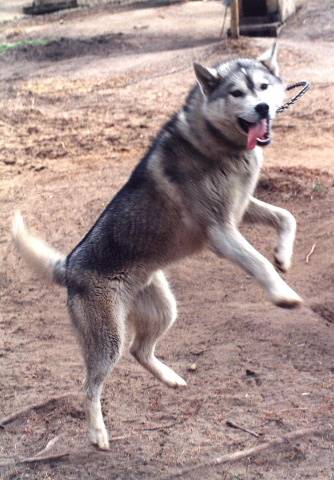 He's jumping for joy now that LaRita Skipper has sponsored him! Thank you LaRita for taking pity on the poor boy and giving him something to be happy about!
For all of you that asked about Odie, we want to thank you so much for jumping in and offering to lift the old guy's spirits, we really appreciate the outpouring of support and love!
We realize that some of you aren't able to sponsor dogs and stuff, so we'll be announcing a more affordable way to support the Pretty Curly Tails by sponsoring one last unsponsored dog to be announced in tomorrow's very special blog.
Now, on to the race details. The Musher was telling me all about how this race is a bit different than the other races.
First of all, you can only run a minimum of 6 and maximum of 9 dogs! Also, you can drop dogs at Forty Mile on the way out, but you have to pick them up and take them back with you on the way back. You can't drop dogs at Eagle, or Forty Mile on the way back.
To make matters even trickier, there are no drop bags! The mushers have to carry ALL of their supplies (except for straw) in their sleds for the entire race. That certainly limits what they take, and remember... they have to have enough room for dogs in case they drop any.
In case you didn't notice from the
map
the race goes from the Yukon into Alaska, which means they have to go through customs and get frisked and stuff, then they go back into the Yukon (more frisking) and finish where they started.
Now, I know some of you wanted to know what all they would pack in their sled bags! I forgot to ask the Musher earlier, so hang on, let me go ask her now...
Um...
What the....
Where's the Musher and Richard?
Where's the dog truck????
WHERE'S THE PRETTY CURLY TAILS????
THEY LEFT ME!
They left YESTERDAY??? SERIOUSLY????
wha... but.... man! I had a whole new yellow coat ensemble and matching booties outfit I was going to wear.
sigh... this sucks.
- Bet