NorthWapiti's Charge
DOB - August 2, 2004
Sire - NorthWapiti's Sir Galahad (Surge)
Dam - Alaskan's Olena of Anadyr
part of the 'Electric Litter'. Charge is a littermate to Watt (deceased), Tess, Spike and Sparky.
Finisher of the Iditarod, Don Bowers 200, Taiga 300, Seeley Lake 200 and more.
This litter was planned and named by Mark, who just happens to be an electrician. When Charge was a pup he was much bigger and more boisterous then his littermates. We figured he was either going to be a star or a total flop as a sled dog. He is a star!
We refer to Charge as our 'perpetual motion machine' as he is always moving. The rest of the yard can be peacefully lounging around and Charge is pacing around his circle.
He is a handful of a dog to move around, harness, hook up and otherwise handle - but he is so worth it when he gets going on the trail. A true force of nature that boy is.
He embodies the power and strength of his father and the quirky sense of humor of his mom. Really a very fun dog!!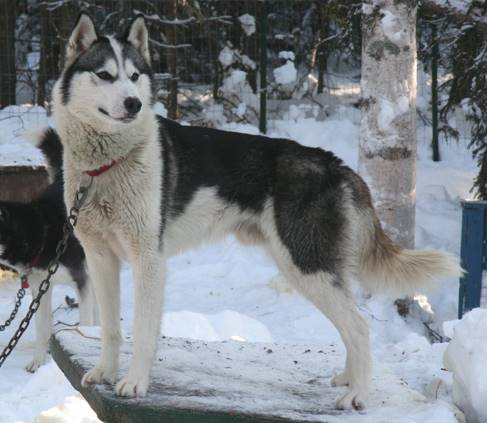 A rare shot of Charge at rest!!
Charge is very enthusiastically sponsored by Pat and Mel Bach of Albrightsville, PA.