NorthWapiti's Rocket
DOB - May 11, 2006
Sire - NorthWapiti's Draco
Dam - Chlout's Hilda of NorthWapiti
Nicknames - Rocket Dog, Rocks, Pointy
Rocket is out of the 'Firecracker' litter - littermate to Detonator (Nate), Powder, Razzle, Comet, and Flare.
She finished the Don Bowers 200 with Mark last year!
Rocket is a character. She really is not the most beautiful dog - she is rather well...pointy... but her personality makes her one of the most gorgeous dogs I own.
(She does hav the world's cutest whiskers though - with one single black on on each side of her face. So cute!)
Since she was a baby she has been challenging us by climbing and generally escaping from any enclosure she was put in. She's a clever one!
I've been pushing her hard as a leader lately (because she is so promising) and even when she is making me want to pull out me hair out, I can't help but smile under my breath at her.
One of her habits that really makes me want to pull my hair out is her neckline, gangline and harness chewing. She is definitely the most expensive dog in the kennel to run - but still worth it!
At every opportunity she is on her hind legs doing her 'Rocket Dance' (especially when she is trying to get out of trouble)...driving up hills she does 'wheelies' to try and get everyone moving faster...she is just a cool dog.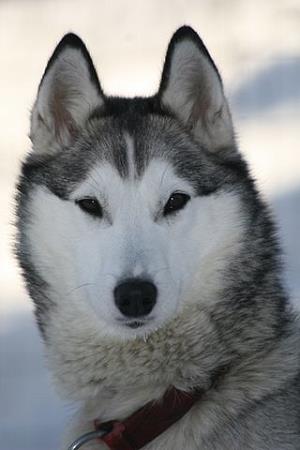 Rocket is sponsored by Debbie Custer!