NorthWapiti's Jinx
DOB - June 13, 2003
Sire - NorthWapiti's Super Grover
Dam - NorthWapiti's Kluane
Nickname - Jinxie
When a cute little black girl was Klu's first born on Friday the 13th Mark - being a big James Bond and Halle Berry fan - didn't even take a second to name her
Jinx
(in the movie
'Jinx' explains that she was named Jinx because she was born on Friday the 13!)
She is a littermate to Q!
Jinx is a finisher of Knik 200, Goose Bay, Sheep Mountain, Don Bowers 200 and more!!
Next to Dasher, Jinx is the main leader here. 'Lining out' is her weakness, but once we are moving she is a force! Quick on her commands, sets a great pace and always willing to go!!!
During the 2008 Iditarod Jinx injured her shoulder on the way to Nikolia. She was not at all interested in riding in the sled, so I put her in lead figuring that she could set the pace that was comfortable for her. She didn't let it slow her down a bit, in fact the limping started to improve and I had high hopes that massage and rest on our 24 hour layover would make it completely go away. Unfortunately the rest made it worse and I had to drop her in Ophir. It was a very disappointing moment in the race for me but I knew there would be other Iditarods for Jinx!! She's a tough and motivated gal!!!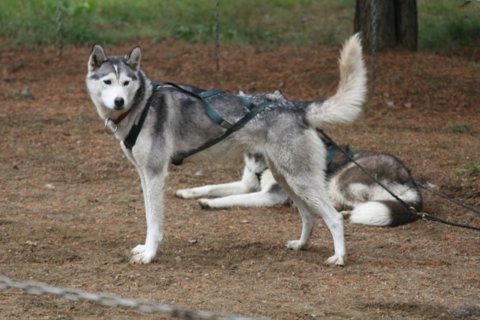 Jinx is sponsored by Dana and Judy Kevelder of Pickerington, Ohio!!