NorthWapiti's Casey
DOB - Oct 10, 2006
Sire - Ch.NorthWapiti's Q
Dam - NorthWapiti's Sprite
Out of our
'Mr Dressup'
Litter - littermate to Finnegan (deceased)
The story in the purebred mushing world is that 'red dogs don't run'. Having Spud, Gilligan, Squeaky, and other great red dogs in our teams over the years has convinced me that that is nothing more then an urban myth. However I certainly don't have as many 'red dogs' in the yard as other colors - and I have never managed to get a 'red dog' to Nome (Squeaky got to White Mt, 77 miles from Nome, in '04). Right now Casey carries the 'red dog torch' - and she is doing a fine job of it. She drives hard and is one of those dogs you just forget you have in the team! I was just thinking the other day that she needs to have a try at lead - perhaps today will be her day! I am convinced it will be a successful debute - with 2 great leaders as parents, how could it not be?
Casey's litter was actually the result of a clandestine night time encounter after Q managed to slip his collar. DNA to verify him as a sire was required. The litter was born in October and spent the first 2 1/2 months of their lives living under foot in the house. Casey and Finnegan were very precocious and loved their house time - racing with their mom for the coveted positions on the dog beds whenever they were let out of the back room!! Very fond memories!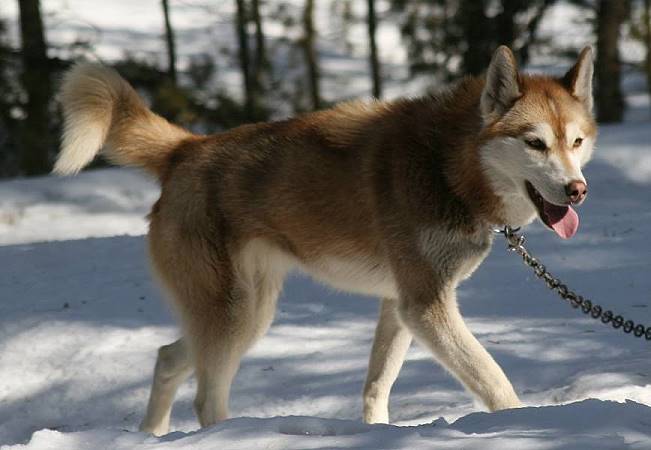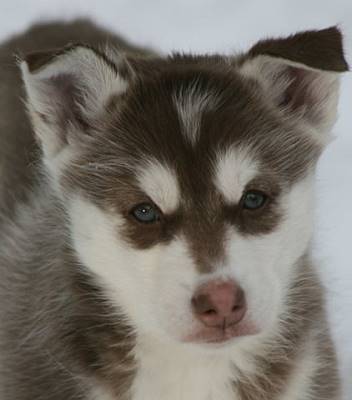 Casey is available for sponsorship!