NorthWapiti's Flash Gordon
DOB - August 1, 2005
Sire - NorthWapiti's Super Grover
Dam - Ch.NorthWapiti's Valkyrie Kara
Nickname - Flashy Pants (no, I have no clue how that came to be)
and 'The Holstein' (because his markings look like a Holstein cow)
Out of the 'SuperHero' litter. Littermate to Wolverine (Wolvie), Captain Canuck, Wonder Woman, Xena, Electra, and Isis.
Flash is one handsome boy. Not the a superstar in harness, but a good, solid team dog. His oddest trait is that he is extremely noisy, which is odd because both his Mom and Dad are (were) very quiet. Flash never hesitates to scream to get his point across and loudly protests whenever we are doing anything in the yard that he finds even vaguely interesting.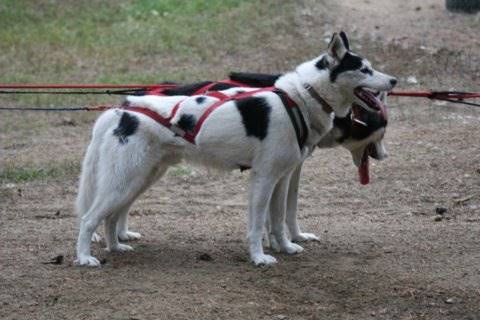 Flash is sponsored by 'piebald' loving Joanne Lee of Ravensdale, WA!