Soooooo, as you may know, Tramp is back.
I'm sooooo glad I'm not in Willow now :)
To get her to shut up for a bit, Richard and Donna took them on a run along with Donna's pups. They hoped that if they got her out of the yard and tired her out, she would SHUT UP!!!
When they got back, Donna had photo minion work to do, and Richard began gathering crates to send to Nome in anticipation of the Pretty Curly Tail's arrival and subsequent flight back to Anchorage.
We want to send a BIG HUGEY HUGE thank you to:
Jaime West
Carol Nash (who called on the Anchorage Siberian Husky Club and got additional crates)
Mike Headle
Chloe E.
We may have even more peoples to thank but Jaime, Carol, Mike, and Chloe went above and beyond to scrounge up enough crates for all of the Pretty Curly Tails.
We also profusely thank Donna Q Photographer Minion and her pups for the use of their crate too! I'm sure Donna's pups don't mind that at all!
I'm sure you are all restless, have worn out the refresh button, and are pacing between checkpoints and waiting for news, so I thought I'd tell you about something that will keep your clicky fingers busy and still let you gaze upon the Pretty Sled Dogs!
Donna Q Photographer Minion writes:
Friend and fan of North Wapiti, Sandra Stealey has designed some cross stitch patterns of certain NW Siberians. Of course, the cutest one is of Crunchie! But then, there is also one of Bet.
OOOH, its ME!!!!
To see more samples, just visit the North Wapiti pattern collection
(http://www.conbriocwr.com/North_Wapiti_Art_Collection.html)
Sandra will email your pattern for you to print out and then stitch.
A Jinx Pattern!
Cost is $10 per pattern and ALL proceeds go to the Pretty Sled Dogs.
Contact Sandy for all information and payment. Since Sandy doesn't have a paypal account, she will be using mine (Donna Q's) for all online payments: djqhusky@mtaonline.net
Check out her website or email Sandra:sandrastealey@windstream.net for more information.
Wow! That's pretty cool! I have my own pattern! What a good looking Border Collie I am!
If you do buy the patterns and stitch the things and stuffs, take a picture of your finished work and we'll post it for everyone to see!
Ok, now where was I... oh yes... TRAMP!
While Richard and Donna were busy, the Willow Pretty Curly Tails were putting up with all of Tramp's caterwauling.
Casey was regretting not trying harder to get on the team. Truth be told, Ms. Casey wasn't taking her Iditarod training seriously, and spent more time bird watching (and bird trying to chase) than concentrate on sled pulling things.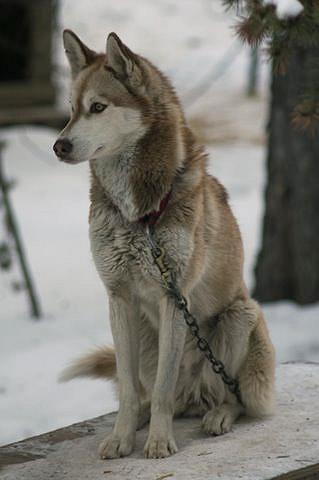 OOOH, There's a bird!!!
Apparently the noise and blah blahing got to be too much, and while nobody was looking, the Willow Pretty Curly Tails sneaked into Donna's house, and this is what Richard found when he returned.
... poor Curly Tails.
- Bet